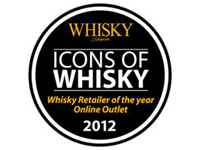 Well – last week was quite a week. Further to staying up unfeasibly late on Tuesday drinking Hot chocolate and Lemonade into the wee hours with the lovely folk at Glenfarclas and Pol Roger, I was invited to judge the World Whiskies Awards on the Wednesday evening (an amazing showing all round, the results of which can be found here). .
Following that, I was up bright and early (ish) to present at the World Whiskies Conference on Thursday afternoon (I didn't say any rude words during the course of my speech. I am proud of this).
After the world whiskies conference was the World Whiskies Awards, whereupon myself and another couple of directors were left at a table, unsupervised by any kind of grown-ups, in the presence of a bottle of Kavalan Solist, and a Batch 30 bottle of Aberlour a'Bunadh.
You can understand therefore, how when the announcement was made (by none other than Fred MacAulay – the slightly less rude Scottish one from off of Mock the Week) that Master of Malt had won 'Global Online Retailer of the Year' at the World Whiskies Awards, I was reasonably sure it was time for us to stop treating the a'Bunadh like the bottle had a cheque for £10,000 at the bottom of it and all we had to do was get to it, and head for bed. It transpired however, that I hadn't simply misheard, and that we had indeed just been crowned the best online whisky retailer in the world.
"Well that's just marvellous" one director was heard to exclaim. "Lorks a lawdy" another one cried. I'm reasonably sure those were the phrases, and anyone sitting on any tables within earshot should probably just keep any corrections to themselves.
Anyway – after we'd been and collected the awards, we got to thinking. We have indeed done a lot in the past year or so. We've expanded our range considerably, kept on adding tasting notes to as many of our products as we can, and released a big old whack of new and exciting products like our Vintage Cocktails Range, and our Single Malt Whisky Liqueurs. We've also introduced the Drinks by the Dram scheme, to let our customers try before they buy (incidentally this also won an award – 'Best Innovation – New Product Range' at the World Whiskies Design Awards).
When we dug down into it, we realised that all of these innovations have been driven by the desire to give you lovely lot, our customers, what you want.
Perhaps the biggest innovation, and certainly the one that garnered the most attention from the judges (or so we were told inbetween lewd jokes) was the Drinks by the Dram sample service. This most certainly wouldn't have come to pass if it wasn't for the rather vocal insistence of some of our customers that they'd very much like to be able to try before they buy.
In a very real way therefore, the success of Master of Malt in the last year has been entirely down to you – our customers. We'd like to thank you for this, as (without gushing too much) without your support and custom, we most certainly wouldn't be where we are today.
Now, this said, we're most certainly not going to rest on our laurels (mainly as it'd be incredibly painful – what a stupid phrase) and have got some pretty spectacular plans for the forthcoming year. This said though, we'd really like to hear from you, as to what we should be doing, what features you'd like to see, and any improvements you think we could make. You never know – if you come up with something we've not thought of, you may even get a basket of goodies delivered to your door with some kind of thank you note.
Ben.