Just landed at MoM towers, some extraordinary Cognacs including one that spent 110 years in cask! We thought an article might be in order to tell you all about them.
Before we start, let's get one thing out of the way, these Cognacs range from the expensive to the very very expensive but, we'd argue, none of them is absurdly priced. We're talking about spirits that have spent decades, in one case 110 years, in cask. These are rare rare bottles of extraordinary quality that people have invested a lot of time in. Compare them with the auction prices of old Macallans, Bowmores or Springbanks, and suddenly they don't seem so expensive after all. 
All of the Cognacs below are from the Grande Champagne region. They come courtesy of David Baker who we've written about on this blog before. From his years of experience, unrivalled contacts and palate, Baker is able to sniff out rare casks of Cognac lurking in the cellars of growers and small producers in the region, and bottles them under the Hermitage label. His enthusiasm for these products is infectious and we have to say that these are some of the most extraordinary spirits ever featured on Master of Malt, and I personally feel very lucky that he gave me some to try.
Take the 1885 featured below, Baker spoke for a good 20 minutes about its virtues. It spent 100 years in cask, and had, according to Baker "lost its excitement, the richness had dissipated." It was put into glass bonbons for a good few years until someone had the bright idea of recasking it. So, it spent another 10-12 years, Baker isn't certain exactly how long, in a new but not too new cask. This rejuvenated it and became, as Bake put it, "beyond the quality of anything we have come across before." 
He went on to say, "the balance is beyond what I would call perfect. All you have is richness, there is nothing that attacks the mouth," despite the 46% ABV, "shut your eyes and drift into a world of Cognac." The taste is so layered and complex that Baker describes it as "double rancio". Rancio being the complex flavours like walnut, pineapple and apricot produced over time in the interaction of cask, spirit and oxygen. "The only problem is there ain't much left of it! When it's gone, it's gone", Baker said. Though he told me that there's an 1890 out there that may be just as good. Let's hope he lets us try a little. 
Here's what has just arrived at Master of Malt. 
This Cognac is still aging in cask. The particular shipment we've just got in was bottled this year, 2020. 
Nose: There's fresh pineapple, peach and mango with notes of furniture polish and nail varnish remover. Lovers of high ester rums will love this.
Palate: It's fresh and fruity, oranges and lemons, with a creamy texture. Very different to the nose. Then you get the patisserie notes of marzipan, butterscotch and chocolate.
Finish: Long and fruity with that almond note lingering. 
Overall: Crammed with fruit, this tastes really young and vibrant. 
This is a 50 year old Cognac, bottled in 2010. It won the Cognac Trophy & Gold Outstanding Award at the IWSC 2020.
Nose: Deeply savoury, very woody with aromatic spice, menthol, camphor, plus apricots both fresh and dried, phenomenal complexity.
Palate: Tannic and woody but not too much, rather like a good claret. There's plenty of fruit here too with dark chocolate, coffee and toffee..
Finish: Dark chocolate, orange peel, very long with bitter espresso coffee like you get in Naples .
Overall: Big brooding style, lots of cask influence but with gorgeous fruit.
Baker isn't sure how old this is. It spent between 50-60 years in cask before it was placed in glass bonbons. 
Nose: Red berries and dark cherries, with dark chocolate, black coffee and some orange peel.
Palate: Dark roast coffee, burnt toffee and even a little coal dust initially, quite a bit of tannin, but then the fruits come through, peach, roasted plum and citrus, and it becomes sweeter with time in the glass.
Finish: Dark chocolate, allspice and maraschino cherry.
Overall: Dark, powerful, and extremely complex, needs time to open up to reveal its charms.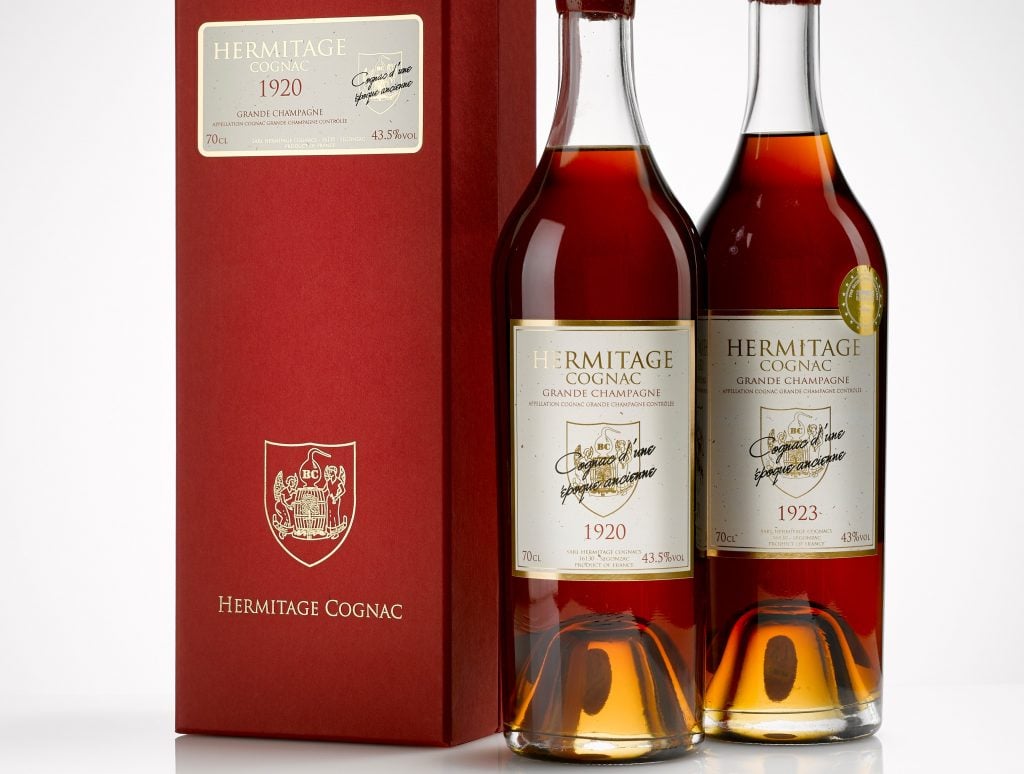 Another slightly mysterious one, "the cellar master is no longer around," Baker said. It spent at least 70 years in cask before being transferred to glass bonbons. 
Nose: Really pretty nose, lots of tropical fruit followed by tobacco, dark chocolate and aromatic spices like cinnamon and nutmeg. 
Palate:  Graceful and perfumed, floral, orange blossom, with a strong tangy wine-like note, very little tannin, just a little dark chocolate. 
Finish: Nutty, with almond and pastry notes. 
Overall: Gorgeous, graceful and fresh.
Around 110-112 years. Spent 100 years in cask before being transferred to glass. It then spent 10-12 years in a newish cask before bottling. 
Nose: Intense, such depth of flavour. Initially it's furniture polish followed by overripe pineapples, apricots, dark chocolate and tobacco. Rancio city! 
Palate: Wood tannin, Havana cigars, dark chocolate with peppery spicy notes, and then you get this huge woosh of fresh fruit, peaches and apricots, charging through. Incredible!
Finish: Falls away gently with walnuts, damp leaves and expensive cigars, and then just when you think it's all over, in comes a second wave of oranges and cloves. Nutmeg, prune.roasted walnuts, 
Overall: Simply breath-taking, astonishing complexity but so fresh at the same time. 
See the full range of Hermitage Cognac here.