Today's we're polishing the Glencairn for a very special single malt whisky that has just arrived at MoM towers. It's the latest iteration of the flagship whisky from one of England's top distillers: The Lakes Whiskymaker's Reserve No.5!
The aptly-named Lakes Distillery in the Lake District is at the forefront of the English whisky scene. The team has some serious pedigree headed up as it is by ex-Macallan whisky maker Dhavall Gandhi and one of the co-founders is Paul Currie, who was involved with setting up the Isle of Arran Distillery.
As you might expect from a former Macallan man, Gandhi is pretty keen on sherry casks as the Whiskymaker's Reserve series makes clear. All the releases are built around sherried wood. But the inspiration doesn't just come from Scotland and Jerez, he's also learned some lessons from Cognac practices. 
Inspired by Cognac
Influenced by the way Cognac cellar masters work, the team at the Lakes take an active role in monitoring the development of their whisky. Location within a warehouse can drastically affect how quickly whisky matures so casks might be moved around depending on how they taste, or put into different casks to enhance certain flavours. 
But what happens before maturation is in no way straightforward either. Gandhi uses three types of yeast: a traditional whisky distilling yeast, a French yeast, and a heritage yeast. The different yeasts produce three different washes with varying flavour profiles that Gandhi can use for blending post distillation. This is something seen in Japanese whisky and in the US at distillers like Four Roses, but you don't see it very often in Scotland. 
How many new makes?
Distillation, in contrast, is entirely conventional. Only joking! Gandhi does a standard double distillation in two pot stills but he creates two different washes, a light and a heavy. The lighter one goes through a copper condenser to create more reflux, whereas the heavy goes through stainless steel. So you have six different new makes in all, a light and a heavy from each yeast strain. The new makes are around 67% ABV and are diluted down to 58% ABV for maturation.
Then it's on to the casks. The distillery produces some limited edition releases including the delicious and sadly sold-out Miramar which accentuate unusual casks like tawny Port pipes, but the Whiskymaker's Reserve style, the brand's flagship, is all about sherry, sherry, and a bit more sherry. But, of course, there's sherry and there's sherry. Gandhi uses both American and European oak casks, either 500-litre butts or 250-litre hogsheads seasoned with Oloroso, Fino, Cream, or PX. Plus there are some red wine casks in there. So between the types of cask, the three yeasts strains, the heavy and light new make, and different places in the warehouse, Gandhi has a mind-boggling palette of whiskies to work with. That's before you take into account different ages. 
Introducing the Lakes Whiskymaker's Reserve No.5 
Putting all that together can't be easy. The latest iteration of the classic Whiskymaker's Reserve, Whiskymaker's Reserve No.5 is made up of a blend of Oloroso, PX, and red wine casks comprising Spanish and American oak. According to the press bumf: "we wanted to create a whisky that has the same complex sherry-led style as previous releases but is much more refined and elegant."
And I have to say that Gandhi has succeeded admirably. The Whiskymaker's No. 4 was a sweet, sticky sherry bomb but the No. 5 is much more spicy and aromatic though there's no shortage of chocolate, dried fruit, and sweetness, and it's smooth as hell. As usual with the Lakes, the alcohol levels are more than generous, 52% ABV. 
For my money, it's a much more balanced whisky. It tastes more mature and shows how this pioneering distillery is evolving and improving with every release. As with all single malts from the Lakes, it's a limited edition, so when it's gone, it's gone. And then there's Lakes Whiskymakers Reserve No.6 to look forward to. With so many casks to choose from which are getting better every day, it should be well worth waiting for. 
The Lakes Whiskymakers Reserve No.5 is available from Master of Malt. Click here to buy.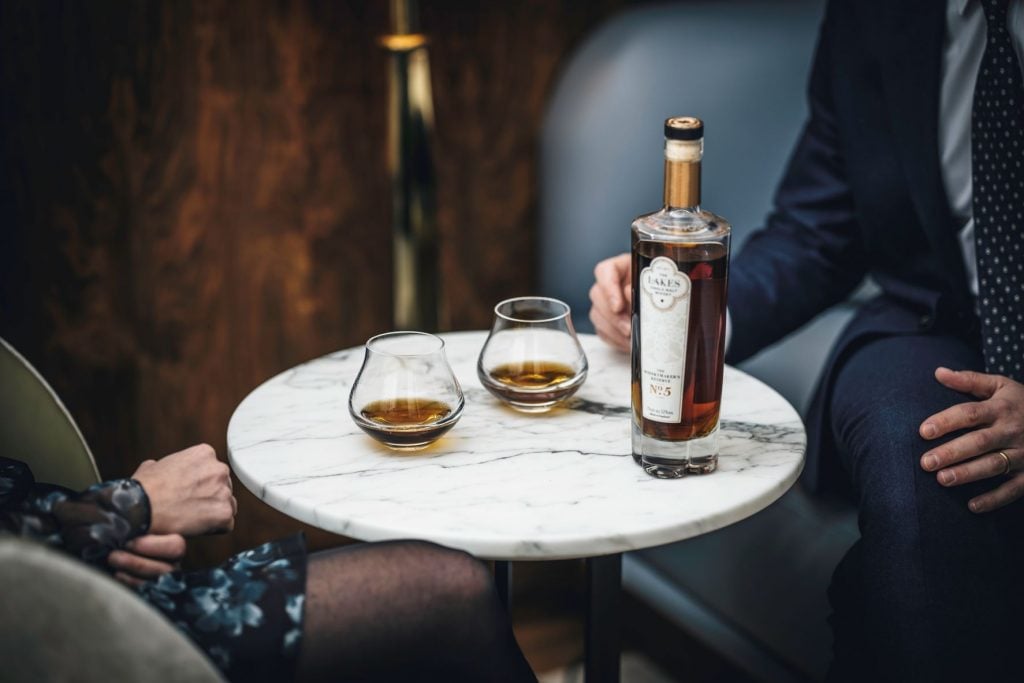 Tasting note from the Chaps at Master of Malt:
Nose: Rich sweet notes of toffee, chocolate, dates, and rum along with tobacco, mint, and ginger.
Palate: Really spicy with black pepper, chilli pepper, and a peppermint freshness about it, plus cinnamon and ginger. This gives way to a creme caramel-like sweetness with pecans and walnuts. Super smooth.
Finish: Burnt caramel, coffee, dark chocolate, and a little orange peel.