There's a new addition to the Four Roses core range! As you might expect we were pretty excited when we heard this, even before we tasted it. And of course, it didn't disappoint, Four Roses Small Batch Select is truly sensational.
If you've only got room for one bottle of American whiskey in your drinks cupboard, then you should look no further than Four Roses Small Batch. It fulfils three roles in one: it's a bourbon but with a high rye content, so it covers both those bases in cocktails. But it's interesting enough to sip neat and admire all that complexity. In fact, you'll struggle to find a better whiskey from anywhere for under £30. Yes, it's really that good.
Fancy Four Roses
But it's not the pinnacle of the Four Roses range. Not by a long way. The great Kentucky distillery also produces barrel strength bottlings which are only available in limited quantities and tend to get hoovered up very quickly despite, or maybe because of, the high prices. Now, however, there's a bottling between the everyday magic of the Small Batch and the rarified limited editions. It's called Four Roses Small Batch Select and it's every good as you might expect.
Before we dive in, we're going to take a look at the unique production methods at Four Roses. Most whiskeys and indeed whiskies are made from a standard mash bill and production methods. The difference between bottlings is in the casks and the length of time ageing. 
But at Four Roses master distiller Brent Elliott has 10 different recipes to play with. There are two mash bills, 'E', a high corn recipe (75% corn, 20% rye, 5% malted barley), and 'B', a high rye version (60% corn, 35% rye, 5% malted barley). Then he has the choice to ferment with one of five yeast strains which all contribute different flavours: V (light fruit), O (rich fruit), Q (floral), F (herbaceous), and K (spice.) You can read more depth about the Four Roses process here.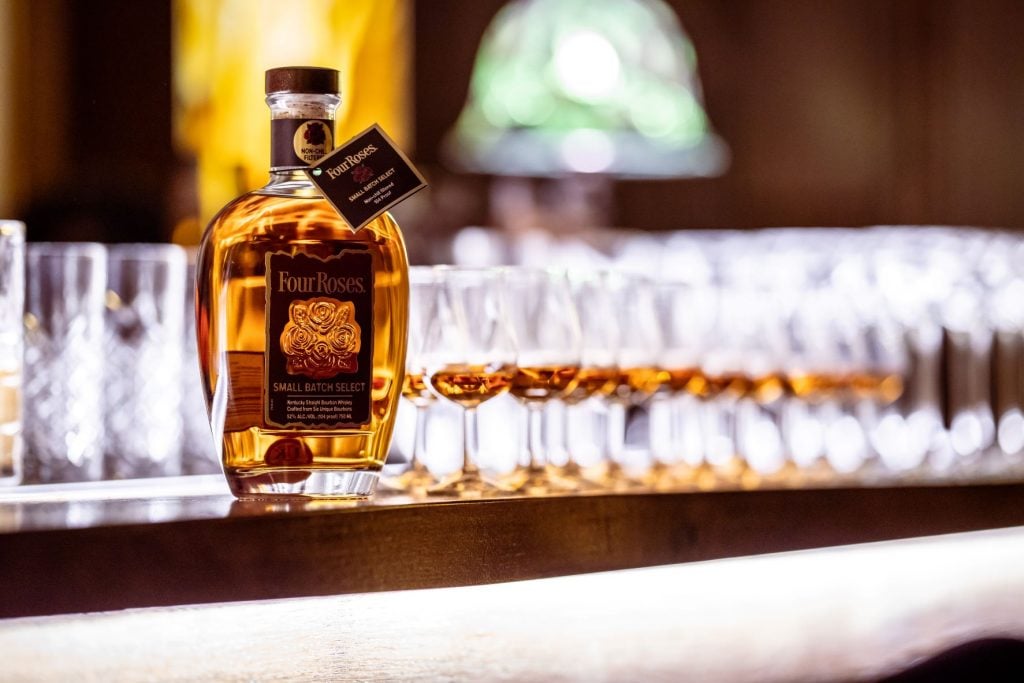 Tasting Small Batch Select
Small Batch Select combines six of these recipes: OBSV, OESV, OBSK, OESK, OBSF, and OESF. O means it's made by Four Roses and S means straight bourbon. So you can see the mash bills are split evenly between high corn and high rye, but with the yeasts the emphasis is very much on the spice with herbal and light fruit supporting. 
And this is born out on tasting as Small Batch Select is spice city. I found it incredibly spicy and dry with much less of the toffee and popcorn you usually get in a bourbon. It's essentially a bourbon for lovers of rye whiskey. The ABV at 52% is just perfect for sipping neat. You don't need to dilute it at all. If you are planning to mix, I'd stick 
with simple cocktails like the Old Fashioned. For anything more lavish, I'd go for the standard Small Batch, and save Small Batch Select for long conversations when old friends come over. 
Four Roses Small Batch select is available from Master of Malt. Click here to buy.
Tasting note for Four Roses Small Batch Select
Nose: Pumpkin pie, baking spices, dark chocolate, black cherries, cloves, ginger and chilli.
Palate: Dry and super spicy with nutmeg, cinnamon and Szechuan peppers. Hugely aromatic. There are also sweeter notes of caramel, chocolate and peanuts – yes, like an alcoholic snickers bar.
Finish: Dark chocolate, very long and intense.