Sound the whisky klaxon! International spirits kingpin Distell has just released eight exceptional limited-edition bottlings across its single malt Scotch whisky portfolio, which spans Tobermory, Deanston and Bunnahabhain distilleries. And guess what? We were lucky enough to sample three of them during an online tasting with master blender Julieann Fernandez, distillery manager Andrew Brown and visitor centre manager Dr Billy Sinclair. Here's the scoop…
Little can top the thrill of pouring a dram of whisky you've never tasted before, except, of course, sharing the experience with the folks who made it – which is exactly what we did last week during an online tasting hosted by Julieann Fernandez, master blender across Distell's single malt Scotch whisky distilleries; Andrew Brown, distillery manager at Bunnahabhain; and Dr Billy Sinclair; visitor centre manager at Bunnahabhain. The occasion? To toast the 2020 edition of Distell's limited edition range, which this year boasts a combined age of nearly 150 years across eight expressions from Tobermory, Deanston and Bunnahabhain. And they're here!*. 
Tobermory is the Isle of Mull's only whisky distillery and – having been established in 1798 – one of the oldest commercial distilleries in Scotland. It's here that both unpeated Tobermory and peated Ledaig single malts are produced. This year, the Hebridian distiller has crafted three limited-edition drams, the first being Tobermory 2007 Port Pipe Finish, bottled at 55.8% ABV. Peat fans will be pleased to hear we've been treated to two Ledaigs: 1998 Marsala Finish, bottled at 58.6%; and 2007 Pedro Ximenez Finish, bottled at 55.5%.
Over on the mainland, perched on the banks of the River Teith, lies Deanston. This former cotton mill was lovingly transformed into a whisky distillery in 1966, and bottled its first whisky eight years later in 1974. This years' collection welcomes a 2002 Organic Pedro Ximenez Finish, bottled at a cask strength of 49.3% ABV – Deanston became one of the first Scottish sites to start producing organic whisky back in 2000 – along with a 1991 Muscat Finish, which comes in at 45% ABV, and a 2002 Pinot Noir Finish at 50% ABV. 
Rounding off the collection is Bunnahabhain, which has been situated on Islay's most northerly point since it was established in 1881, and remains the island's most remote distillery to this day. There are two glorious bottlings to choose from: Bunnahabhain 2008 Manzanilla Matured, which unlike the others, is a full maturation as opposed to a finish (bottled at 55.4% ABV); and Bunnahabhain Moine 1997 Pedro Ximenez Finish, bottled at a respectable 50% ABV. All eight expressions are of natural colour and non-chill filtered. Lovely stuff.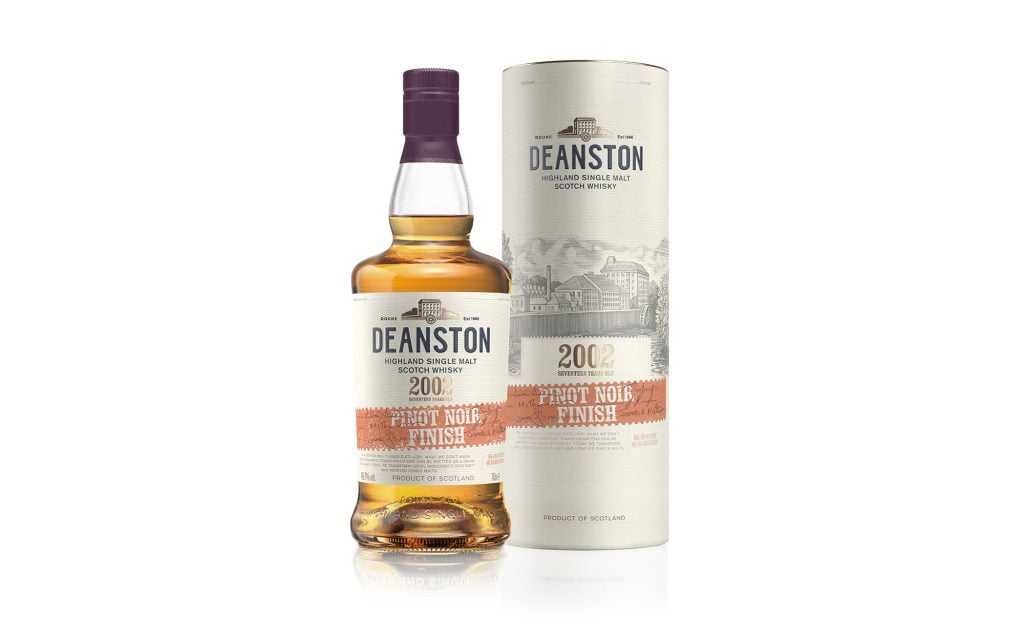 Our first pour was Deanston 2002 Pinot Noir, which started its journey back in December 2002. It was initially filled into refill casks and then transferred into pinot noir casks in June 2018. Deanston is a very light and adaptable spirit, Fernandez says, and this is due to a quirky production design. 
"The stills are very tall and they have an inclining lye pipe, which is quite unusual," she explains. "Because of the shape, we get a lot of reflux, which creates a really light spirit." For that reason, Deanston's new make lends itself to a huge array of different cask types and different finishes. "With a Pinot Noir coming from the Champagne region it is very special, and I think it pairs beautifully with the Deanston," she says.
On the nose, this whisky is crisp, with hints of vanilla and oak and plenty of green apples, says Brown. "The palate is quite dry, quite acidic but it still reminds me of Deanston – the crisp apple that I associate with Deanston is still coming through," adds Fernandez. "Lovely maltiness and hints of tannins, and quite a long finish on this – the acidity lingers with a malty creaminess."
"I definitely get the apples on the nose, but it's almost like the bottom of the box of the apples – slightly musty, a wee earthy quality to it, but still got the sharpness," Dr Sinclair continues. "The finish is incredible, it comes in waves. You get the sharpness, then it dies down and the creaminess comes in, and it just ripples off into the distance to the back of your throat. It's absolutely beautiful."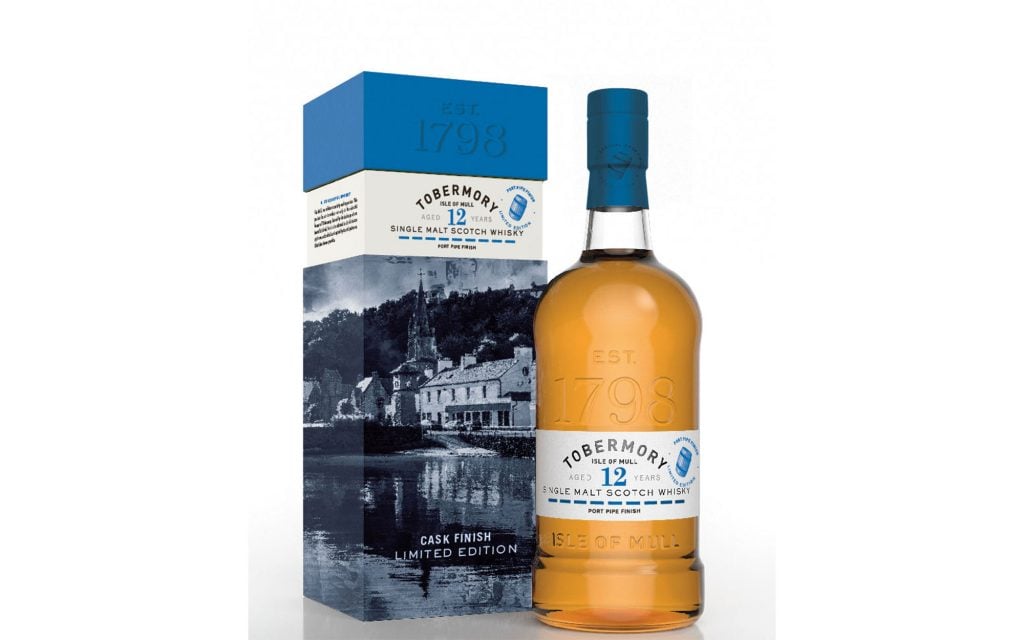 Tobermory 2007 Port Pipe Finish
Next stop, Tobermory. As we referenced earlier, the Isle of Mull-based operation produces two single malts: Tobermory, which is unpeated, and Ledaig, which is peated. "The distillation process for both of them is exactly the same – just slightly different cut points for the Ledaig just to get all the phenols over," says Fernandez.
Today we're tasting Tobermory 2007 Port Pipe Finish, which was distilled and filled into refill hogsheads in October 2007 before transferring to Port pipes in June 2016 for a further four years' maturation. Tobermory's new make spirit is quite complex, says Fernandez, and more robust compared to Deanston.
"Tobermory's new make is packed full of citrus, especially orange, and this really comes through in this Tobermory limited edition," says Fernandez. On the nose, "there's a lot of sweet citrus, poached pears, Turkish delights, rose petals, and a hint of cold espresso. On the palette, really creamy, beautiful sweetness with pears and oranges coming through. Rich oak, vanilla, caramel and warming spice."
Dr Sinclair agrees. On the nose, "jasmine and liquorice, and then that vanishes and you get that creamy rich sweet flavour coming through from the port influence," he says. "At the end, it's warm and rich with five-spice, and when you add a couple of drops of water into it, the finish seems to last even longer – it's as though you've turned the volume down from 10 to seven, and it's just continuing like that off into the distance."
"The finish is just amazing on this," Brown agrees. "The balance between Tobermory spirit and the Port wood cask is just spot on. Sometimes port overpowers whisky, but in this, it complements the Tobermory spirit so beautifully. An absolutely stunning dram."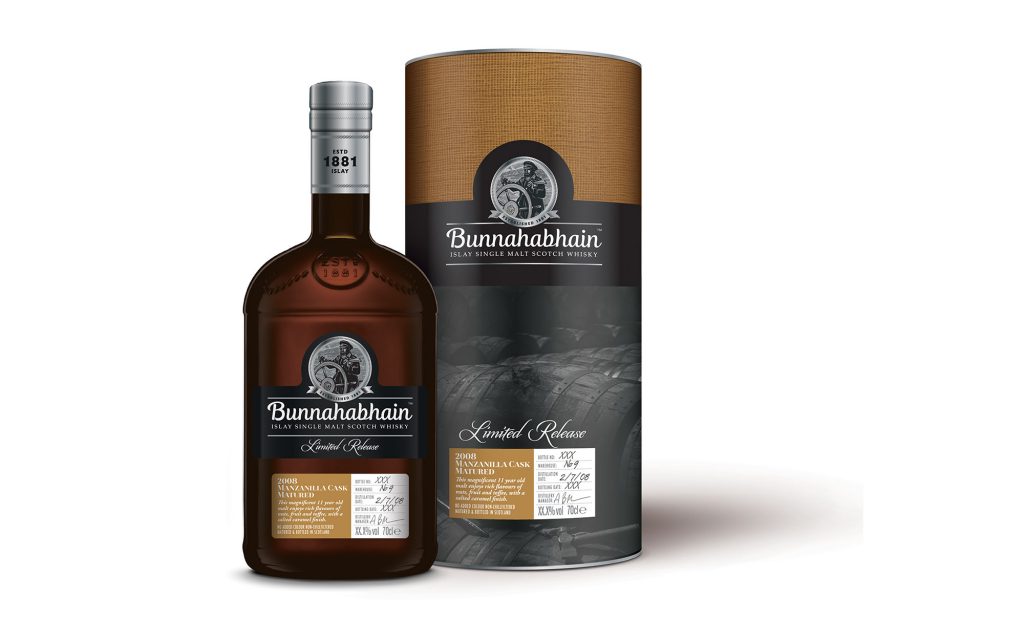 Bunnahabhain 2008 Manzanilla Matured
Our final Scotch whisky stop for the day is Bunnahabhain on Islay. The first bricks were laid down in 1881, and it first went into production in 1883, says Brown. The distillery exclusively produced peated whisky until 1963, where the production pivoted to unpeated only. Since 2003, the site has produced both unpeated and peated whiskies, and as such has released both styles in this years' collection. 
The one we're tasting – Bunnahabhain 2008 Manzanilla Matured – is unpeated, and has been matured entirely in former Manzanilla sherry casks for 11 years, having been filled on 2 July 2008. "On the nose, you get salted caramel, creamy berries, rich oak, honeyed cashew nuts, dried fruit, and there's a subtle spice," says Brown. "With a wee bit of water in it, the berries come out more and more – it's an absolutely beautiful nose."
On the palate, you'll find "lovely dried fruit and fig with sweet malt, candied fruit, and a nice oak toffee taste," he continues. "I get a salty, briny note, I don't know if it's just because the cask has been beside the sea since 2008. On the finish, more dried fruit and salted caramel – a bit of water in it and you get more spiciness coming through; a drier finish with more oak. For me, it's an absolutely cracking whisky."
"This finish is so long and so full," agrees Fernandez. "The flavours just coat your mouth and linger there, all the dried fruits you mentioned, that salted caramel. Completely with you on the salty note. I think this is absolutely exceptional." 
And Dr Sinclair agrees. "Adding a drop of water at the end, the saltiness just goes right up," he says. "It's dry, it's clean, it's crisp, and then you get that lovely caramel coming through towards the end. For me, Bunnahabhain and Manzanilla just work. This is a really good example of that pairing coming together in harmony."
The new Distell bottlings are available to buy from Master of Malt. 
*Excluding the Ledaig 2007 Pedro Ximenez Finish, bottled at 55.5%, which is currently a visitor centre exclusive. We'll let you know if this situation changes.