We taste our way through GlenAllachie's limited edition Virgin Oak Series and talk to master distiller Billy Walker about wood policy, oak species, local terroir and more, as well as how to ensure distillery character isn't lost in experimental maturation. 
In October, The GlenAllachie Distillery tweeted that "Wood policy is an essential part of our master distiller, Billy Walker's craft. He meticulously hand-selects all the casks from around the world". The brand then invites fans to suggest cask types they'd like to see Walker use, and in the background, you can see a cask from Koval Distillery in Chicago, a ruby Port pipe and a Pedro Ximenez cask.
It's a demonstration of how Walker works and what he wants GlenAllachie to be. October also marked three years since Walker bought the distillery near Aberlour in 2017 with Trisha Savage and Graham Stevenson and in this time they have become familiar with the site and its inventory and defined GlenAllachie as a distillery with a full-bodied, fruity, sweet and biscuity spirit, delivered in part by long fermentation (something of a signature of Walker's), with a wood policy that emphasizes using oak with history and unique characteristics.
Which brings us to The Virgin Oak Series, a new range consisting of whiskies finished for twelve months in casks of different oak species from regions around the world: 12 Year Old Spanish Virgin Oak Finish, 12 Year Old French Virgin Oak Finish and 12 Year Old Chinquapin Virgin Oak Finish. Each whisky was first matured in white American oak ex-bourbon barrels and every virgin oak cask was toasted and charred to the same level (medium, toast for 30–40 minutes, char for 30–40 Secs). They were also bottled without any additional colouring or chill-filtration at an ABV of 48%, which means every parameter was kept consistent so any distinctions and nuances between the expressions will be down to the virgin oak casks.
Walker, who was awarded Master Distiller/Master Blender of the Year 2020 at the Icons of Whisky Awards, commented: "We had already a lot of knowledge on the behaviour of a variety of different virgin oak casks and thought it might capture the imagination of the curious inquisitive consumer. We have endeavoured to showcase how different oak genera can determine the flavour and organoleptic profile of the maturing whisky. We selected three oak styles which from our experience we know would deliver significant differences that the consumer could recognise and appreciate."
He went on to explain how the three oak species each have their own distinct flavours caused by wood structure, pore size and chemical make-up. These characteristics are exacerbated by the different lengths of time each wood is air-dried for (see tasting notes). Walker said: "Natural air-drying provides a more natural and gentle drying experience in reducing the water presence down to under 10%." 
Experimenting with maturation in this regard is incredibly exciting, but it does come with risks. A series like this is only interesting if we can observe how the GlenAllachie distillery character is affected by the cask types. If it's overwhelmed by the virgin oak (which can easily happen), then the series falls flat. A full-bodied distillate helps, but Walker says that to avoid this pitfall, experience and knowledge are key. "We ensure that the secondary wood management does not overwhelm the fundamental DNA of the GlenAllachie distillate by allowing the secondary maturation to continue only until the "sweet spot" has been achieved. This requires a lot of sampling to follow its development. We were checking every fortnight".
Tasting the Virgin Oak Series (which you can watch Walker doing here), I think it's fair to say that the experiment worked. The contrast between each expression is stark and, while the integration wasn't always consistent, I was impressed with how much GlenAllachie personality is here. There's a whisky for all palates in this range. The French Virgin Oak is the finest of the three in my book, but we'd love to hear which you enjoyed the most. Looking forward, Walker confirms that GlenAllachie has a lot of interesting things going on (look out for British oak and Mizunara casks) which he assures us will lead to some absolutely stunning releases. We look forward to trying them too. For now, check out our tasting notes and details on the new releases, which you can buy here, below.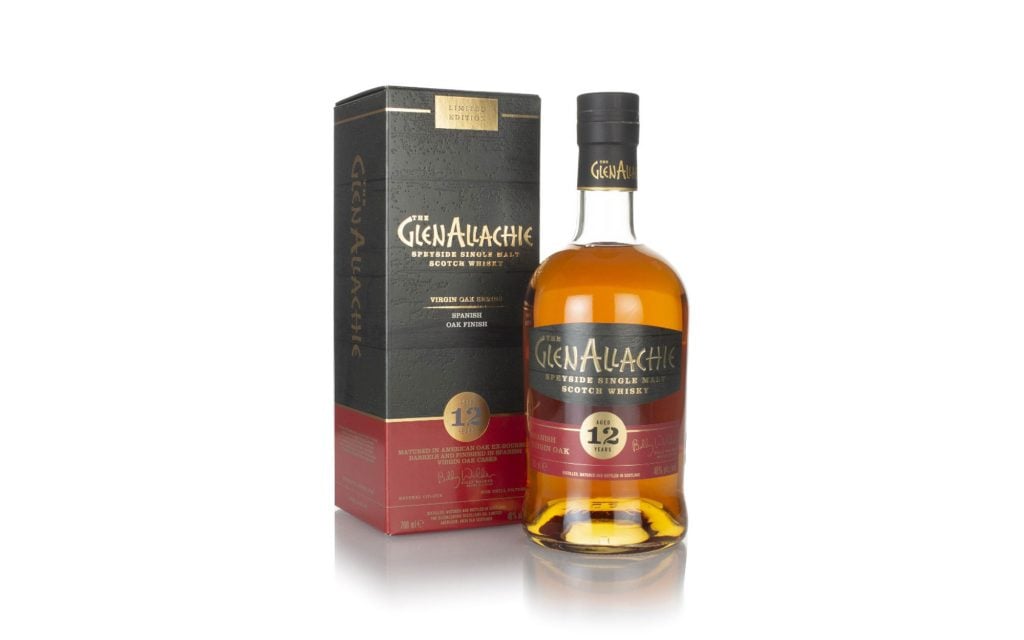 GlenAllachie 12 Year Old Spanish Virgin Oak Finish
The Spanish Virgin Oak was finished in hogsheads made of Spanish white oak (both it and the French oak are types of Quercus Robur) from the Cantabrian Mountains in northern Spain. Walker says this area has a cooler climate and greater humidity than the rest of the country and that the pores of the Spanish virgin oak are less tight. When combined with the length of air drying (18 months), he says it imparts distinctive spicy, treacly notes with heather honey, treacle, coconut, orange zest, nutmeg and cinnamon"
Master of Malt Tasting Note:
Nose: Soft toffee pennies, Bounty chocolate bar, floral honey and orange peel with dark chocolate, bruised peach, hazelnut, buttery biscuit, mini foam bananas and hints of fresh clove and cinnamon in support.
Palate: Waves of chocolate and milky coffee come through with treacle, apple blossom, floral notes, dried fruit, black pepper and stem ginger.
Finish: Long, delicately sweet and with Sugar Puffs some lingering spice and floral elements.
Overall: The cask has brought out the citrus, biscuity and spicy elements in an approachable, bright that possesses weight and complexity. The most fun of the three, but without the depth of the French oak.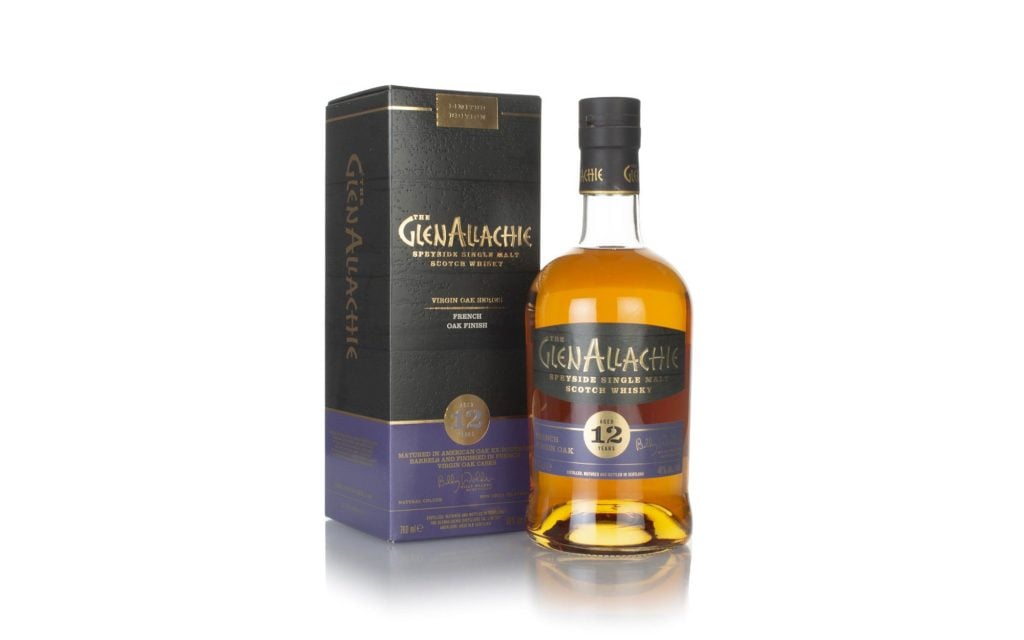 GlenAllachie 12 Year Old French Virgin Oak Finish
The French Virgin Oak Finish is made from French oak from the Haute-Garonne region near the Pyrenees and the wood was air-dried for 15 months. Walker says the wood is very finely grained and rich, which creates a subtle, sweet and earthy taste with silky tannins, honey, fruit, orange zest, honey and ginger.
Master of Malt Tasting Note:
Nose: At first there's drying red apple skins, some earthiness, digestive biscuits and heather honey followed by a little mocha, pink grapefruit, chocolate orange, cinnamon and honeycomb.
Palate: Lots of coffee, tannins and butterscotch upfront, with orchard fruit, dried apricot liquorice and a touch of bran muffin underneath. 
Finish: Rich, sweet and long with cinnamon, white chocolate and citrus.
Overall: An earthy, more mellow and bittersweet dram that's got so much depth and subtlety as well as the best integration of cask and distillate.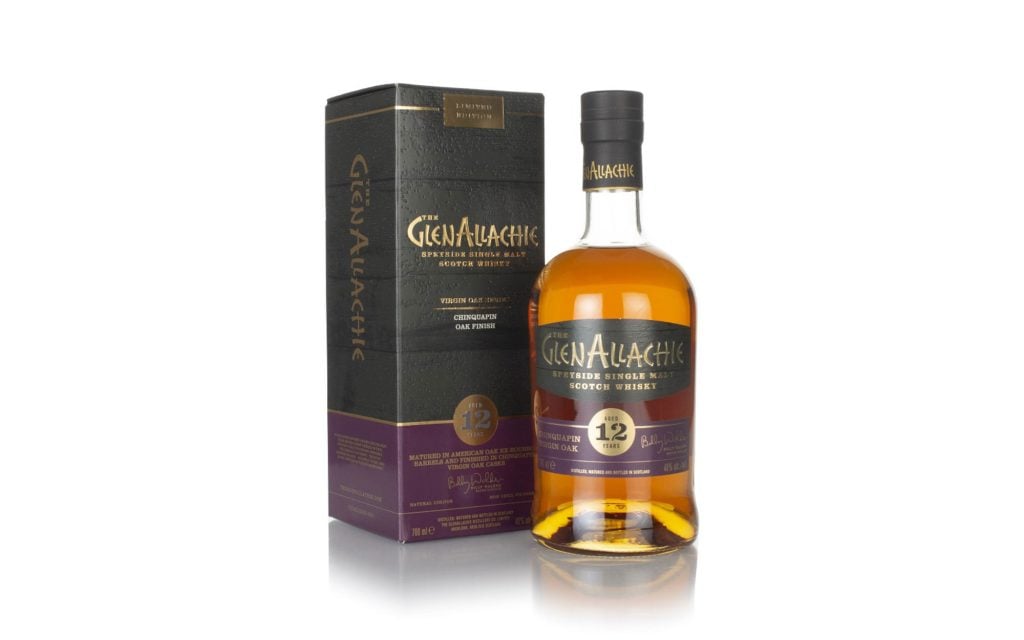 GlenAllachie 12 Year Old Chinquapin Virgin Oak Finish
Finally, the Chinquapin Virgin Oak Finish is made from casks from the northern Ozark region in Missouri, USA. Chinquapin is a sub-species of quercus alba (Quercus Muehlenbergeii). The casks are air-dried for nearly four years which Walker explains creates flavours of liquorice and even hints of rosehips, which accompany complex, zesty flavours with notes of heather honey, barley sugar, toasted biscuit and orange zest, mocha, anis, fennel, cinnamon.
Master of Malt Tasting Note:
Nose: Vanilla tablet, fragrant citrus, honey and a little cacao leads with heather, polished oak, drying nutmeg and Thorntons Caramel Shortcake Bites in support.
Palate: Initially there's butterscotch biscuits, stewed apple, hazelnut and honey on toast before that liquorice, aniseed boiled sweet elements appear among a little baking spice and sandalwood.
Finish: A big scoop of chocolate ice cream, buttery vanilla and plenty of cinnamon.
Overall: Hugely decadent and full of personality, but it's a touch overwhelming for me.