Some very special blended whiskies from Dewar's have just landed at Master of Malt. They're called Dewar's Double Double and come in 21, 27, and (coming soon) 32 year old varieties, all finished in different types of sherry casks. We had a little taste.
As much as I love the often spiky uncompromising flavours of a single malt, sometimes I'm in the mood for a great big soft duvet of a whisky. One you can sink into and float away on a bed of deliciousness. If you too have a hankering for such things, then you might be in the market for two blended Scotch whiskies that have just landed with us. In the immortal words of  Stephen Fry they are as "smooth as Dr Slinky McVelvet, inventor of the word mellifluous".
Dewar's Double Double blends are here
Master blender Stephanie Macleod's brief was to create "the smoothest blend you've ever made," as she tells it. The blends are inspired by a look into the archives and the work of AJ Cameron, Dewar's first master blender. The result is the Dewar's Double Double range. The name comes from the four stage ageing process that MacLeod has developed. Step one is the ageing of the various malt and grain components. Then in step two the grains are married in used casks, and the malts married separately. In step three the grain and malt components are married before the final step, finishing in sherry casks. Each expression highlights a different style of sherry: the 21 goes into oloroso, the 27 palo cortado and the 32 year old goes into Pedro Ximénez casks.
Dewar's is aiming right at the top of the blended whisky tree. We probably don't need to say who the obvious competition is. But the flavours are very different to the delicacy one finds in Johnnie Walker Blue Label, whoops, I said it! These are powerful, sweet, full-flavoured and sherry-forward whiskies. If you like a Tamdhu or a Glenfarclas, you're going to enjoy these. But underneath the sherry power, there's real elegance and subtlety about these blends which repays long contemplation.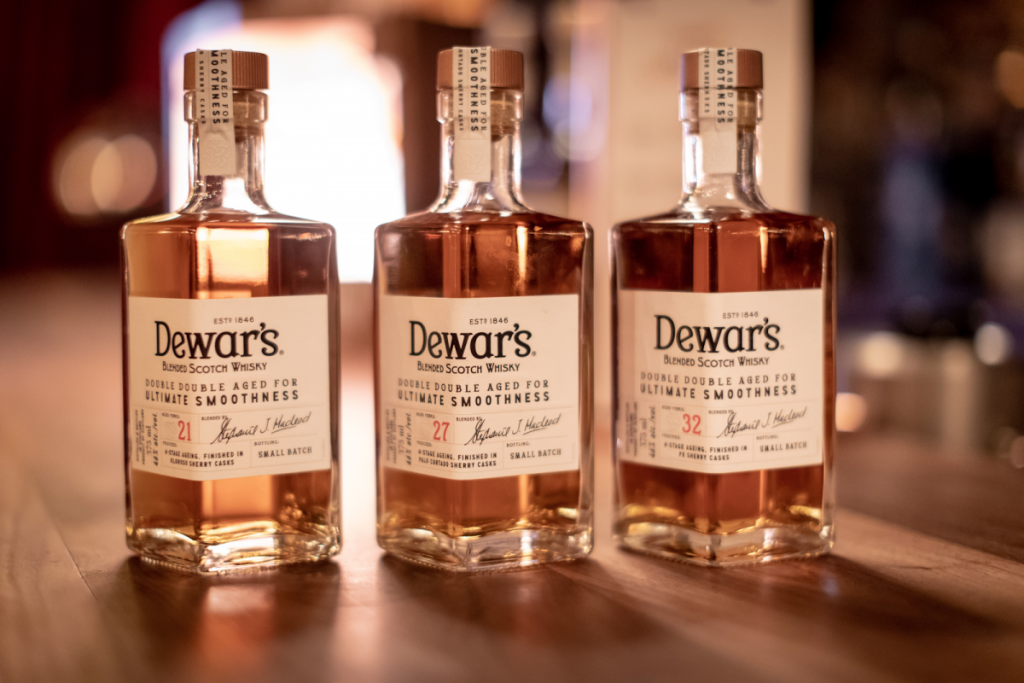 Sherry heaven
I recommend getting out your heaviest tumbler pouring a few drops in and then lie back and soak up the smoothness. We have the rich oloroso-finished 21 year old and the drier palo cortado 27 year old in stock. There's also a super super super premium PX cask 32 year old which we haven't got in yet. 
These are luxurious tasting whiskies that, though they're unlikely to be on the shopping list for peatheads, are well worth a go if you love a well-aged whiskies or you want to buy a lavish gift for someone. The rhomboid 50cl bottles are pretty snazzy too. Once you take into account the smaller size, the price of the 21 year old is comparable to a certain other luxury blend. But with the Dewar's you're getting an age statement and that rich sherried taste. I know which one I'd go for. 
Nose: Big sweet sherry on the nose, Harvey's Bristol Cream, caramel, menthol, tobacco, dried fruit, red cherries and furniture polish. Lots going on here. 
Palate: Dry initially, very aromatic and peppery. Then in come the sweet dates, stone fruit and molasses with a touch of orange peel.
Finish: Aromatic woody spices and a refreshing citrus lift
Nose: Highly aromatic nose. It crackles with spices like cinnamon and Szechuan peppers plus raisins and dark cherries. Smells absolutely amazing.
Palate: Lots of spice with camphor-like aromatic notes. Lots of sweetness here too with thick toffee and milk chocolate followed by spicy ginger biscuits.
Finish: Spicy ginger with cereal and caramel notes.