Master of Malt has another UK exclusive today, it's Mars Tsunuki 2022 Edition, a delicious single malt whisky from Japan. 
If you're a lover of Japanese whisky then you've probably had various things from Nikka, like the delicious Coffey Grain, or Suntory, like Toki or Yamazaki, but have you ever tasted Mars? The company produces a range of single malts, blended malts, and blends, and, unlike some of its rivals, it's always been transparent about sourcing some of the stock for its blended whisky from Scotland.
It's out of this world
Our Master of Malt UK exclusive, however, is a single malt from Mars Tsunuki, a distillery in Kagoshima prefecture. This opened in 2016 but the company has been producing whisky since 1985. Mars is owned by Hombo Shuzo which has been making shochu since the 19th century, as well as that uniquely Japanese style of wine, Koshu. After a few false starts with distilleries around the country, in 1985 it opened a single malt distillery, Mars Shinshu at Miyata in Nagano province just in time for the Japanese whisky crash of the late '80s and early '90s. The distillery closed in 1992, but reopened again in 2011 when the market picked up. It was completely refitted with new stills of the same shape as the old ones, but larger.
So Mars has two single malt distilleries both of which produce unpeated, lightly peated, and heavily peated whiskies, and they use mainly ex-bourbon casks with some ex-shochu and Yamanashi wine casks, and mizunara oak as well as various fortified wine barrels. They only operate around half the year in the cooler months. Mars has three warehouses including one at Yakushima in the far south of Japan where it's extremely hot. The team moves barrels around so that the whisky ages at different rates. 
The Mars range
From these two distilleries, the company produces a range of whiskies, some of which include bought-it stock. There's Kasei, which means Mars in Japanese, a special blend created for Le Maison du Whisky in France, made up of Japanese malt and grain with some whisky from Scotland. It's aged in a mixture of new American oak, ex-bourbon, and ex-sherry casks, and bottled at 40% ABV.  Then there's Mars Maltage Cosmo which is a blend of Japanese malt, approx 80%, and Scotch single malts aged in bourbon, Madeira, sherry cask, and Port casks with a classic 'sherry bomb' profile.
Finally, Mars releases some single malts from Shinshu, including some very expensive pre-closure bottlings, and now from its newest distillery Tsunuki. For this 2022 release, Master of Malt is the exclusive retailer of this bottle within the UK. It's mainly made up of bourbon cask-aged whisky and bottled at a nice punchy 50% ABV. You can see what we thought below.
Mars Tsunuki 2022 Edition is available only available in the UK from Master of Malt. Click here to buy.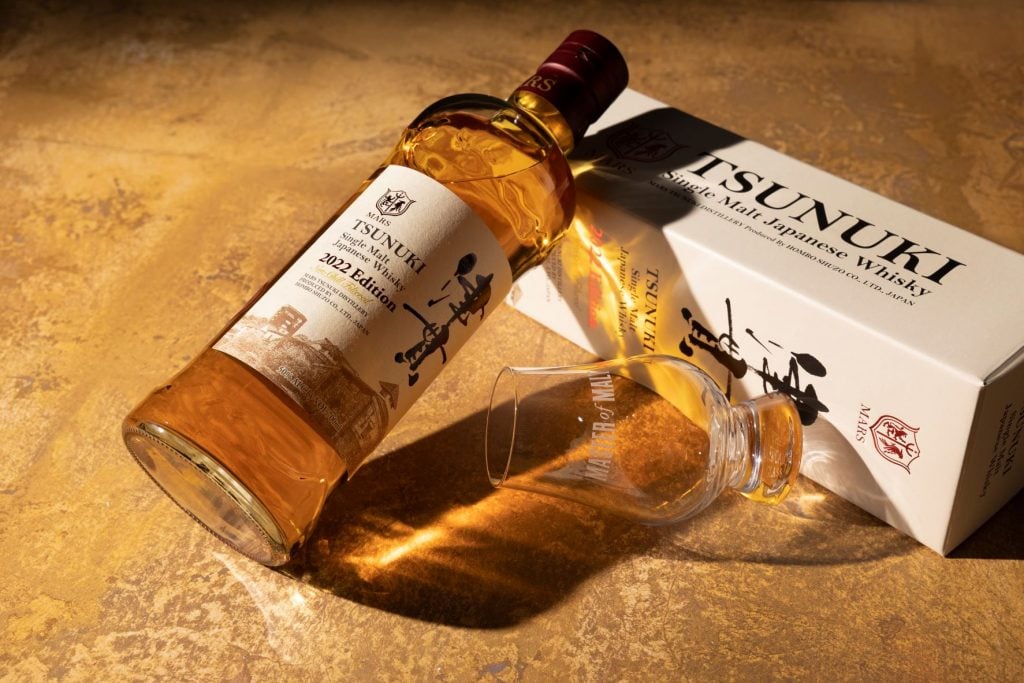 Tasting note from the Chaps at Master of Malt
Nose: Sweet, slightly medicinal smoke glides through apricot jam, tinned peaches, and nutty chocolate. There's soft floral aromas underneath alongside aromatic notes of cedar and sweet tobacco.
Palate: Light and delicate, with bonfire smoke dancing around fruity top notes of apple, blackcurrant, lavender, maple syrup, and citrus peels. Underneath there are hints of black tea, cherry throat sweets, ginger, and dried herbs.
Finish: Black fruit and charred oak sweetness linger.