We're off to Scotland for day 13 of Advent – unlucky for some, but not those who have  Drinks by the Dram's Scotch Whisky Advent Calendar! Let's crack open our dram of Loch Lomond 12 Year Old.
Today we're exploring a whisky from one of Scotland's most diverse distilleries in terms of styles and flavour profiles, Loch Lomond. Based in the Highlands, it currently boasts three different still set-ups (more on that later) giving it the option to produce a plethora of different spirits.
The Loch Lomond story
Loch Lomond as we know it today is something of a second iteration. The first site of the former Loch Lomond Distillery dates back to 1814, found at the north end of Loch Lomond near Tarbet (known as Tarbat). But lack of paperwork means that we don't know exactly when this site closed. 
What we do know is that the current Loch Lomond Distillery was commissioned by the Littlemill Distilling Company in 1965, with the first spirit running off the stills in 1966. In 1984 the distillery closed until 1987, when Alexander Bulloch and the Glen Catrine company acquired the business and resumed malt production. It wasn't until 1994 that grain production first took place, and at the time it was the only distillery in Scotland producing both grain and malt whisky. Two new pot stills were added in 1999, and it now operates a unique set-up of three sets of stills: the original Lomond stills (a combination of pot and column stills), traditional pot stills, and Coffey column stills.
I know what you're thinking. What's a Lomond still? Well, the original distillery held a unique set of straight-neck pot stills with rectifying plates in their necks, which allow different flavour streams to be produced – these are now called Lomond stills. In 1990 two more Lomond stills were added to the mix, before the column stills were added. Loch Lomond now has the capability to produce 11 different distillates for its various lines – Loch Lomond, Inchmurrin, Inchmoan, Inchfad, Old Rosdhu, Croftengea, and Craiglodge, to name a few, with varying degrees of peatiness. We'd say it's one of the most diverse whisky distilleries out there!
Loch Lomond 12 Year Old
Today we're sipping on a classic from the Loch Lomond range, said to be the epitome of its signature style produced using its traditional swan neck pot stills, and its Lomond stills. The 12 Year Old is aged in three varieties of American oak: refill, re-charred, and bourbon. It's all about buttery sweetness, oaky spices, and fresh stone fruits in this fabulous introduction to the Highland distillery.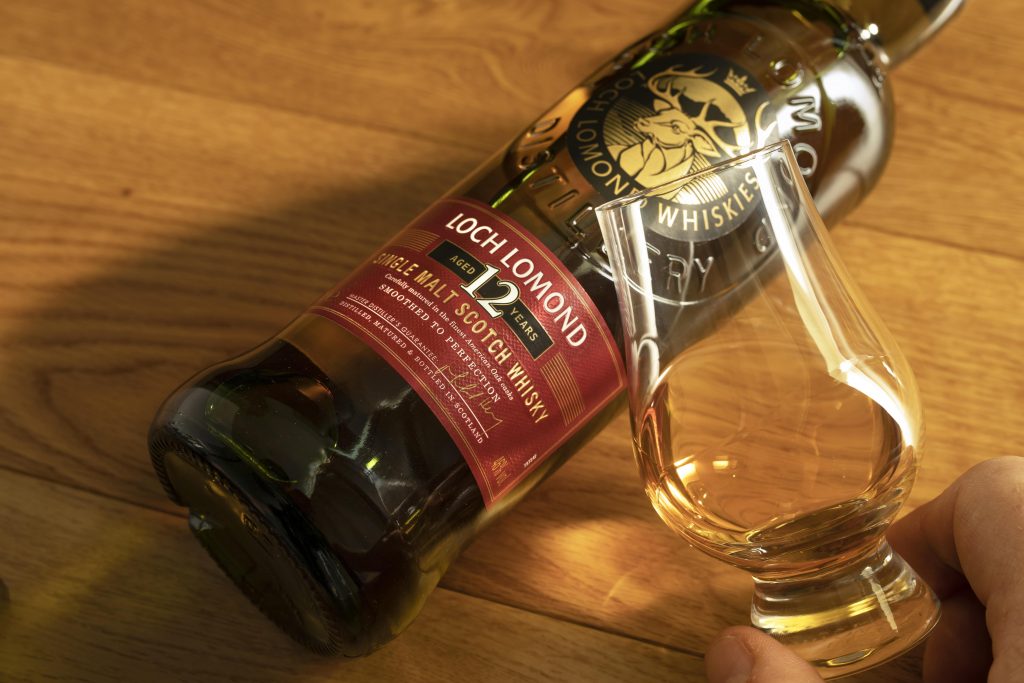 Tasting note for Loch Lomond 12 Year Old
Nose: Hints of spicy oak on the nose, with guava, a little desiccated coconut and dried banana. Buttery.
Palate: Spiced, peaches and cream, with sweet vanilla notes and caramel. Oaky spices.
Finish: Caramel. Toasted oak.
How to make a Whisky & Ginger
50ml Loch Lomond 12 Year Old
150ml ginger ale
Orange slice
Fill a highball glass with ice, and pour in the whisky followed by a good quality ginger ale. Give it a stir, and garnish with your fresh slice of orange. 
We'll be back tomorrow with another Advent dram. Cheers!