You remember our friends from Caskstrength.net? Bespectacled, dapper sort of chaps? They're into whisky and Alan Partridge, do some events…?
Anyway, they've gone and teamed up with BenRiach to put together one of them there special bottlings, they have. And between you and me, it is a delight. Not just because it comes with a rockin' cotton tote bag (well, only the first 50 bottles, mind you), not just because it has a pink label (I am a sucker for pink) [ed: don't you mean red?], and not just because it spent four years in a PX cask (I am a major sucker for PX). It is delightful because it was hand-selected by Joel and Neil themselves, only 296 bottles are to be released, and you can only buy it from us. What an expression of a beautiful friendship…or, marriage?
Joel and Neil stopped by MoM Towers last week to hand sign each and every bottle of this delectable dram. They also opened up a bottle to allow the MoM Chaps to sample a dram. And, my friends, it did not disappoint.
Gilles (or Noel) hard at work
Joel and Neil (or—as they are affectionately and collectively known amongst those of MoM ilk—Gilles) are on a mission to create an A-Z of spirits. Many of you will remember the Caskstrength.net Arran released last year which sold out in a matter of days. In fact, it quickly became a collectors' item, and just one year later nearly tripled in value. Yowza.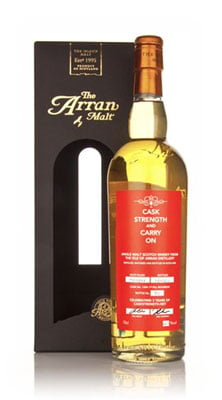 "A" is for Arran, "B" is for BenRiach, "C" is for…
Neil and Joel were the first bloggers to bottle their own whisky, and they are now so renowned and respected that they travel the world tasting and writing about some of the world's finest whiskies. This BenRiach fills in the "B" of the spirit alphabet (one wonders what they'll pick when they get to "G"), so we can anticpate twenty-four more releases—let's just hope we're not waiting twenty-four years for the entire collection!
We couldn't wait. We had to open it.
Bottled at cask strength (meta!), this lovely single malt is released in conjunction with BenRiach, and as such is not technically an independent bottling. Joel and Neil were saddled with the ardous task (I'm so sure) of tasting dram after dram to find their perfect BenRiach for this signature bottling. Their final choice was distilled in 1996 and bottled at 55.2% in July of 2012. Each bottle is hand signed by both Joel Harrison and Neil Ridley, and the first fifty bottles will be sold with a limited edition Cask Strength and Carry On cotton tote bag. And it's pink. We like pink. [ed: I am pretty sure you mean red.]
So, without further ado, I give you my take on this collectable, one-of-kind whisky.
I love Scotch. Scotchy Scotch Scotch. Here it goes down. Down into my belly.
Nose: Toffee sweetness and Werther's Originals spring out of the gate like an eager filly at Churchill Downs. The PX finishing is extremely apparent with brown sugar and Christmastime notes. There is a hint of salted caramel and just a whisper of granny's old baking-and-spice cabinet.
Palate: Rich, dark, and dried fruits roll down like an avalanche and lead into a river of caramel and toffee. Some soft potpourri and candied lemon peel pops up its head but doesn't overpower. Though it begins as an elegant racehorse, it shows its power like the mighty draught horse it is.
Finish: This filly does not disappoint! Long and lingering, it carries the salted caramel through to the back of the throat for a pleasantly dry and lip-smacking finish.
Overall: If you love sherry and adore PX, you will love this dram. An easy drinker with energy and long lasting richness, it certainly demonstrates its value. More, please…
Why oh why was I only alloted a 3cl bottle of this lovely stuff? I'm definitely going to get my hands on a full bottle—it comes with its own satchel, people! How many whiskies can say that, I ask you?
I think I could fit 6 bottles in here, I do.
£10 to the person who guesses what the next release will be. Caol Ila? Cragganmore? Cachaça?
Well done, lads. To you we say, "Back of the (caskstrengthdot) net!"