If you love blended whisky and happen to be in Madrid, listen up. There's a new Johnnie Walker flagship where you can take a tasting class, mix cocktails, test your olfactory sense, and more! We had a nose about at the opening and can confirm it is worth the hype.
There's a new Scotch whisky destination to add to your bucket list, and it's not even in Scotland. Yes, folks – it's the new Johnnie Walker flagship on a fancy high-end shopping street in the centre of the Spanish capital, Madrid.
Before you roll your eyes at the hint of the words "experiential marketing", hear us out. We were invited out to the launch and were genuinely impressed by the space, which is much more about encouraging people to get involved and taste Scotch than it is purely about flogging bottles.
Yes, the store is gold and shiny. But it's also fun. And we reckon there needs to be loads more fun in the world of Scotch whisky.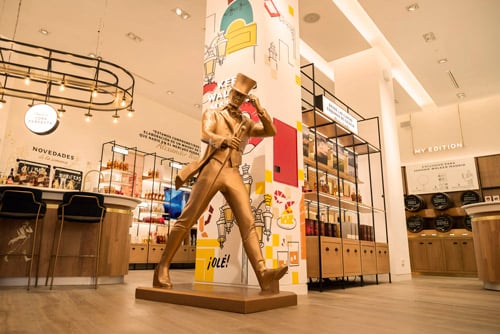 Gold and also shiny
Walk in the door, glance left and the first thing you see is a bar. But not just a bar where you'll get a cocktail. Here you're encouraged to pick up the kit and get shaking yourself. We made a raspberry sour with Johnnie Walker Black. If you want a laugh, check out our Instagram Story archive. It's certainly not slick, but the result was delicious.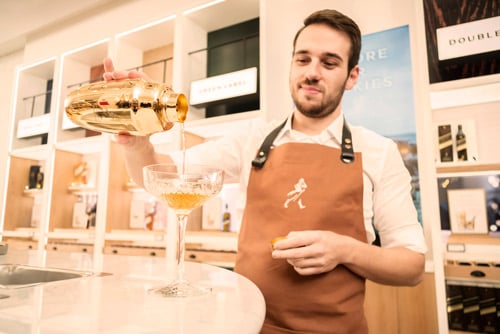 Remained this calm the whole time. Yep.
Then there's the tasting table where you can deconstruct a blend and taste the actual single malts and grains that make up an expression. Again, it was Johnnie Walker Black in the limelight, dissected into some of its constituent parts: Caol Ila 12, Cardhu 12, Clynelish 14 and Cameron Brig. Delicious stuff.
There's a whole wall dedicated to the aromas and flavours in each blend, with bell jars holding in all manner of aroma sticks. There's a virtual reality-type tour of the distilleries. A personalisation station where engravings and messages can be added to bottles. And there are all manner of experts at hand to advise, guide and entertain. Oh – and there's even award-winning chocolates made just outside Crieff, near Perth in Scotland. We tried an especially delectable passion fruit number. Not generally being into fruity chocs, we were pleasantly surprised. It was washed down with a highball. Also delicious.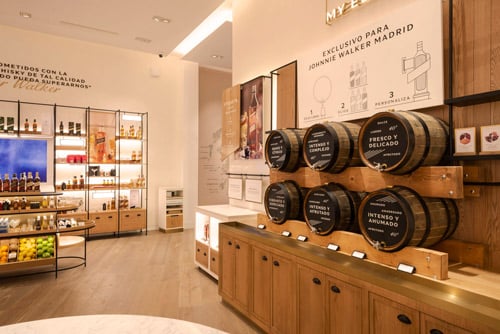 There's definitely plenty to do
"We're always looking for new ways to surprise and engage our customers and this kind of experiential Johnnie Walker flagship store does just that," said John Williams, Johnnie Walker head honcho, AKA global brand director.
"It also adds a sense of fun and discovery to shopping and is a whole new way of experiencing the diversity and rich heritage of Johnnie Walker."
We also got to spend some time chatting to Duncan Elliott, Johnnie Walker global marketing and innovation director, and Greg Klingaman, global head of retail and strategic partnerships, as well as Cristina Diezhandino, Diageo's global category director for Scotch and Reserve Brands. Keep an eye on the blog over the next few weeks for their views on why there's so much going on at Johnnie Walker right now, whisky cocktails, fancy pants blended Scotches, making whisky accessible, and even Brexit. Yes, we went there.
In the meantime, if you're in Madrid, head to Calle Serrano, 2, 28001. Some of the experiences need pre-booking so it's worth calling ahead if you fancy trying your hand at cocktails, for example: +34 905 40 33 23.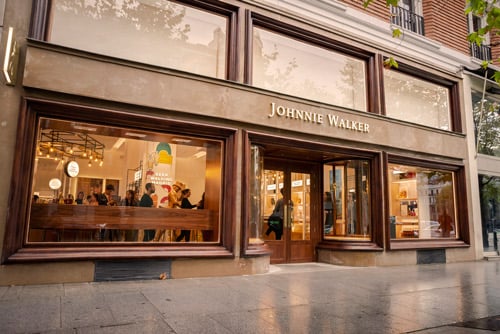 Well worth checking out!
Not in Madrid? Fear not. We've got all kinds of Johnnie Walker goodness right here, including some incredibly tasty bargains. Enjoy!