Did you take a trip to the Emerald Isle last year? Irish whiskey distilleries welcomed a whopping 814,000 of us through their doors in 2017 – proving once again that our ardour for Ireland's finest cannot be quelled.
2017 was a cracking year for the Irish whiskey category. A wealth of thrilling new brands burst onto the scene, global sales hit more than 100 million bottles (cementing its place as the world's fastest-growing spirits category), and we visited the island's distilleries in our droves. Footfall grew by 11% compared to the previous year, according to fresh data from the Irish Whiskey Association, with the majority of whiskey fans hailing from the US and the UK as well as Germany, France and northern Europe.
If you'll cast your mind back further still to 2015 (Mark Ronsons' Uptown Funk plagued us, avocado on toast was relatively unheard of, double denim was allowed), the growth rate becomes all the more impressive. In total, 653,000 of us explored Irish whiskey distilleries that year, which means visitor numbers have grown by a quarter in just two years.
There are currently 12 distilleries open to the public, the latest additions being Slane Distillery in County Meath, which opened in August 2017, and Pearse Lyons Distillery in Dublin, which opened shortly after in September. They won't be new for long, though – Rademon Estate Distillery in County Down is set to open on 21 January 2018, and there are around 10 more visitor centres scheduled to open "in the coming years" in new distilleries located in Dublin 8, Clonakilty, Drogheda and beyond.
"Continued double-digit growth proves that Irish whiskey tourism is a hot trend right now and an increasingly important part of Ireland's tourism offer," William Lavelle, head of the Irish Whiskey Association, said in a statement. "Whiskey tourism is delivering tourists, jobs and investment to local economies right across Ireland, from Dublin's Liberties to rural communities."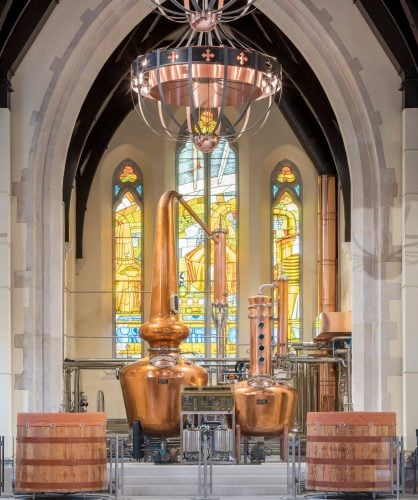 The Pearse Lyons Distillery in Dublin, housed in the historic St. James' Church
Not content to rest on its laurels, the Association is readying to launch what it calls a "major initiative to promote and further grow Irish whiskey tourism", as part of its ongoing Irish Whiskey Tourism Strategy – within which it has set a target of 1.9 million visitors by 2025.
The initiative focuses on the proposed Public Health (Alcohol) Bill – or PHAB – which was approved in draft form by the Irish government back in 2015. The PHAB aims to tackle alcohol misuse through advertising restrictions, minimum unit pricing, compulsory nutritional labelling and health warnings on bottles.
So, how could these measures potentially impact distillery tourism? "Increasingly, the promotion of a whiskey brand goes hand-in-hand with the promotion of the home distillery," Lavelle explained. Restrictions on promoting and advertising Irish whiskey means that "advertising of visitor centres could be severely constrained".
"This could prevent the advertising of whiskey tourism, negatively impact this growing industry and put jobs at risk in communities which are heavily reliant on the influx of visitors to the local distillery visitor centre," he continued.
As such, the Association is calling on the Department of Health to consider "reasonable amendments" before the legislation is presented before Dáil Éireann and becomes law. "This would better balance the Bill, ensuring the growing Irish whiskey tourism industry is protected," added Lavelle.
The outcome of the PHAB debate remains to be seen, but one thing is certain: our love affair with Irish whiskey is going nowhere for the foreseeable.