From bartenders and floor staff to hosts and bar backs, women make up more than half of the team at London's Artesian. To round off our International Women's Day series, bar manager Anna Sebastian reflects back on her first favourite cocktail, delves into the intricacies of the upcoming menu, and reveals what inspired her jump from the Beaufort Bar…
Of Artesian's 22 new staff members, 12 are female – an impressive ratio that represents the city's diverse barscape. Tasked with heading up this creative bunch are Anna Sebastian, former manager of The Savoy's Beaufort Bar – awarded Best International Hotel Bar at Tales of the Cocktail 2015 under her reign – and head bartender Remy Savage of Little Red Door in Paris. The duo collaborated on a preview menu when they took up their posts in November last year, to be followed by an official menu in the coming weeks called Artesian Moments.
If you're unfamiliar, Artesian is no ordinary watering hole. Under the tenure of Alex Kratena and Simone Caporale, it secured the accolade of World's Best Bar not once, but four years in a row. It's known for its experimental, daring menus, magnificent theatrical serves and, above all, for never equating 'luxury' with 'dull'. With imaginative sorts like Sebastian and Savage heading the ranks, who knows what the bar will go on to achieve in the coming years….
The female team at Artesian
As with many people in this industry, I serendipitously found my way into hospitality. I had originally planned a career in the Army after leaving school, but ended up running the doors and bars at several clubs in central London. London had an amazing club scene at the time and I loved the buzz of it. From there, I worked in PR for bars and restaurants but continued to work a few night shifts. In 2010, I left my job in PR to join the pre-opening team at The American Bar for The Savoy which turned out to be the best year of my life. I fell in love with hospitality and made some of my best friends there. I quickly rose through the bar to become supervisor before moving internally to run the Beaufort Bar for four years. The decision to leave The Savoy was a hard one, but there is something special about Artesian and I couldn't turn down the opportunity to really do something different with such an incredible team of people.
The chance to develop a new idea and share it with guests is amazing. Creating experiences that become strong memories linked to key moments in people's lives is a very special thing to be part of. My first favourite cocktail was an Aviation [gin, maraschino liqueur, crème de violette, lemon juice], partly because of its vibrant colour, but also the delicacy of it. My favourite current cocktail is a twist on a Mizuwari [a Japanese highball], I am a huge whisky fan and I love the simplicity and elegance of this serve.
The chance to create something fresh and new for the bar is incredibly exciting, but also the opportunity to work with Remy appealed as I've always admired his career and knew he'd be fun to work with. Every day is different, from creative meetings with Remy and Emilio (our assistant head bartender) in our lab to brand meetings and evening service with the full team – you never know who is going to walk through the door! Sometimes it feels like a house party with lots of regular guests and friends coming in to visit. Communication is really important for us and we always have fun. Part of this includes an emphasis on training – we work with the team every day to ensure consistency with our standards and vision.
We want to create a menu of unique drinks that explore pinnacle moments in a person's life. Our wish is for each cocktail to trigger memories synonymous with the different stages of one's life. Based on metaphysics and statistics, the new menu 'Artesian Moments' will identify events that contribute to personal identity. We have released a survey to gather people's opinions in order to explore consistencies in the flavours and feelings that people associate to certain moments, from being a baby to a defining career moment.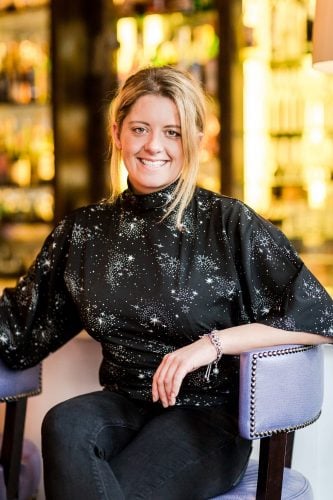 Anna Sebastian, bar manager at Artesian
Developing a cocktail can take anything from a week to months and sometimes years! It's important to meet regularly with the team and brainstorm, but we also visit lots of other bars, from speakeasies to other hotels to see what everyone is doing – it's really inspiring. We also spend a lot of time experimenting with the team in Artesian's lab.
The way we use ingredients and the process of creating cocktails using different methods is really interesting. I am also fascinated by the line between sommeliers, chefs and bartenders becoming more blurred. The call for simplicity and accessibility within drinks is not going unheard and there is so much collaboration between talented people in the industry.
The best way to be inclusive is by being genuine, interesting, transparent, collaborative and most importantly, supportive of new talent. It's also important for brands to focus on the other elements that make up a bar – whether it's hosts, floor staff or bar managers.
When I'm drinking, I look for a serve that stands up where the base spirit of the cocktail remains the hero. I also like to be surprised by different flavour combinations and presentation and, of course, it's got to be delicious.
So far in my career there have been so many highlights I couldn't pick one, but two of my favourites have definitely been working with the opening team of The American Bar at The Savoy and of course, joining Artesian!
My advice for female bartenders who are looking to progress to bar manager or head bartender is to work hard, but maintain a balance. Speak out and have confidence – never think you can't do something. Make decisions; whether they are the right or wrong ones, they are part of the learning process. Get your head round the business side of things and then enjoy the fun and exciting part of the job.