This week Ian Buxton shamelessly plugs the new edition of 101 Whiskies to Try Before You Die and takes a look at how the industry has changed since 2010 when the book appeared.
Your editor must have been in a very benevolent mood recently.  He's invited me to write about the new edition of my book 101 Whiskies to Try Before You Die, which goes on sale this week. So, if your gorge rises at the prospect of an author blatantly plugging his own work, look away now.
Still here? Some background then. The first edition appeared nearly a decade ago and, I'm very happy to say, was an immediate, albeit somewhat surprising success. But the fact is that the book had a difficult birth, being declined by publisher after publisher on the grounds, back then, that there were already more than enough whisky books (this would be late 2007).  With the exception that is of one very small Scottish publisher, a friend, who I pitched it to more out of desperation than any expectation he would take it on. "I can't publish this," he said, "because if it's the success I believe it will be I couldn't possibly manage it – the cashflow alone on printing would wipe me out". 
That, I thought, was the sweetest and kindest way for anyone to tell me they didn't want the book so I dropped the idea. And then, by a very strange set of coincidences and some further setbacks it was picked up by Hachette, whose Scottish arm (now defunct) was looking for some Scottish-themed titles. Published in Autumn 2010 its immediate success surprised us all and there were several hasty reprints. The book even made it into some national best-seller lists that Christmas.
And that, we all thought, would be that. One big Christmas and then it would be done. But in 2011 sales were even better and it continued its onward march. Pretty soon though, as whisky moves so fast, it began to feel outdated so I revised a new edition for 2013, and then a third in 2016 and they have continued to sell very well indeed. Over 200,000 in total so far (he bragged, with inexcusable vulgarity).
Why has it been so well received?  Readers tell me there are several reasons: they like the convenient format; the irreverent approach appeals (too many drinks writers take themselves far, far too seriously in my opinion) and the fact that I try not to preach and avoid imposing my opinion encourages readers to develop their own point of view – which is all that really matters. In that spirit I've never awarded scores and now I've even dropped my own tasting notes. Let your own mother-wit, nose and palate guide you – you are the surest guide to your own taste.
And why a new edition now? Well, to be honest, there are two reasons: firstly, because it has continued to sell and sell the publisher is keen to keep the momentum going but, secondly, I wouldn't have revised it now if were not for the fact that whisky keeps changing. Looking back to 2010 we've seen the rise and subsequent decline of NAS whiskies, the incredible growth in whisky's popularity in new markets, the spread of the pernicious virus of 'investment' in whisky, especially Scotch, and the amazing quality and value offered by many unheralded producers or previously forgotten styles.
There have been lots of revisions and amendments in this new edition. Whiskies have been dropped and new whiskies included. To spread my net as widely as possible, I've decided that there will only ever be one expression from any one distillery and, seeking what seems to me best value, I've included unfashionable distilleries and countries I've previously neglected. 
101 Whiskies to Try Before You Die is a book about tasting and enjoying whisky, not collecting and certainly not 'investing' in it. Sometimes I've surprised myself with the whiskies I've included but they are all there for a reason (you'll need to read it to find out what they are). So I'm not going to bang on. Apparently the market thinks there's room for at least one more whisky book and I hope that this can be it.  Thanks to the Editor for his indulgence and thanks to you for reading this far. The fourth edition of 101 Whiskies to Try Before You Die is available now and I very much hope you will enjoy it.  Oh, and Christmas is just around the corner. In case you hadn't noticed.
101 Whiskies to Try Before You Die (4th edition) is published this week by Headline, £14.99.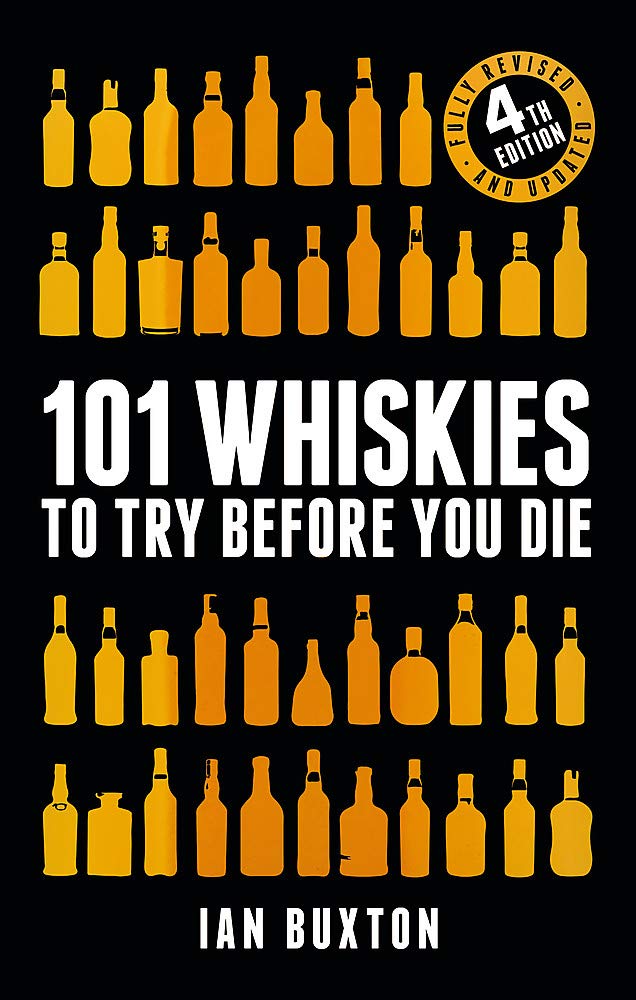 You can also taste 10 of Ian Buxton's top 101 whiskies in this bumper Tasting Set from Drinks by the Dram, which even comes along with a copy of the book itself!