Back in 2020, I tried the first batch of Highland Park's first ever cask core range cask strength Scotch whisky, and I loved it. It didn't seem possible for a plus 60% ABV whisky to be so smooth and drinkable. It has proved just as popular among Master of Malt customers. And now the fourth batch is here so let's take a closer look at the distillery and Highland Park Cask Strength Release No.4.
Highland Park distillery
Highland Park distillery is firmly rooted in the islands' culture and landscape as top Danish brand ambassador Matin Markvardsen explained: "We are one of the last remaining distilleries in Scotland still to do the floor malting. The climate up there when we do the maltings, the humidity and these kinds of things have an effect on the barley. The Orkney peat from Hobbister, where we get our peat from, is nowhere else to be found in Scotland at the same quality and the same content in the peat. We tried many, many years ago to use peat from the mainland but it didn't really work for us. It changed the flavour in the whisky." 
The climate also affects the maturation of the whisky according to Markvardsen: "When you look at the climate on Orkney compared to the rest of Scotland, we never have very, very low temperatures, like frost or snow but we definitely don't have warm summers either, like they can have in Speyside and so on. That makes a difference in the maturation as well, very slow and very paced maturation."
The first batch
"It's something we wanted to do for a long time and we had a few cask strengths on the market in the past but we've never had cask strength in our core range," Markvardsen explained. "The strength might change from batch to batch but the first batch that will come out now is 63.3% ABV and it's an absolute cracker. It's a non-aged statement but if you know the spirits of Gordon Motion, our master whisky maker, we know that it's not a young whisky, it's full flavour. I'm actually sitting here with a sample in front of me and it's amazing how it develops after a few minutes in the glass".
It's aged predominately in American oak, a mixture of sherry and refill casks. Markvardsen told us: "It's extremely easy to drink and even at full strength, which I'm probably not allowed to say, it's extremely gentle to the palate and I would say the American oak sherry casks that we've used here will give it this fruitiness and smoothness that that Highland Park is known for. It's definitely not a heavy sherry product."
He continued: "Here we can give people a choice to enjoy the whisky exactly the way they want. If they want to have a huge kick with the high alcohol, we will let them do that. And for a lot of people that never made it to Orkney, this is the closest they can get to come in and take a sample from the cask."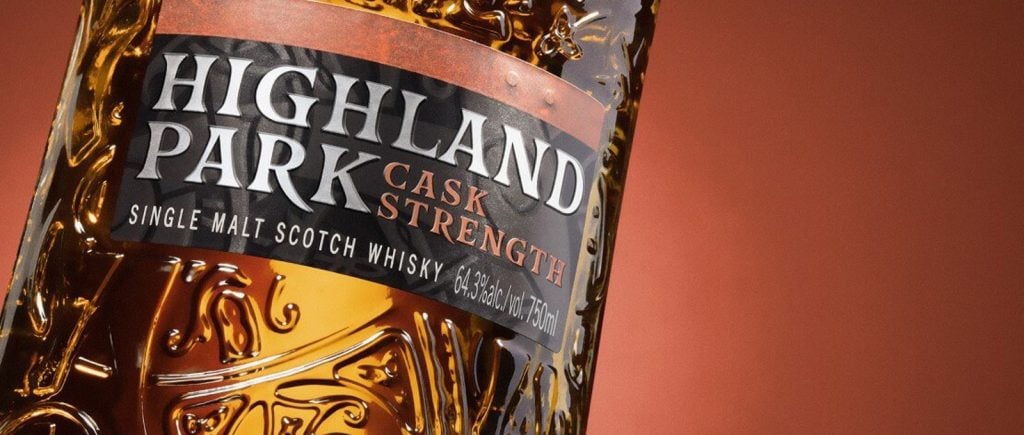 Highland Park Cask Strength Release No. 4
Since then there has been a Release No. 2 and a Release No. 3. Now it's the turn of Release No. 4. It's a little bit different to previous releases because alongside the first-fill sherry seasoned European and American oak plus refill and bourbon casks, there's some Port pipes used here too. Plus it's a little stronger than the first release at 64.3% ABV. We think you're going to like it very much.
Here's what we thought of it:
Tasting Note by The Chaps at Master of Malt
Nose: Waves of zesty citrus, toasted oak, and vanilla are joined by notes of charred heather and fragrant peat smoke.
Palate: Citrus blossom, juicy grapefruit, and rose tea keep things zesty and floral, while aromatic woody spices gather alongside vibrant peat.
Finish: A touch of anise joins warming notes of clove, and sweeter baking spices, while heather and soft smoke linger.
Highland Park Cask Strength – Release No.4 Whisky is available from Master of Malt. Click on link for price and to buy.