Following on from Friday's story, MoM delves deeper into the DNA of the latest addition to Gordon & MacPhail's Private Collection: two 'twin' whiskies, the "oldest Longmorn single malts ever released", selected by identical twin brothers Stuart and Richard Urquhart.
The final instalment of the 'Private Collection' range – which comprises four rare single cask bottlings, each chosen by an Urquhart family member* – sees the release of not one but two supremely delicious drams, chosen by Stuart Urquhart, Gordon & MacPhail's associate director of whisky supply, and his twin brother Richard, the company's international sales manager for Asia & Americas.
"In the case of our whiskies, and indeed Richard and Stuart, they were born together and grew up side by side," Stephen Rankin, Gordon & MacPhail's director of prestige, fourth generation member of the Urquhart family (and himself a father of twins), explained at a launch event at Corrigan's, Mayfair.
The whiskies were laid down to mature in first fill Sherry hogsheads by the twins' grandfather George Urquhart back in 1961**. Same new make, same fill date, same cask type. The *only* difference between the two bottlings is that Richard's whisky was aged in European oak, and Stuart's matured in American oak.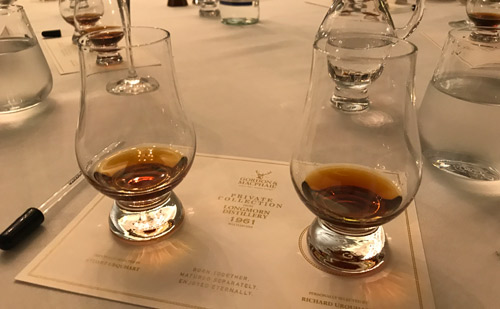 Spot the difference
It's a given that different casks impart different flavours. No one expects whisky aged in a former PX cask to taste similar to one rested in an ex-bourbon barrel. But could changing the oak variety alone meaningfully impact the flavour of Gordon & MacPhail's twin spirits?
Nature vs nurture
Gordon & MacPhail enlisted the expertise of Professor David Purdie, a fellow of the Royal College of Physicians, to explore how environment influences character in humans. As you'll already know, the identical twin is a very unusual kind of twin birth. Just one in 250 births are identical twins.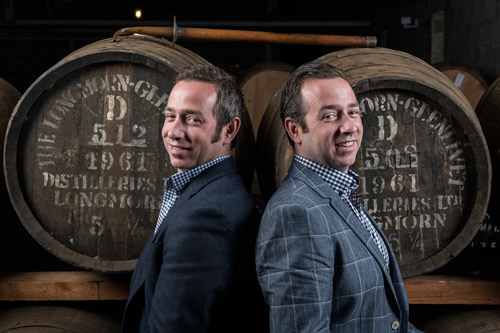 Stuart and Richard Urquhart!
Much of the scientific research that exists today was performed many years ago with twins who were separated at birth and raised in different families. This is crucial, because it "allows us to differentiate between nature and nurture," Professor Purdie explains.
"Nature is the DNA we all inherit from our parents. But the other part of our inheritance is also nurture, that is, our environment. And if twins are born together, as they always are, and then separated, they grow up in different environments. That's exactly what Gordon & MacPhail has done with these whiskies.
"They were casked together – at the same time – but separately in the sense that the casks in which they matured, one was of American oak and one was of European oak. Gordon & MacPhail has produced this marvellous pair of identical twins, identical in genetics but different in environment."
Consider the tale of the "Jim Twins" – so-called because they were both named James or 'Jim' – who were given up for adoption at birth and reunited some 40 years on.
"These two gentlemen met 40 years later, and when they started comparing notes they discovered the most incredible thing," says Rankin. "They both ended up with the same grades at school, they both had dogs when they were young and they gave the dog the same name. When they left school, they both went into the same profession."
It gets weirder. Both Jims married, and their wives shared the same name. When they divorced those ladies and married again, their second wives shared the same name. They had a son each, both called James Alan. (The only difference being the spelling: one was Alan, the other Allan).
"They both liked the same kind of beer, they both smoked the same brand of cigarettes," continues Rankin. "They both went to the Florida on their holidays. They had never, ever met." Despite growing up in completely different environments, nature prevailed.
In the case of Gordon & MacPhail's twin casks, selected by the Urquhart twins, would nature or nurture take the lead? As it turns out, a little change can go a long way.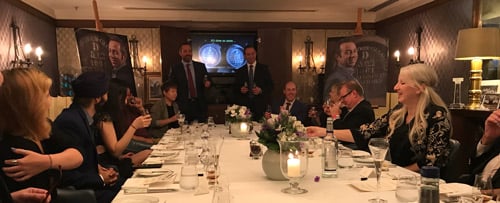 The twins present the whiskies
Those 57 years apart have had a remarkable effect on the colour, aroma, palate and even ABV of those two twin whiskies. Richard's European oak-matured whisky is a glossy mahogany colour; the nose is thick with rum, chocolate and stone fruit, whereas Stuart's American oak-aged bottling is lighter in colour, with aromas of charred oak, orange and almond.
On the palate, the former is rich with coffee, marzipan, chilli spice and dark chocolate, while the latter offers black cherry, raspberry, and vanilla. Both single malts have been bottled at cask strength – European Oak Cask 508 at 45% ABV, and American Oak Cask 512 at 40.8% ABV.
"For much of our lives, Stuart and I have shared similar environments, growing up together and sailing competitively as a team, as well as working under the same roof," Richard observed. "However, as we've matured it's intriguing to see how our individual characters, much like the whiskies, have differed."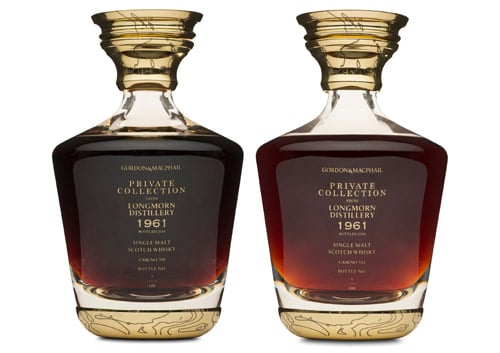 Twins, but individuals at the same time
Just 97 sets of twin decanters are available worldwide, with a recommended sales price of £30,000. Pricey, sure, but an interesting insight into wood maturation. Plus, if you've got a twin, that's £15,000 each.
*The first was a certain wartime cask (Private Collection Glenlivet 1943), while the second was a 1956 vintage Linkwood.
**Within two weeks of American president John F. Kennedy starting his presidency, as rare whisky specialist Jonny McCormick explains. The whiskies come with a book penned by McCormick filled with other fascinating historical tidbits, as well as a personally signed certificate of authenticity from each brother.