Back once again with a super-old cask: Gordon & MacPhail marks a defining moment in WWII with Private Collection Glenlivet 1943, one of the oldest single malts in the world.
Picture the scene: It's 14 January 1943. The Second World War has been waging for more than three years. Millions are imprisoned in concentration camps across Europe, many household items, clothes and food are either unobtainable or rationed, and a huge proportion of Scotch whisky distilleries have shut down; the scarcity of raw ingredients and inflating duty has made production unviable.

Up until a successful counter-offensive by Soviet forces at Stalingrad in mid-November, Germany had been victorious on almost every battlefield. But their luck was beginning to run out. On this day, Winston Churchill and Franklin D Roosevelt meet in Morocco for the first day of the Casablanca Conference, where they would cement the winning Allied strategy for Europe: a defining event in the timeline of the war.
At the same time, around 2,500 miles north, a warehouseman at Speyside's Glenlivet Distillery is hammering a bung into Cask 121 by request of John and George Urquhart, first and second generation of the Urquhart family at Gordon & MacPhail. This Sherry hogshead would become one of the last casks filled by the distillery before the site was forced to halt production in spring the same year.
Fast-forward to 2017, and Gordon & MacPhail director Stephen Rankin – fourth generation of the Urquhart family – has only gone and released the very same liquid as part of the company's Private Collection range.
At seventy (SEVENTY!) years old, one would imagine the angels have taken more than their fair share – and as such just 40 cask-strength (49.1% abv) decanters will be made available globally for a cool, nay, sub-zero £30,000. Brr. If it wasn't special enough already, the bottling is also the final 1943 vintage lingering in their stock inventory. Once it's gone, it really is gone.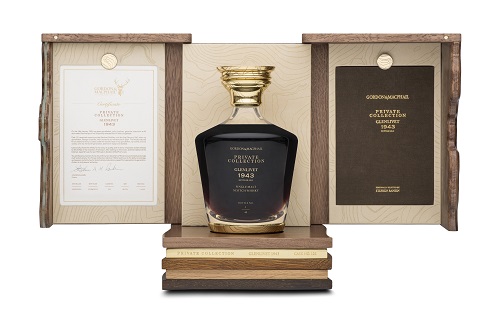 Gordon & Macphail's 70yo Glenlivet
"But what does it taste like", we hear you cry. Well, it's a whisky of "great balance and approachability", according to Gordon & MacPhail. They reckon there are notes of dark chocolate, oranges, oak, treacle, and liquorice on the palate, rounded off by a "subtle, ashy smokiness" and an "incredibly long" finish. And if you haven't already, just check out the colour of it.
"This beautiful whisky has been nurtured and cared for by four generations of our family and it gives us enormous pleasure to release this unique and incredibly rare single malt," Rankin enthused in a press release. "Whisky is a wonderfully unifying drink and this rare example gives people from across the world the chance to own and savour a defining piece of Scotland's liquid history."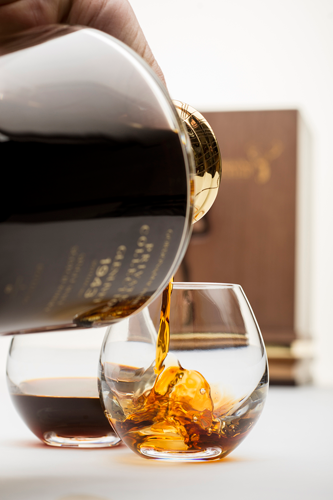 It is a swoosh, not ice. We did a double take, too.
Beautiful it may be, but if we're shelling out the equivalent of two Harley Davidson motorbikes on one bottle of whisky, you'd forgive us for wanting it to look the part – and Gordon & MacPhail delivers. The liquid is presented in a smart hand-blown decanter decorated with gold etchings of the land surrounding Glenlivet Distillery, topped off with a closure that depicts the winding meanders of the nearby River Spey.
Whisky wordsmith Johnny McCormick rounds off the package with a commemorative book. Hopefully at least one bottle will be winging their way to MoM Towers soon – keep your eyes peeled for an update.