Yesterday Highland distillery Glenmorangie released its ninth Private Edition innovation, Glenmorangie Spìos, and outlined plans to boost production capacity with a multi-million-pound still house. Interest firmly piqued, we headed to a M Den in London's Victoria for a tasting led by Dr Bill Lumsden and Brendan McCarron.
"The more difficult it is, the more people [that] say no, the more I want to do it," attests Dr Bill Lumsden, director of distilling, whisky creation and whisky stocks, as he peers down the camera lens. He's addressing journalists in London, Paris and Zurich via a live stream from the brand's sensory lab in Scotland, accompanied by head of maturing whisky stocks Brendan McCarron. "The story of Glenmorangie Spìos is along those lines."
Indeed, creating Spìos (Scots Gaelic for 'spice'; pronounced 'spee-oss') was no easy ride. The idea stemmed from conversation with late beer and whisky writer Michael Jackson back in the late 1990s during Dr Lumsden's tenure as distillery manager – a period when the American rye whiskey category was "almost on life support".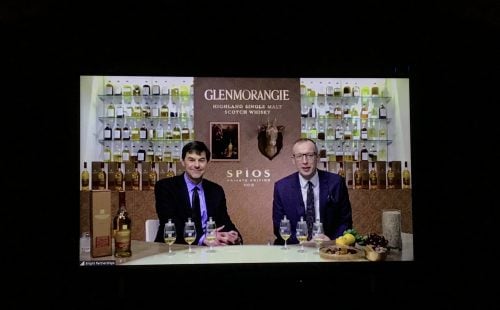 Dr Bill Lumsden, left, live and direct with Brendan McCarron
"We were the first company in Scotland to start using American bourbon barrels and so I was deeply intrigued to see what the difference would be between [them]," says Dr Lumsden. "It took me 10 [or] 11 years before I was finally able to get hold of barrels in sufficient quantity that had contained American rye."
While he refrains from disclosing the source (the press release merely states 'Kentucky'), Dr Lumsden admits he "was not necessarily in a position to pick and choose the producer"."The key things for me were the quality of the wood, heavily-charred wood, [a very high rye] mash bill, and [a long soaking] period in rye whiskey and we ticked all the boxes there," he explains.
He settled on casks used to age whiskey made from a 95% rye mash bill for six years, and chose to fill them with new-make (rather than existing aged Glenmorangie) because he "knew that the difference [in flavour] was not going to be black and white".
If the brand's core expression Glenmorangie Original has a sweet, buttery, vanilla aroma, Spìos is "slightly deeper, slightly earthier, and slightly spicier", with "a bit more of a punch, and a zing to it", Dr Lumsden says. There's also "mint-flavoured toffee, maybe a little bit of clove or pepper in there". A few drops of water reveal "pastry and cake mix-type flavours", topped off with "cherries, cloves and toffee".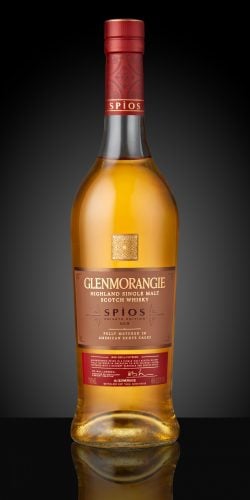 Glenmorangie Spìos
On the palate, "there's a lovely pungency", he continues. "I get a burst of a combination of sweet and spicy flavours – on the spice front, there's cinnamon, clove, and pepper". A "nice tartness" balances the spice, with "cherries and unripe plums". The finish reveals "much more mint-flavoured toffee". (Scroll down for our tasting notes in full!)
With Glenmorangie Spìos now out the proverbial bag, could more unusual cask finishes be on the horizon? "We've got probably at least 30 different experiments on the go just now," states Dr Lumsden. "We will continue to explore the world of finishing, whether it's wine or sherry or Port or whatever, but we will look at other avenues – so there are lots more lovely surprises up our very big sleeves."
Exciting times are ahead for Glenmorangie, which this year celebrates its 175th anniversary – not just for existing stock, but also in terms of new-make. The distillery is readying to construct a new still house, subject to planning approval, which will be home to two new stills and "additional mashing and fermentation facilities".
Whether Dr Lumsden would consider distilling rye, however, remains to be seen. "I'm interested, but that doesn't necessarily mean I'm going to do it," he maintains. "At this moment in time our ruthless focus is single malt Scotch whisky, and anything outwith that is something to consider another day."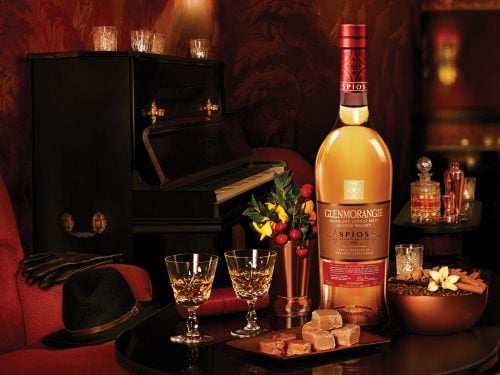 Glenmorangie Spìos with some delicious fudge
Glenmorangie Spìos: MoM's tasting notes
Nose: Bright and herbaceous. Allspice comes to the fore, with peppermint and hay notes rounded off by stone fruit and soft toffee.
Palate: Mouth-coating and chewy. Herbal notes preside, with clove, nutmeg, bitter-sweet plums and a hint of creamy vanilla.
Finish: Rich and oaky, with pepper and tart cherries.