In a product launch said to 'push the boundaries of modern Scotch', Speyside distillery The Glenlivet has tiptoed on terrain where few have gone before and released a Cognac cask-finished whisky: meet Captain's Reserve!
The Glenlivet is unarguably a single malt stalwart. Founded right back in 1824, the distillery has been front and centre of single malt whisky for generations and has rightly built a reputation as a time-honoured classic. So when news reached MoM Towers that a Cognac cask expression was forthcoming, it's an understatement to say we were very interested.

So what is it? The no-age-statement expression has, as mentioned previously, been finished in ex-Cognac casks for a 'raisin-rich' intensity, along with citrus notes and a creamy smoothness. Not much else has been disclosed. We have asked questions. We will update accordingly.
What do we know? Captain's Reserve is a permanent addition to the collection, and will hit the Master of Malt warehouse shelves very soon. We also know it's been named after Captain William Smith Grant, great-grandson of George Smith, Glenlivet's founder. He fought in France in World War I, before returning to Scotland to work for the whisky brand. So the French-Scottish hybrid makes plenty of sense.
We also know the price bracket – the RRP will be around the £45-48 mark, which is a pretty tasty tag for an intriguing drop.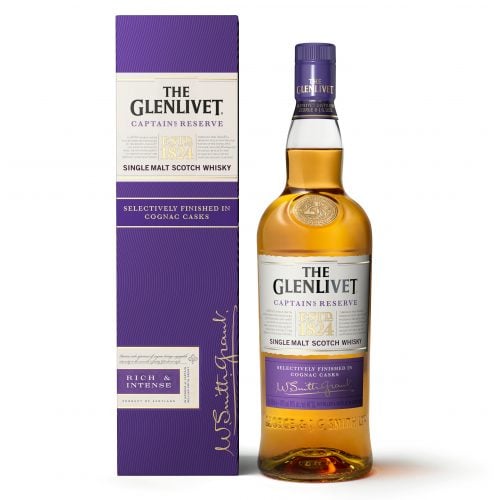 The Glenlivet Captain's Reserve: All about the Cognac
"We know that single malt consumers are becoming increasingly adventurous and are seeking to explore new flavour profiles and finishes in the category," reckons Alan Winchester, The Glenlivet master distiller.
"Research shows that the global consumption of Cognac is expected to increase by some 2 million cases by 2021. By introducing the Cognac casks into our maturation process, we are able to capitalise on the popularity of this flavour and add another dimension to our world-renowned portfolio. The Cognac casks' influence will bring a real richness to the smooth and fruity style of The Glenlivet, which we're confident new and existing single malt Scotch enthusiasts will enjoy."
According to the brand, The Glenlivet Captain's Reserve has notes of honey, apricot jam, cinnamon bread and spicy liquorice on the nose, with mandarins, poached ripe pears and chocolate-dipped raisins on the palate. We reckon that's more than worth a try. Keep those eyes on the New Arrivals feed!