We're shining the MoM spotlight on a little producer in Herefordshire making delicious botanical drinks from local ingredients. We talk to founder Gemma Standeven ato find out more about Gattertop Drinks Co. 
First that name, Gattertop, I was hoping it might have something to do with giant prehistoric alligators that used to roam the West Midlands. According to Gemma Standeven, however, "Gattertop is the historical farm of the same name in Herefordshire, which dates back to 1085 and is referred to as Gadredehope in the Domesday Book." 
Nature's bounty
She previously worked in international development but moved to Herefordshire, 1989 with her family. Noting the "ancient organic orchards that provided an abundance of delicious fruit and plants throughout the year," she thought there was an opportunity to do something with nature's bounty that was all around her. 
The result after much experimentation was the Gattertop Drinks Co. range featuring two flavoured spirits: Damson No. 12 liqueur and Botanic No. 7 vodka. It would have probably been simpler for marketing purposes to make gin but she wanted to showcase "the beautiful botanicals in their own right, rather than fighting with the juniper base found in gin."
Making Gattertop 
The No.12 starts with neutral grain spirit from Hayman's in London. Into the spirit Standeven puts organic damson and sugar and leaves it to steep for 12 months. It's then filtered twice and bottled by hand at 23% ABV. The damson stones are the key to the flavour bringing, as she puts it, "subtle accents of almond and marzipan."
The Botanic No.7 vodka is a little different. The flavour comes from a series of mainly local botanicals, including apple blossom, damson blossom, nettle, elderflower, lemon, rosemary, and basil. "It took us three months to develop the flavour profile of Botanic No.7 and it was worth it," she said. These go down to Thames Distillers in London where the team put them in a 500-litre stainless steel still with neutral grain alcohol overnight before being rectified in a process similar to the production of gin. It is then diluted to 38% ABV. Standeven said that at some point "we would love to bring this one in house down the line."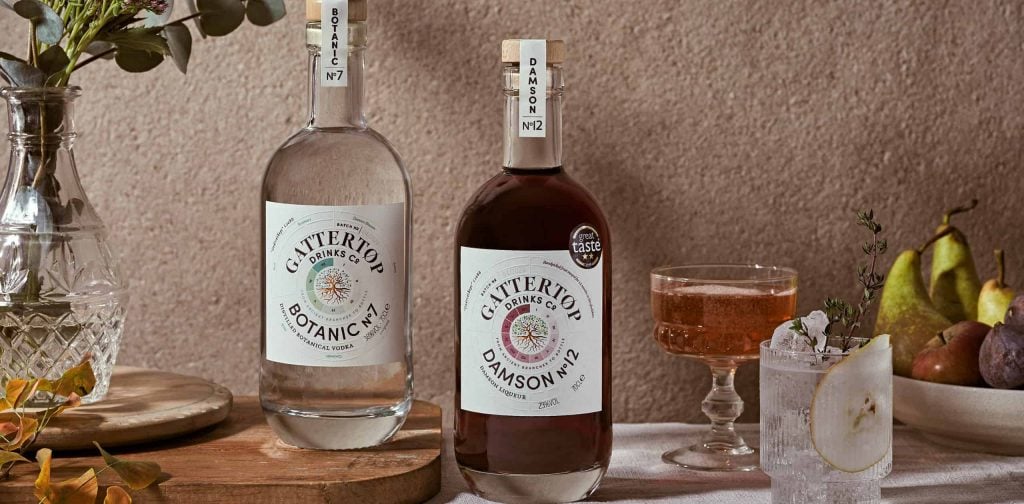 Versatile drinks
These are versatile drinks, according to Standeven: "What is so special about both of our vodkas is that they are so delicious on their own, the beautiful natural flavours are so subtle, fresh and well-balanced that you can drink them straight or cold on the rocks. The Damson No.12 is delicious with cheese after supper as an aperitif. My other favourite way to drink Botanic No.7 is a Martini or as a Vesper and they are awesome as a double act in a Negroni."
As well as producing these two spirits, she also grows apples which she sells to Dunkertons Cider. "I am extremely passionate not only about the immense heritage of the orchards, but the importance of protecting the natural habitat and ecosystems of orchards themselves and the role that they play in providing a sustainable future for generations to come," she explained. Herefordshire has a very rich food and drink heritage with producers like Chase vodka, Tom Oliver's cider, and food-oriented market towns like Ledbury. 
Winning awards
2020 wasn't the easiest year to launch a new spirits brand Standeven said "being a small business means the small hits can be huge, and before I brought in a few other team members it was a lonely place, you need to bounce ideas around and to share the highs and lows, and feel part of a team." But winning awards has certainly helped sales. "When Botanic No.7 was released it was placed in the top five vodkas in the world, and was the highest scoring vodka in England at the IWSC 2021 awards achieving a top score of 96/100." 
And what's next for Gattertop? Standeven said: "We are really excited to have started developing a third flavour profile which will bring our Gattertop Seasonal Orchard offering full circle, launch date is yet to be announced. The orchard is big enough for expansion." Sounds intriguing. We will let you know when we know more.