The sunshine came back! The sunshine came back! Bunnahabhain's Fèis Ìle 2018 was a warm affair, both in terms of the weather and the welcome we received down at the distillery. Join us as we recount tales of the geekiest of geeky tours, bewitching tastings and incredible views across the bay…
Full disclosure: There was slight panic in the MoM household this morning. One of our number (who shall remain nameless. Hint: it wasn't me) might have had a bit too much fun with The Whisky Lounge folk the previous evening and forgot to set an alarm. Drams and hot tub anyone?!
Despite the mega rush to get out the door on time, we slithered down the labyrinthine road to Bunnahabhain with smiles on our faces with The Spice Girls and Britney blaring out at full volume (hint: this time it was me, but designated driver gets to be DJ right?!) just in time to meet distillery manager Andrew Brown out in the sunshine by the bay. The breeze rippled the flags on the tall ships that had sailed in for the occasion, and even though it was early, enthusiastic drammers were filing in thick and fast. We were on for another good one.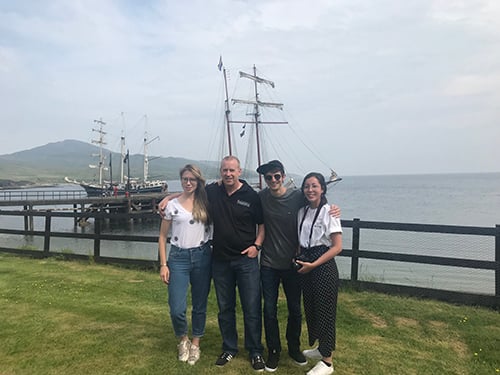 Team MoM with Andrew out by the bay
Andrew was on terrific form for someone about to undertake one of the busiest days in the distillery's calendar. But he's a chap who can handle a lot. He recalled tales of middle of the night call-outs to fix errant valves and weather-related sagas – all taken calmly in his stride by all accounts. Video Q&A done (eyes to the blog in the coming days and weeks, team) and it was time to join his colleague Stephen Woodcock, facilities manager at Bunnahabhain as well as sister distilleries Tobermory and Deanston, for a tour of the premises.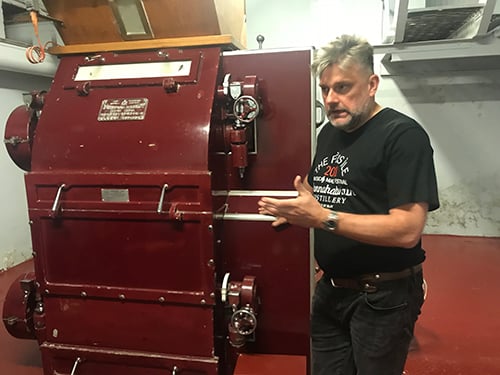 Stephen and Bunnahabhain's epically robust Porteus mill
Stephen introduced himself as a chemist by trade, and his analytical approach made for the most engaging, informative tour any of us could remember. We set up shop by the Porteus mill where he talked us through processing the laureate malt (the recipe is 10-20% flour, 60-70% grist, 20% husk, if you're wondering – "No wallpaper paste in the mash tun!"). He remarked how trends in barley had shifted. "Octave ran the roost for years," he said, before concerto and now laureate came through thanks to their healthy yields. "Barley breeders are working at a phenomenal rate," he continued. "There are barley strains that are superseding on almost a biannual basis."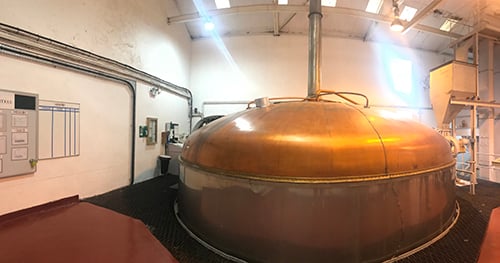 The mega mash tun
We filed up the stairs to find Bunnahabhain's extraordinary 15-tonne mash tun. While it's not filled to the brim during processing, the distillery will "have to start pushing it up a bit" from the 12.5 to 13.1 tonne mashes it currently relies on to boost output and meet demand, Stephen said. Expansion plans are afoot and bolstering the mash size is one part of it.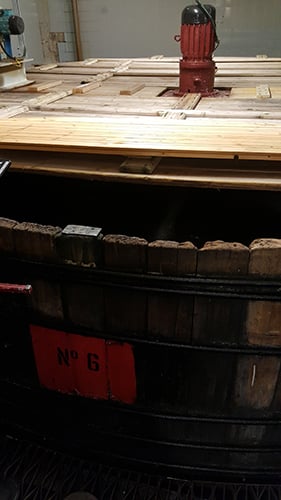 One of the Bunnahabhain washbacks
On into the tun room and here it gets really (and delightfully) geeky. "I love yeast," Stephen says. "Each yeast cell, of which there are billions, will multiply ten times during the first stage of fermentation." It's a crucial part of production – the site might only distil five days a week, but the washbacks are put in use around the clock. Individual ferments vary from 50 to 100 hours, depending on what the eventual spirit is destined for, but those that do stay put for 70 hours or more go through a malolactic fermentation phase after the initial bubbling up, which builds in a whole bunch more flavour, he explains. "Nut becomes fresh grass becomes fruity," he says. "It gets sweeter with time." The ABV of the resulting wash? 8% ABV.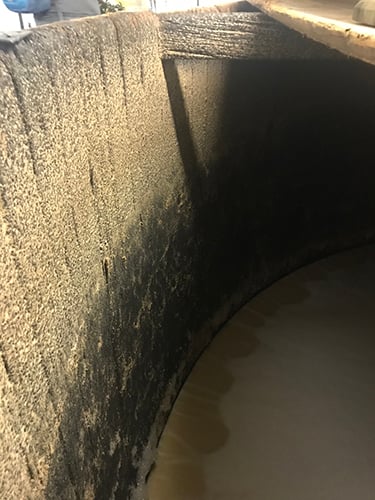 The elderly washback to be sent for decommissioning
One of the Oregon pine washbacks is about to be decommissioned after decades of service, he says. We huddle round the clearly weathered but still working vessel and it's amazing to think of the whiskies that it's helped produce over the years.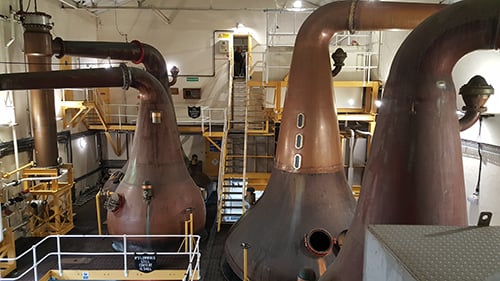 Behold the Bunnahabhain stillhouse
On into the still house where two pairs of steam pan-heated stills neatly sit, a "balanced" set up, where each duo also has its own spirits receiver (helping keep the temperature and ABV flow, and therefore character, more consistent, Stephen notes). The wash stills are a bulbous 35,368 litres in stature and are shaped like onions. The spirit companions weigh in at 15,546 litres. There's copper right the way down to the condensers, but this is not the gleaming shiny stills that are familiar across Scotland.
"We use deep, dark, dirty stills because oxidised copper radiates heat very much more effectively than polished copper," Andre explains. "There's more reflux." That said, one of the spirit stills is about to face the same fate as that wash back – worn out through years and years of use, it will also be replaced over the summer.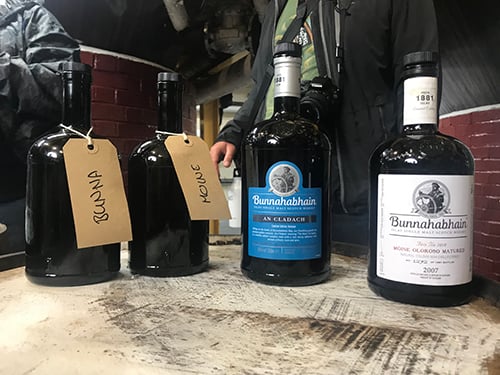 Delicious drams on the tour – including new make
And on to the drams! We were lucky enough to get to taste peated and upeated new make along side each other (fruit and nut in the best possible way) along with a pair of whiskies: An Cladach, an unpeated expression available in travel retail, and Mòine Oloroso Matured, the peated 2018 Fèis Ìle bottling. I am assured both are delicious (my tasting pack for designated drivers is safely stashed away). If you fancy a taste, we've got the original right here.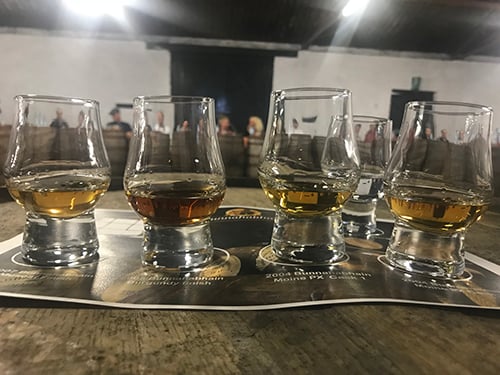 The maturation line-up
The afternoon whizzed round and it was time for a masterclass with none other than Dr Kirstie McCallum, master blender across Bunnahabhain, Deanston and Tobermory. We were squirrelled away into the filling station, where the team had prepared a four-dram tasting (bonus new make, too) on top of individual barrels in a great square. Kirstie held court in the centre, and she had a right treat in store for us.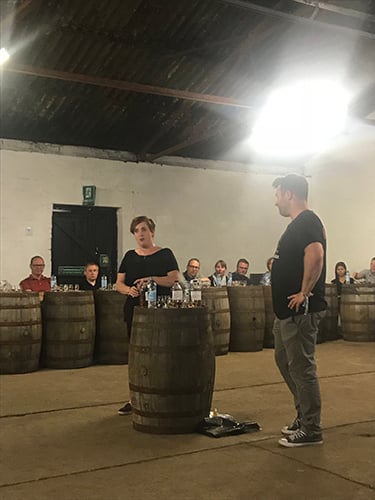 Kirstie in full flow
What followed was an exploration of maturation, including two drams which had been distilled on the same day, initially both matured in ex-bourbon barrels, vatted together (i.e. identical twins) and sent off for a finishing period in a pair of Pedro Ximénez casks. Both from the same bodega, both arriving at the same time on the same lorry, and both filled on the same day. Were they the same? Hells no! To have the chance to taste a pair of whiskies like this was super special. We also enjoyed a 2007 Muscat finish and a 2005 Burgundy finish. Although these aren't liquids that have just been stuffed in a cask for a few months for the sake of it. She insists that if a Bunnahabhain cask undertakes a period of finishing it must be for at least two years.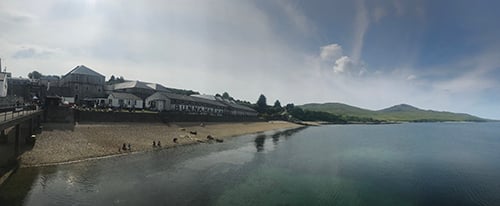 Beautiful Bunnahabhain in the sun
Taste buds tested and minds blown, it was time to retire. A wonderful day was had all round, the only downside being the comparative lack of prime poochies. But we'll get over it. Bunnahabhain was ace! Onwards to MoM/Whisky Lounge HQ. More drams and hot tubs could be on the horizon…
—–
It's Fèis Ìle Day Seven! Today we are Bunnahabhain-bound; come along with us as we explore the north coast distillery, chat to the team and get to grips with the effects of maturation in a masterclass.
Well, folks. The penultimate day is here. The tears are close to the surface. Islay is magic and we don't want to leave. But! We must pull ourselves together. There's still a whole bunch of dramming goodness to come today as we head on up to Bunnahanbain!
Come back later for the extended highlights of the day's action, but if you just can't wait keep an eye on our Instagram, Twitter and Facebook feeds. And if you're on the island? See you at Bunnahabhain!
Don't forget our Fèis Ìle special offers – check out our Flash Sales for more!
Laphroaig 10 – £5 off
Laphroaig Lore – £10 off
Bowmore No 1 – £10 off
Bowmore 26 Vintners Trilogy – £50 off
Once they're gone, they're gone!