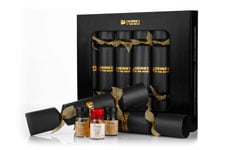 Before we get started, yes, we know. We're banging on about Christmas and it's not even Halloween yet. Most of us at MoM Towers are only just putting the finishing touches to our costumes – this year I'm changing it up from my usual Beastie Boys 'Sabotage' cop and going as a horse with Jake. He's kindly volunteered to be the back half (but he doesn't know that yet).
However, the Drinks by the Dram Christmas Crackers were recently put up for pre-order and now we can't but feel all Christmassy and whatnot. Just look at these handsome little rascals! Don't expect to find any tiny rulers, giant plastic paper-clips or ridiculously easy puzzles here, oh no. These Christmas Crackers are filled with award-winning spirits and liqueurs!
Drinks by the Dram Christmas Crackers – £37.95
Each set of comes with six Drinks by the Dram Christmas Crackers, each one including a different 3cl dram of spectacular spirit or liqueur, including Arran Single Malt (That Boutique-y Whisky Company), Bathtub Gin, Smooth Ambler 7 Year Old Straight Bourbon, Rumbullion! and a pair of festive treats from Professor Cornelius Ampleforth – Cherry Brandy and Sloe Gin.
Glorious.
These are a sure fire way to win at Christmas. Set them up on the table before Christmas dinner, enjoy your meal with all the trimmings (don't forget the cauliflower cheese, it's easily the best part of Christmas dinner – I will fight anyone who disagrees) and then get your after-dinner drinks sorted with the best Christmas crackers on this planet, and likely on any planet.
If you see anyone using any underhand tactics to win, like holding onto too much of the cracker, you can understand why when such awesome drinks are on the line. But still, sling a sprout at their noggin and tell them to play fair.
Careful now.
Not only are these Christmas crackers full of excellent spirits and liqueurs, they've also got the mandatory party hat and crap joke, as well as tasting notes for your drink! So when you defeat someone in the gladiatorial combat known cracker pulling, wear your little crown with pride, sip your delicious victory dram and announce to the whole table how snowmen get to work*.
The Drinks by the Dram Christmas Crackers are ready for pre-order, with an estimated dispatch date of November 12th. Now, if you will excuse, I'm off to stick some antlers and a red nose on mine and Jake's Halloween costume.
Sam.
*They don't. They're snowmen. They can't move. Don't be ridiculous**.
**Fine. They get around "By icicles". Ba-dum-tshhh.