Diageo has unveiled 9 out of 10 of the always hotly-anticipated Special Releases bottlings for 2018, due to be hitting shelves in autumn – with one whisky's identity remaining a secret until later this year. 2018 will be the first year the Special Releases won't feature a Port Ellen or Brora since the series launched.
Diageo has given us a tantalising peek at most of the Special Releases expressions due to be launched in autumn. These bottlings never fail to fascinate the whisky enthusiasts of the world, and once again a good few of them have us raising our eyebrows in excitement.
Among this year's expressions include the first Carsebridge and Inchgower whiskies in the Special Releases series (by our reckoning), rarely-seen whisky from Pittyvaich and the ever-dependable Lagavulin 12 Year Old. Diageo has only announced nine out of ten whiskies, with one remaining a secret until later in the year. This happened last year, with the Collectivum XXVIII being the last whisky announced in August 2017. It was the first time a blended malt was included in the Special Releases – has the Diageo Team got another unpredictable surprise up its sleeve this year? We'll have to wait and see.
Notably, this is also the first time since the Diageo Special Releases were launched 2001 that the selection does not feature a Port Ellen or a Brora whisky. Both distilleries have long been closed, but back in October 2017, it was announced that both we to be re-opened by 2020.
Check out the list of announced Special Releases 2018 bottlings below – we'll be sure to shout about these more when information is available.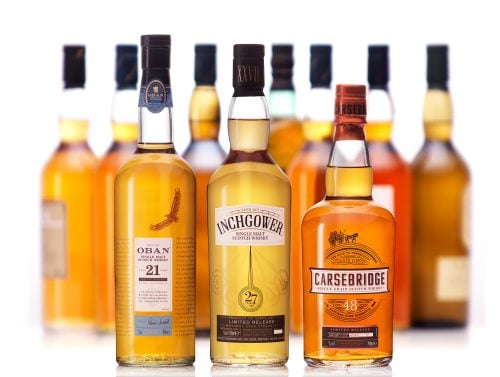 Oooh…
Carsebridge 48 Year Old
ABV: 43.2%
Region: Lowlands
Cask: Refill American oak hogsheads
No. of bottles: 1,000
Caol Ila 15 Year Old Unpeated
ABV: 59.1%
Region: Islay
Cask: Refill & rejuvenated American oak hogsheads and ex-bodega European oak butts
Limited quantities worldwide
Caol Ila 35 Year Old
ABV: 58.1%
Region: Islay
Cask: Refill American oak hogsheads & refill European oak butts
No of bottles: 3,276
Inchgower 27 Year Old
ABV: 55.3%
Region: Speyside
Cask: Refill American oak hogsheads
No of bottles: 8,544
Lagavulin 12 Year Old
ABV: 57.8%
Region: Islay
Cask: Refill American oak hogsheads
Limited quantities available worldwide
Oban 21 Year Old
ABV: 57.9%
Region: Highlands
Cask: Refill European oak butts
Limited availability worldwide
Pittyvaich 28 Year Old
ABV: 52.1%
Region: Speyside
Cask: Refill American oak hogsheads
No of bottles: 4,680
The Singleton of Glen Ord 14 Year Old
ABV: 57.6%
Region: Highlands
Cask: Refill American oak hogsheads and ex-bodega European oak butts followed by a unique maturation and marrying process
Limited quantities available worldwide
Talisker 8 Year Old
ABV: 59.4%
Region: Island
Cask: First fill ex-bourbon American oak hogsheads
Limited availability worldwide