Earlier this week, US wine and spirits giant Constellation Brands snapped up a minority stake in independent Kentucky distillery Copper & Kings American Brandy Company. Following the news, we chatted to Joe Heron, founder and CEO of the innovative brandy maker, to discuss the past, present and future of a category that his business seemingly single-handedly reinvigorated.
"I'll give you an analogy," Heron tells me, as we deliberate the distillery, the deal, and the wider American brandy category over the phone. We're speaking immediately after news of his company's transaction with Constellation Brands broke. "We're the Leicester City [Football Club] of spirits*, because we are relentless. We have no money, but we are relentless, and we are very, very fast. We pass well from the middle, so that's what we do. We innovate at a pace that's unheard of. Once we're in, we're running and gunning and it's very hard to keep up with that."
If this brilliant description sounds somewhat business-like, it's because Heron and his wife are established entrepreneurs who have always sought to capture what he calls "the vacant space". And they're bloody good at it. Nutrisoda, a line of health-and-wellness soft drinks, was their first endeavour, launched during a period when energy drinks reigned supreme. They sold it to PepsiCo in 2006. When everyone was raving about craft beer, they launched Crispin Hard Cider Company, which was bought by MillerCoors in 2012.
In 2014, they opened Copper & Kings, a state-of-the-art distillery in the heart of bourbon country – during what was the biggest American whiskey boom for decades – to make brandy and brandy-based spirits. "We would never get into the bourbon market," he says. "There's nothing for us to add value to. The brandy-Cognac market had much more opportunity."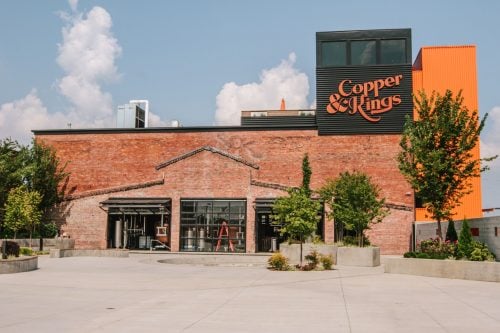 The distillery, located in Kentucky
There are, Heron says, "essentially six players with a vastly different proposition" – three domestic US brandies in the form of E&J by Gallo, Christian Brothers by Heaven Hill, and Paul Masson by Constellation Brands, along with three key Cognac houses: Hennessy, Rémy Martin, and then "Martell and Courvoisier kind of fighting for it".
"You had $10-15 cheap, sweet, traditional brandy from California, and you had $50 traditional Cognac, and there was no $35 brand in the middle of that ladder," he observes. "We saw the opportunity. Believe it or not when we started this business, there was no such thing as American brandy."
Copper & Kings' "big horses" are grape brandy (made with produce from the central valley of California) and apple brandy (with fruit sourced from Michigan)**, but the distillery also produces a line of liqueurs called Destillaré, which takes its name from the Latin root word for 'distillation', as well as gin, absinthe, and cocktail cherries. Brandy, described by Heron as "the original American spirit", remains at its core.
Joe and Lesley, looking very cool
Indeed, the first distilled spirit recorded in America was brandy way back in 1640, which was eight years before the first rye whiskey was noted, and more than 180 years before bourbon. Fast forward to now, and the prosperous US craft spirits business "is almost entirely built on the shoulders of brandy distillers that started in the mid-late eighties and early nineties", says Heron. The spirit is garnering global attention, largely due to the revival of classic cocktails such as the Sazerac, Sidecar and Old Fashioned in bars.
With its historical roots and innovation in bundles (an example: the distillery has five subwoofers in its maturation cellar, through which it pulses a base note in a bid to 'sonically age' the brandy), it's no wonder that Copper & Kings became attractive to the big industry players.
"We were clearly one of the prettier girls at the dance," Heron reveals. "There are not that many scalable craft spirits companies, and scalability is a very important thing, It takes what I call 'the three B's': barrels of ageing inventory, bodies on the street, and a brand. If you're Diageo, all of those 'B's are in alignment simultaneously. If you are a small company like us, you have to try and move them all into alignment."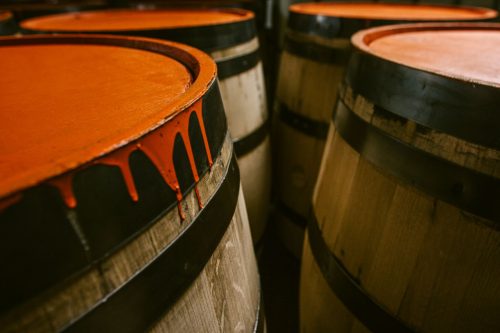 The good stuff
With the ink still drying on the deal – the financial details of which have not been disclosed – I ask Heron if he's concerned about a potential clash with Constellation's Paul Masson. "Not at all," he responds. "Their brand fits within the California brandy segment. If you ask me who my competition is, it's Hennessy, not Paul Masson."
"[Working with] a company like Constellation only brings tremendous advantages for us in terms of brandy-making. They're the biggest wine company in America. That knowledge and that scale in the fruit business is very important and valuable."
While not much will change operationally – Heron and his wife still own "a very substantial majority" of the company, and as such there will be no changes to the distillery, marketing or sales – working with Constellation Brands will allow the distillery to scale up in a huge way.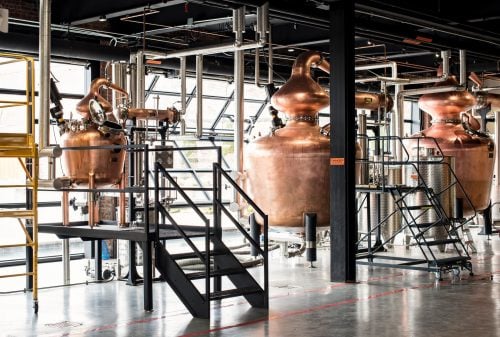 Three copper stills, named after women in Bob Dylan songs
His five-year ambition is to "double, double, double" until Copper & Kings is "substantially bigger" by "leveraging some of [Constellation's] knowledge and scale" with distributors, grocery chains, restaurant groups and suppliers.
And as for the wider American brandy category? "I think you'll see more big companies getting into super-premium brandy," Heron tells me. "I think we're going to see a lot more apple brandy. Americans have a real soft spot for apple brandy, and we're seeing a resurgence of that."
He points to the Paris Wine Tasting of 1976 – a blind tasting of Californian and French wine known as the Judgment of Paris – which saw the former rated as the best in each category, much to the surprise of the wine world.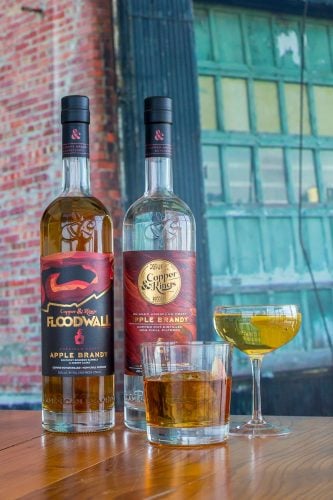 Copper & Kings' apple brandies
"If you look now, what you see is that Americans make incredible wine, incredible beer, incredible whiskey, so there's no reason that American brandy won't stand side by side with Cognac," affirms Heron. "It's definitely going to happen."
As a craft distiller, I ask, is deciding to sell even a small slice of your company a difficult decision to make? "It is difficult," he confirms. "When you sell a part of your company, you're going to be working with somebody for a long time, so you want that cultural fit to work really, really well.
"We may not be as emotionally vested as some – it's not a passion play for us, it's first and foremost a business – but you are vested because you've put a lot into it in terms of heart and soul and life savings. You don't want to destroy that."
*He would've used a Leeds United analogy, as a longstanding fan, "but we're fucking useless, so I couldn't".
**Interestingly, it takes five tonnes of fruit to make one 53-gallon barrel of brandy.