Today industry veteran Ian Buxton takes a look at how Scotland's whisky business has coped with the global pandemic and what the mood is as the world begins to return to some semblance of normality. 
You don't need me to tell you there's a nasty bug going round. Not so very long ago I was worrying about the new US import tariffs on single malt Scotch and the tit-for-tat taxes on American whiskey exports to the UK and European Union, noting that producers on both sides of the Atlantic, especially smaller distillers in the so-called craft sector were starting to feel real pain. The USA is Scotch's most valuable single market – worth more than double the next nearest (France in case you wanted to know, where they love 'value' blends) – so it's important.
Well, I didn't know the half of it. 'May you live in interesting times' goes the old Chinese curse and regardless of where this particular C-virus curse originated we're certainly in interesting times now.
Like most of the rest of the world and certainly the UK, Scotland's distilling industry was brought to a dead stop with the arrival of Coronavirus. By mid-May the Scotch Whisky Association was reporting that "87% of production sites are either operating at reduced capacity or have closed entirely". Many began producing hand sanitiser and high strength ethanol for key workers but, however laudable their efforts, they weren't filling casks of new make or bottles of whisky.
However, at last, there are reasons to be hopeful, and while visitor centres remain shuttered, bottling and distilling has restarted at many locations. I've been asking what the industry plans to do to rebuild sales in the land of the free.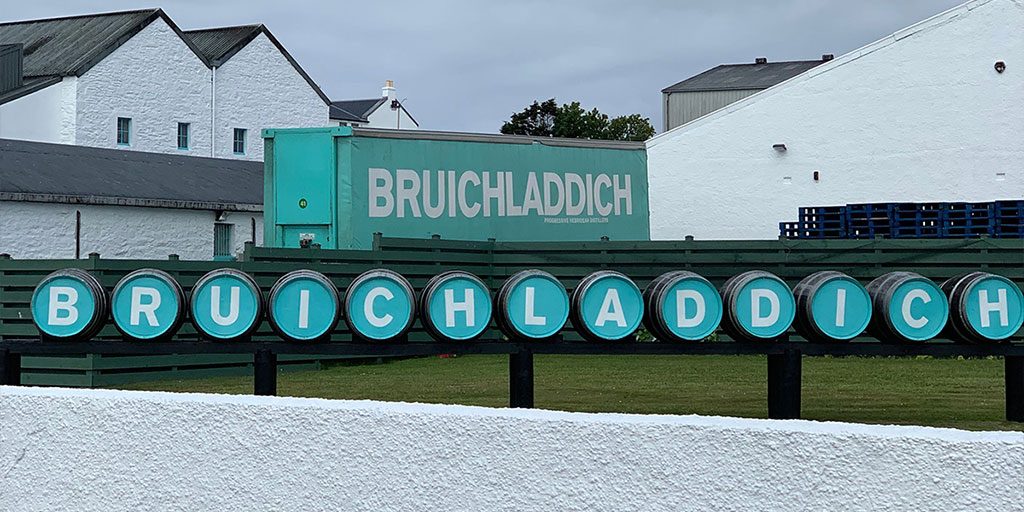 There must be worse places to isolate than the Hebridean island of Islay, from where Bruichladdich's Christy MacFarlane told me that a phased restart got underway on 3 June though many employees remain home working. "Within the USA, sales and marketing have continued on a conservative basis, with an uplift in e-commerce channels," she says. Also on Islay, Ardbeg and its mainland sister distillery Glenmorangie have reopened – just in time to support the launch of two new products into the USA. The Cadboll Estate is Glenmorangie's first single estate whisky.  Aged in American oak bourbon casks for 15 years, this limited edition single malt Scotch whisky is exclusive to the US, Canada and Mexico. Wee Beastie is Ardbeg's first 5 year old expression, matured in ex-bourbon and oloroso sherry casks.
Islay's smallest distillery (for the moment) is Kilchoman. Just prior to lockdown, the family had completed a significant expansion and now they're back at work, albeit with a smaller team all keeping an appropriate social distance.
Back on the mainland, Gordon Buist, production director at Chivas Brothers explained that "at present, seven of our 14 distilleries are operational [with] the health and safety of our team our number one priority. Any decisions on increasing capacity and/or reopening sites will be led by government guidelines that keep them – as well as our visitors, partners and the wider community – safe."
However, while anticipating that "social distancing will continue to be the norm across all of our sites until a vaccine is found," he concluded that Chivas "remain confident in the resilience of Scotch – which has seen just one dip since 2000 – and its ability to bounce back after this outbreak, as it has done following many other macro events that have impacted the world in the past 20 years."
Representing Balblair and Old Pulteney single malts, Malcolm Leask, global vice president of sales, was similarly upbeat, remarking on its new US distributor partnership with the super-premium artisanal spirits importer and distiller Hotaling & Co, from April and promising "exciting plans for these brands in the US market over the next year, to tell the stories of our whiskies and re-engage US malt whisky drinkers."
But tourism and whisky festivals have been hit hard. It feels as if 2020's visitor operations will be a total write-off, though some distilleries have been offering their limited edition festival bottlings online. Expect them soon on an auction site as the virtual roundabout continues.
Back in the USA where blends are still hugely important, from major player Dewar's comes word that blending and bottling operations have continued without interruption of supply. Brian Cox, VP Dewar's North America says "COVID-19 has raised challenges, as it has for everyone, but we remain resolutely focused in trying to anticipate and shape the future, for both Dewar's and the category. We plan to carry on pushing the boundaries of what is expected from the whisky category and continue our long-standing commitment to innovation. Watch this space for more exciting news from the brand soon."
That's the spirit for these times!
Though he has neither a beard nor any visible tattoos or piercings, Ian Buxton is well-placed to write about drinks. A former marketing director of one of Scotland's favourite single malts, his is a bitter-sweet love affair with Scotland's national drink – not to mention gin and rum, or whatever the nearest PR is pouring. Once, apparently without noticing, he bought a derelict distillery. Follow his passionate, authentic hand-crafted artisanal journey on the Master of Malt blog.  Or just buy his books.  It's what he really wants.