This week's cocktail is called the Woodsman and it features a new blended malt called the Gladstone Axe from Biggar & Leith. It was inspired by founder Elwyn Gladstone's illustrious ancestor. And his axe. 
Blended whisky until recently was something of a staid category dominated by brands that had been around for decades like Johnnie Walker, Dewar's and J&B. But things began to change at the turn of the century with the arrival of Compass Box making blends exciting and innovative blended whiskies. And then came brands such as Monkey Shoulder, Copper Dog and others. These were high quality blended malts that were as happy mixed or drunk neat.
Malts for mixing
Elwyn Gladstone worked at William Grant & Sons as new development director during the launch of Monkey Shoulder though, he told me, he didn't work on that particular brand. He was, however, involved with Hendricks's gin, Reyka vodka and Sailor Jerry rum. It was clearly a very fertile period for Grant's. From there he went independent with Malfy Gin which was such a success that he sold it to Pernod Ricard. Since then with his company Biggar & Leith, he's launched the Hotel Starlino range of aperitifs and vermouths, and others. 
Now he's dug into his family's history with a blended malt brand called The Gladstone Axe. It's named after his great great grandfather William Gladstone, four times Liberal prime minister of Great Britain during the late Victorian period. The brand is aimed squarely at the cocktail market, and this week we're using it to make a Highball-style cocktail called the Woodsman.
Scottish blood, Scouse upbringing
First a bit of history. William Gladstone was born and raised in Liverpool of Scottish stock. He said: "I am a man of Scotch blood only, half Highland and half Lowland, near the Border." The family's name came from a village near Biggar in South Lanarkshire. They were even involved in distilling. The family owned Fettercairn next to their big house in Scotland in Farsque," Elwyn Gladstone said.
William Gladstone was influential in whisky in other ways. "The Spirits Act of 1860 allowed for blending of Scotch whisky from different places. It coincided with Scotch whisky booming and took over from Irish whiskey," Gladstone said. According to a little book that Biggar & Leith has produced to promote the whisky, Gladstone was "instrumental in abolishing burdensome taxes and introducing legislation that allowed Scotch to be sold in glass bottles for the first time." In 1861, Gladstone liberalised the selling of wine with the Single Bottle Act allowing for the first time for wine to be sold by the bottle. This created the system we have today of off-licenses and laid the foundation for Britain to become a wine drinking country.
A gap in the market
But back to the whisky. The range currently consists of two pure malt whiskies: American Oak, a Highland blend, including Fettercairn, naturally, and the Black Axe, a blend of Highland and Islay. The aim was to simplify Scotch whisky into what Elwyn Gladstones sees as its two most recognizable styles: sweet and honeyed; smoky and peaty. 
According to Gladstone (not the PM, this is getting confusing): "Scotch whisky has gone in two directions, really cheap and very commodified, or it's getting complicated and rarefied like Cognac, which is hard for consumers to understand and indeed afford." So he thinks with the Gladstone Axe that he has spotted a gap in the market. There's no reason why a blend shouldn't be as interesting as a single malt. "Blended things are often more delicious than individual components," Gladstone said.
They're both my kind of whiskies, full of flavour and built for drinking rather than gingerly sniffing out of Glencairn glasses. I found the American Oak particularly nice in an Old Fashioned, especially when sweetened with PX sherry, and it's also pretty handy in a Whisky and Soda.
Gladstone's axe?
The name, the Gladstone Axe, comes from the former PM's penchant for cutting down trees. Apparently only the rotten ones got the Gladstone treatment. He had a collection of axes and used to give special ones to people as gifts. They became his symbol, a metaphor for cutting out the corrupt dead wood in society. Rather like the 'broom of reform' in O Brother Where Art Thou?
So this week's cocktail is aptly named, the Woodsman. It's of the Highball family with refreshing lemon juice balanced with a simple syrup. You could substitute plain sugar for the syrup from Maraschino cherries which takes it into hedonistic territory.
Take a sip and raise a glass to Gladstone and his axe.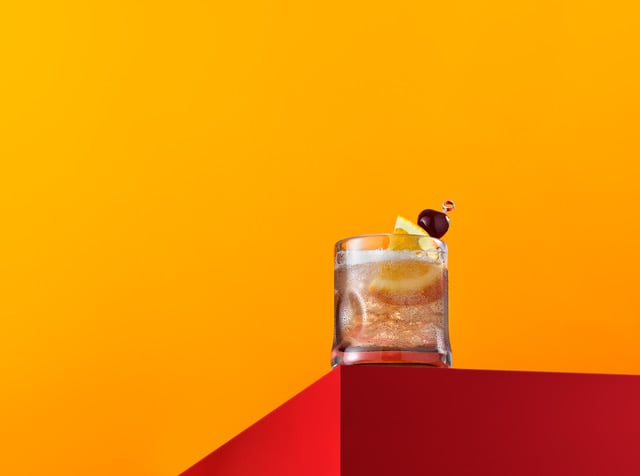 How to make the Woodsman
40ml Gladstone Axe American Oak 
25ml lemon juice
12ml simple syrup
50ml club soda 
Pour the whisky, lemon juice, and syrup into a Highball glass or tumbler filled with ice cubes. Give it a good stir, top with club soda. Garnish with a Hotel Starlino Maraschino Cherry and a slice of orange.