Today's cocktail is inspired by one of the greatest films of the '90s, Groundhog Day. Ordered by Andie MacDowell, mocked by Bill Murray, it is, of course, a Sweet Vermouth on the Rocks with a Twist. And to make this cinematic serve, we're looking at a new range of vermouths from The Aperitivo! Co. 
Ok, well we're probably pushing the word cocktail to the limits with today's drink, a Sweet Vermouth on the Rocks with a Twist. Even capitalising it looks a bit wrong. A serve is probably a better way of describing it as there's only one liquid ingredient. But there is a bittering agent so let's just run with it.
We're watching Groundhog Day, again
We're covering it because it features in one of the best drink exchanges in cinema history, between Bill Murray and Andie MacDowell in Groundhog Day. He orders a "Jim Beam, ice, water," and she orders "a sweet vermouth, on the rocks with a twist." He makes a face but notes her choice of drink so he can impress her when he lives the day again the following day. I'm sure we don't have to explain the plot of Groundhog Day to readers.
And so next time, to her amazement, he orders "sweet vermouth, rocks, with a twist," and then follows it up with: "It always makes me think of Rome, the way the sun hits the buildings." She replies: "That's my favourite drink." He then spoils the burgeoning connection by making a toast to "the groundhog" rather than "world peace."
Bill Murray's expression at 29 seconds in the clip above is one of the funniest grimaces ever captured on camera. Perhaps only bettered by Charlie MacLean's wince in the advert for Eldorado tonic wine.
What's wrong with sweet vermouth, anyway?
So, what is Murray's problem? Well, if you're used to just drinking bourbon on the rocks then sweet vermouth will seem very, well, sweet. Also, you never know, it might have been an old bottle of Martini Rosso that had been hanging about since Ghostbusters came out.
Well, ignore Murray's expression if you can because a sweet vermouth on the rocks with a twist is a fine drink. We might think of vermouth as primarily a cocktail ingredient in a Martini or Manhattan but as a mixture of wine, botanicals, sugar and alcohol, it is essentially a cocktail in a bottle
Do as the Italians and Spanish do and drink it neat just with some ice and a slice of orange. That sweetness makes it wonderful for all kinds of difficult ingredients like boquerones (anchovies in vinegar). In fact, it's a great friend with all kinds of tapas-type food. No wonder it's so popular at aperitivo hour in Barcelona or Venice.
Introducing The Aperitivo! Co
This is just where the inspiration for The Aperitivo! Co. came from. Founder Richard Tring, a Bristolian restauranter, noticed how many gins there were on the British market, and had what he describes as a "moment of clarity." It "seemed absurd" to him that when the two most popular gin cocktails, the Martini and Negroni, required vermouth, there weren't more domestic brands out there
This was the start of his vermouth journey but in the beginning, things didn't go particularly smoothly. Despite over 17 years in the drinks business, his experiments were less than successful. "We portioned off three months to make a sweet and dry recipe," he said, "we got nowhere. It wasn't recognisable as vermouth."
Like a phoenix from the flames
He was running two restaurants at the time, Red Light and a small taqueria, but when the lockdown restrictions came in he was able to concentrate fully on vermouth. In the end, it all came down to trial and error, and having the time to devote to getting it right. "Had we not had all this enforced spare time we would not have got anywhere," he said.
After some experimentation, the base for all his products is a Macabeo/ Airen white wine from Spain. He tried a Bordeaux blend but it didn't have the acidity and he couldn't get a consistent supply of English wine. According to Tring, he wanted to make a: "proper consistent product which would be the house vermouth in restaurants and bars", so it had to be the "correct price and a consistent taste".
It was meant to be a side project to supply wine to his restaurants but it has become a full-time business. Tring sold up his share of the business and turned the taqueria into a vermuteria. He described Aperitivo! Co. as "the phoenix from the flames of my restaurants". 
There are three versions
Lyon is a classic dry French-style vermouth bottled at 18% ABV. "This was the hardest one to crack as there's no sugar to hide behind." It was designed to be the ultimate Martini vermouth, "with a major citrus kick," but also good sipped neat. He settled on a recipe that mixed pink grapefruit and lemon with fennel. It's rested to allow a certain oxidation and melding of flavours.
There's Reus, a delicious medium dry Spanish style blanco at 16% ABV which is flavoured with violets, sage and almond with that nuttiness set off by the addition of a small amount of Fino sherry.
And finally, there's Turin, an Italian style rosso. The kind of thing that Andie MacDowell would enjoy. The aim was to make something that would have the flavour and bitterness to stand up to Campari in a Negroni and bourbon/ rye in a Manhattan. Tring said he wanted to avoid the "cold mulled wine" thing you get in some vermouth so though it does have classic winter spices like cloves, it really majors on the orange. He uses three types of orange plus the holy trinity of bittering agents: wormwood, gentian and cinchona. "The acidity of the base wine stops it from being cloying," he said.
Nevertheless, I'm with Bill Murray here, it is a little too sweet for me just to drink on the rocks with a twist. But it does what it's designed to do and works beautifully in a Negroni and a Manhattan. Meanwhile, the Lyon dry version melds perfectly into a Martini but I also found myself adding splashes when cooking vegetables to add a zing of citrus and fennel. But it was the Reus, the Spanish version, that was the most successful drunk on the rocks with a twist. Throw in some anchovies in vinegar, and I think even Bill Murray might enjoy it. 
The Aperitivo! Co. range is available from Master of Malt. Click here to buy.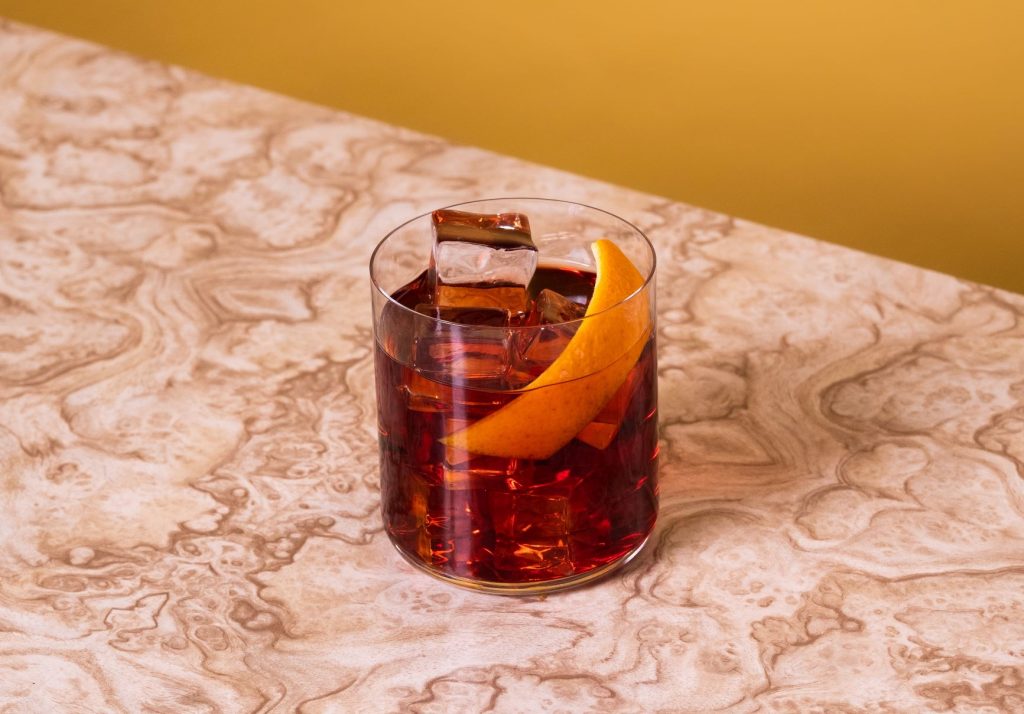 How to make a Sweet Vermouth on the Rocks with a Twist
50ml Aperitivo! Co. Turin (or Reus is if you're Bill Murray)
A twist of orange peel
Add the vermouth to an ice-filled tumbler, stir and express a twist of orange over the top and drop in. Raise a glass to 'world peace.'