Today we're using a fantastic new gin, Bathtub Rose & Cardamom Gin, to make a decidedly wet take on a classic cocktail. It's the Rose & Cardamom Martini!
There's been a sea change in Martini fashions in recent years. At one time, the gin heavy faction were in the ascendant. You know the sort of thing: "Show the gin a bottle of vermouth, throw the vermouth in the bin and then drink the gin." Noël Coward wrote, "a perfect Martini should be made by filling a glass with gin, then waving it in the general direction of Italy." Hemingway liked a ratio of 15 parts gin to 1 part vermouth. So manly!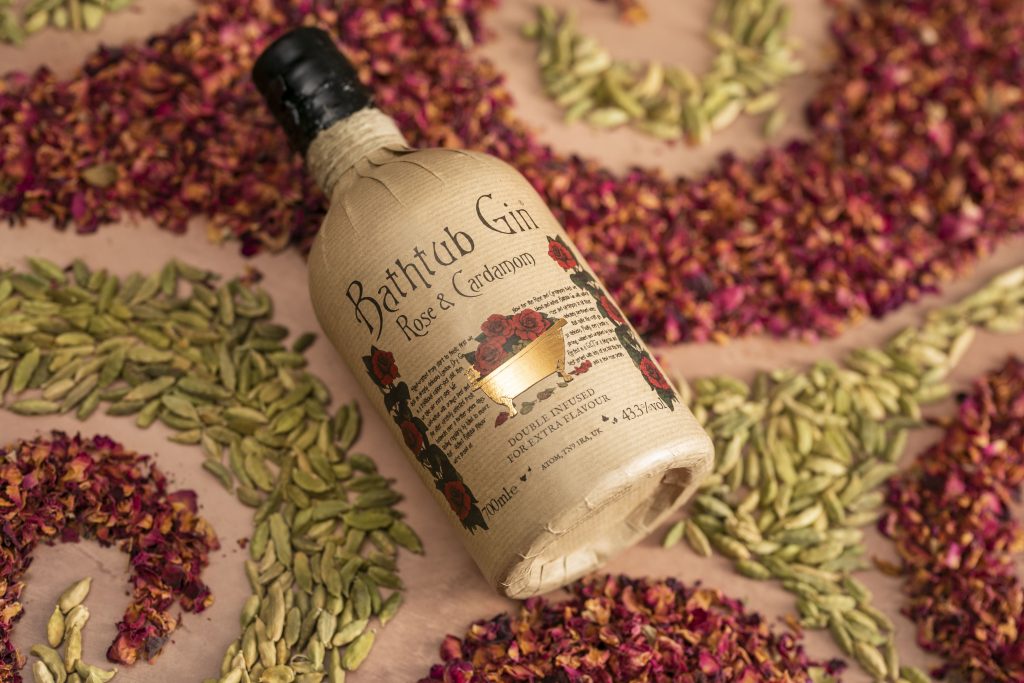 A brief history of the Martini
But now the wets are firmly in the driving seat as fashion has swung back towards something like the early Martini. The drink (probably) evolved from the Marguerite: 2 parts gin, 1 part dry vermouth, a dash of orange bitters, and served straight up. The name comes from the Martini & Rossi company which released a dry French-style vermouth in 1900. People began ordering their Marguerites by the vermouth brand and the name stuck. Or that's the theory anyway, nobody quite knows.
The Martini in Harry Craddock's 1930 Savoy Cocktail Book is a very Marguerite-esque 1 part vermouth to 2 parts gin. Some bartenders are keen on the 1:1, even serving it on the rocks. We're sticking with Craddock's ratio for our cocktail today but we're being decidedly modern with our choice of gin. It's based on one of our favourites, Bathtub Gin, but this new bottling has been infused with cardamom and rose petal. Both botanicals have some serious gin pedigree: rose petal in Hendrick's, and we've long been a fan of Sacred's Cardamom gin. By combining the two, the Bathtub crew have created something that will appeal to lovers of London Dry Gin but there's an extra exotic perfume. As well as being a great Martini gin, it works brilliantly in a G&T and means you can have lots of fun playing around with the garnish. 
Which vermouth?
As the vermouth plays such a big role in the Cardamom Martini, it's important that you choose carefully. Even more important, make sure it's not a bottle that's been sitting at the back of the drinks cupboard gathering dust. We're going with Regal Rose Daring Dry which we love for its clean wine-led flavour profile. Dolin would also be a good choice. We want something that's going to let those spicy floral flavours in the gin sing. 
Now that you have got your ingredients, you need to make sure that everything is as cold as possible. We recommend keeping your gin and glass in the freezer and vermouth in the fridge. When stirring, use plenty of ice that's straight from the freezer. Got everything really cold, you're ready to make a deliciously spicy Dry Martini. 
How to make a Rose & Cardamom
50ml Bathtub Rose & Cardamom Gin
25ml Regal Rogue Daring Dry vermouth
Add all ingredients into a shaker with ice and stir thoroughly. Pour into a chilled coupe or Martini glass. For the full effect, garnish with some rose petals but they're not essential.  A lemon twist would be nice too.