This week's cocktail is the Popcorn Old Fashioned, a long-time favourite at Sexy Fish. The London hotspot has sold over 12,000 of them since it opened five years ago. Bar manager Jérôme Allaguillemette explains how to recreate the drink at home…
Tucked away on a corner of Berkeley Square lies Sexy Fish – no, you're not hard of herring, that's its real name – which toasted its fifth birthday with a book of its most beloved serves, titled Surrealism. Set in a split-level building that boasts seascape-inspired Damien Hirst art in the main restaurant and two of the world's largest live coral reef tanks in the private dining space below, the opulent hotspot is known for its wildly inventive Asian-fusion food and drink offering.
If you're into celeb spotting, it's the plaice to be. The venue flung open its doors in October 2015 with a star-studded opening party – Rita Ora performed a medley of hits (dressed as a glittery gold mermaid, obv) while the likes of Kate Moss and Lindsay Lohan sipped cocktails and snacked on rainbow-coloured sushi platters. Ever since, a revolving door of big names has been spotted inside its glitzy lair, including Katy Perry, Hugh Jackson, Kendall Jenner and Joan Collins.
If you can tear your eyes from the venue's theatrical artworks for long enough – among them a 13-foot mirrored crocodile (by architect Frank Gehry), a waterfall wall, and an illuminating shoal of fish hovering above the bar (also Gehry) – you'll find the largest collection of Japanese whisky in the world. Sexy Fish even has its own single cask bottling, Sexy Fish Whisky, made at Chichibu Distillery in the central Saitama Prefecture. As well as having a huge selection of spirits within easy reach, the bar team also has a fully-stocked kitchen to draw from – and they make full use of this unique set-up, as Allaguillemette explains.
"Our kitchen fridges and pantry are our main inspiration," he says. "Over the last five years we've used some interesting ingredients, including Wagyu fat, smoked salmon, bonito flakes, Shiitake mushrooms, codonopsis and Galangal. We use a lot of techniques borrowed from chefs: sous vide cooking, blending, centrifuging, and additional 'scientific methods' such as vacuum distillation, which allows us to extract very delicate and unusual flavours using laboratory equipment."
There are, indeed, plenty of unconventional flavour combinations on the menu. In the savoury, herbal serve Neonach – which is presented in a red coral glass – you'll find salmon-infused Hendrick's gin, basil, fennel and chilli oil. When designing a cocktail at Sexy Fish, bringing ingredients together is only half the story. After all, the owners didn't spend (an estimated) £15 million on eye-catching art installations from the biggest names in architecture and art to serve your lavish cocktail in dull glassware.
"The visual aesthetic is the guest's first contact with the drink, it needs to be appealing and to some extent sexy and intriguing," says Allaguillemette. "We're always looking to excite as many senses as possible when it comes to our serves, using textures, shapes, colours and scents. Some [vessels] are unique, bespoke pieces that we designed in collaboration with brands, such as our Neonach coral glass, which is 3D-printed."
Unsurprisingly, putting each menu together requires plenty of work. The first menu followed Marco Polo across Asia; the second, called Haute Couture, took inspiration from the catwalk; the third, Whet, was designed to whet all appetites; and the most recent edition Travel was inspired by the team's global bar tour. Each has typically taken around nine months, from the first meeting to the launch, says Allaguillemette, with all hands on deck. "The menu creation is most definitely a team effort, from the concept to the drinks and serve design," he continues.
With each menu so vibrantly different to the last, how would he sum up the cocktail offering at Sexy Fish in three words, I ask? "Sexy, accessible, yet complex," says Allaguillemette. That's four – but then, surreal Sexy Fish is hardly known for following convention, so we'll it slide.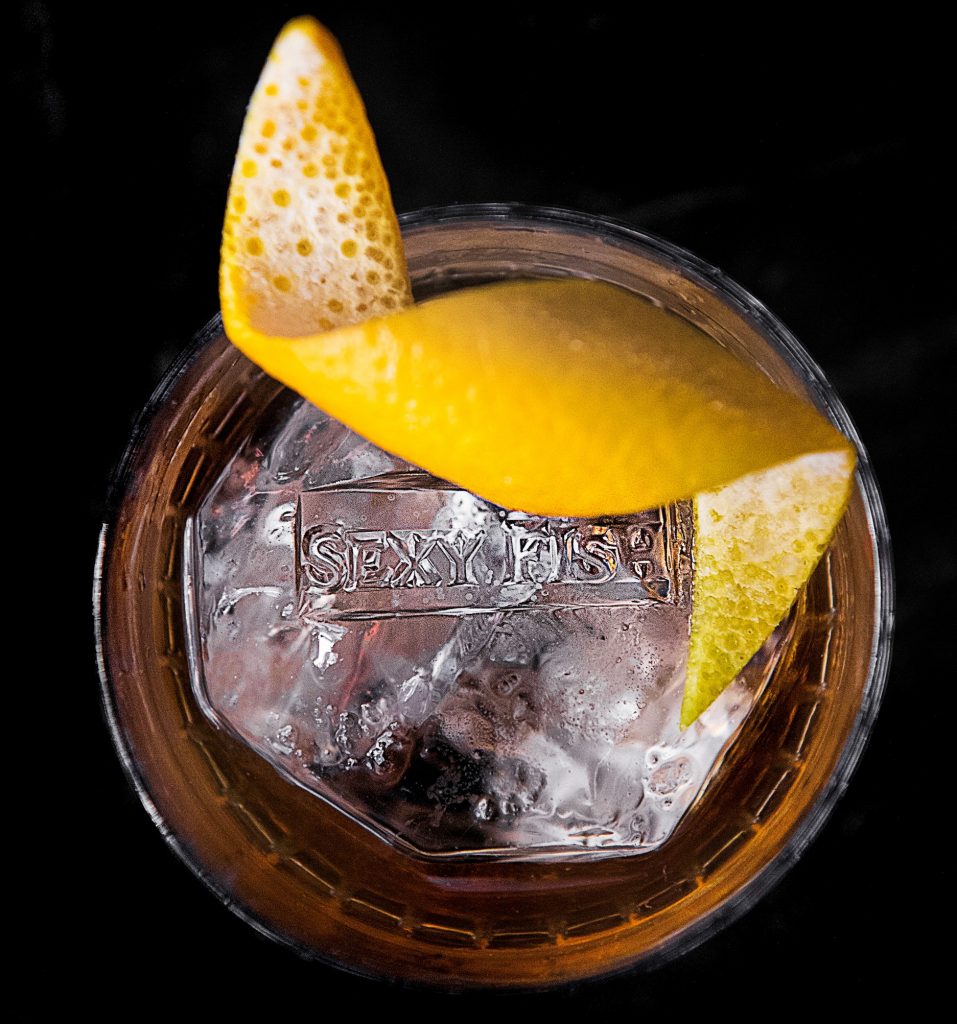 Right that's Sexy Fish, now let's make a Popcorn Old Fashioned. It's described by the bar like this: "An all-time favourite, this Old Fashioned is a cocktail that really pops. All the classic ingredients report for duty, alongside popcorn-infused Chita Whisky. Over the years, we've taken 110kg of popcorn to take this old favourite into new territory".
50ml popcorn-infused Chita Whisky*
5ml sugar syrup
2 dashes Angostura Bitters 
Stir all ingredients over ice and strain onto a large chunk of ice in a rocks glass. Garnish with an orange twist.
*To make the popcorn-infused Chita Whisky, mix 200ml whisky with 20g popcorn, leave in a freezer overnight, and strain through a coffee filter the following morning.