This week, we're making a twist on a modern classic, and the perfect cocktail for the upcoming party season: it's the Mezcal Espresso Martini made with Ojo de Dios Café.
The drinks world was thrown into turmoil last month when Patrón announced that it was discontinuing its famous XO Cafe, the party drink of the stars. Everyone quickly recovered, however, when we realised that there are alternatives to the former Clooney beverage. VIVIR stepped into the breach with a coffee version of its Tequila, and then there's Ojo de Dios Café – a blend of mezcal and coffee.
The eye of God
Ojo de Dios (ODD) means 'eye of God'. The mezcal is produced traditionally from seven to eight-year-old Espadin agave plants from San Luis del Rio region of Oaxaca, roasted in an underground oven over oak wood, and crushed using a tahona mill. It's fermented using natural yeasts in wood and then double-distilled in a copper pot still.
To make ODD Café, maestro mezcalero Francisco Ortiz blends this spirit with Arabica coffee beans grown 4600 ft above sea level in the Oaxaca mountains and roasted by the Mejia Bautista family. The resulting liqueur comes in at 35% ABV with no sugar added. 
Going down a storm
The brand has been going down a storm recently with some of London's top bartenders. Alan Uresti Silva from legendary nightspot Annabel's described it as "a top-quality mezcal that has the versatility to be used in cocktails and doesn't overpower but harmoniously blends into plentiful drinks. It also has the advantage of being complex enough to be enjoyed by itself." 
Pawel Rolka bar manager at Zuma said: "Ojo de Dios Mezcal is, without doubt, one of the most flavoursome, smooth and versatile agave-based spirits I've come across in a long time." And finally, Erik Lorincz formerly of the American Bar at the Savoy and now at Kwant said: "Ojo de Dios is a classic example of the effects of the slow cooking process that grants this mezcal a perfect balance between soft smoke and tropical fruit. It's very versatile for cocktails, one of my favourites being the ODD Café which we serve here at Kwant."
While you can drink it neat, ODD Café's naturally sweet and smoky flavour means it's the perfect spirit to make your Espresso Martini a bit more lively. Ever since this classic cocktail was invented by Dick Bradsell in 1983, there's been some debate about how to make it. The story goes that a supermodel came into the Soho Brasserie and asked for a drink that would "wake me up, and then fuck me up". He christened it the Vodka Espresso, but it soon became known as the Espresso Martini because of the shape of the glass. 
There's no definitive recipe. Some call for just coffee, sugar syrup, and vodka, whereas others use a coffee liqueur. Or you can mix up the base spirit. We love this mezcal version that gets the sugar element from Frangelico, a hazelnut liqueur. Once you've tried this, you won't go back to the vodka version.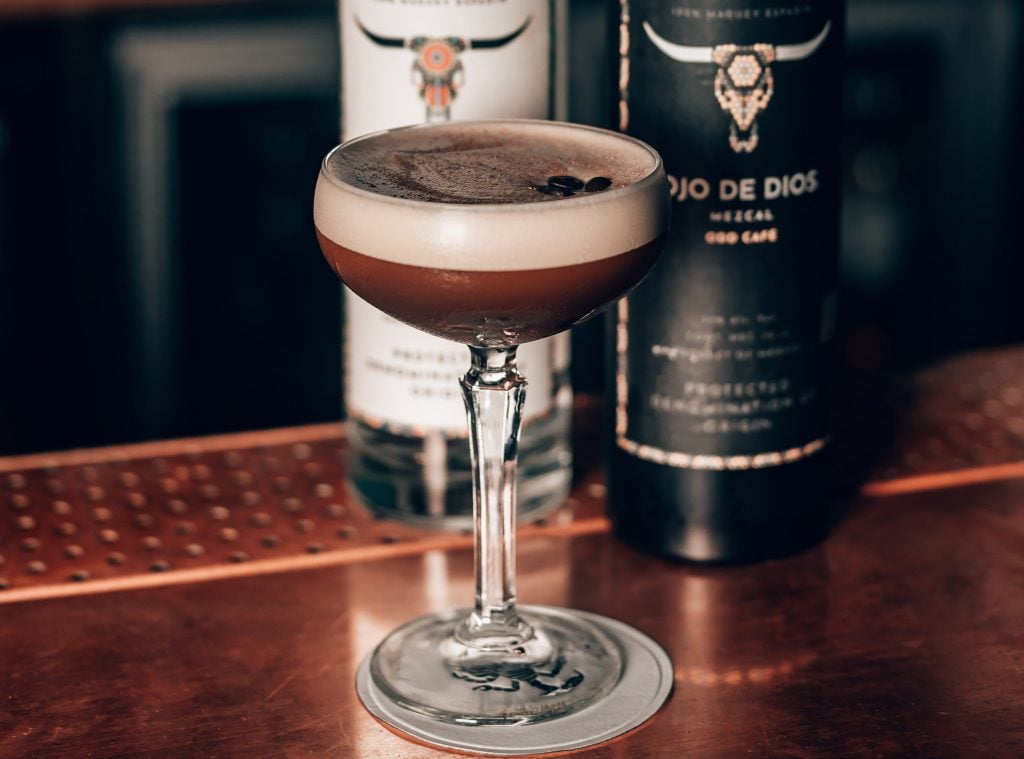 How to make a Mezcal Espresso Martini
Make sure you have lots of good quality, very cold ice, or you can end up with something close to iced coffee, and always use freshly-made coffee. I make mine in one of those stovetop mocha things or you could use a Nespresso machine for the full Clooney effect. 
Be warned, with its double coffee hit this will definitely wake you up, you might have trouble sleeping after a couple of these making it the perfect drink to kick off party season. Let the roaring '20s commence!
50ml ODD Cafe
15ml Frangelico
25ml Freshly-made espresso coffee
Make the espresso and, ideally, leave it to cool for 20 minutes. Add all the ingredients to an ice-filled shaker and shake hard. Strain into a chilled Martini glass.