This week's cocktail unites two of Italy's great aperitifs, Campari from Milan and Martini Rosso from Turin, in one glass. It's the Americano!
The Americano used to be called the Milano-Torino because it contained Campari from Milan and Martini Rosso vermouth from Turin. It was originally served at the Milan bar belonging to the creator of Campari, Gaspare Campari. The name changed when American tourists arrived in Italy in the 1920s. They were escaping Prohibition and with the strong dollar, continental Europe was their playground. It's the decadent generation immortalised in the novels of Ernest Hemingway and F. Scott Fitzgerald.
Loose morals, hot jazz, and enormous baggy trousers
And what did these louche Americans drink when they were in Italy splashing their cash around and upsetting the locals with their loose morals, hot jazz, and enormous baggy trousers? Why, Campari and Martini, of course, with a splash of soda. Due to its ubiquity amongst ex-pat Americans, the drink became known as an Americano. A similar thing happened with coffee. Espresso was a little too strong for the tourists so they asked for it diluted with hot water, and the Americano coffee was born.
Americans were still causing trouble in the 1950s. There's a song about their influence on Italian youth by Neapolitan musician Renato Carosone called Tu 'Vuò Fà L'Americano'. You might recall it from the 1999 adaptation of Patricia Highsmith's novel, The Talented Mr Ripley (the film has its moments but the book is brilliant. If you haven't read it, you're in for a treat). Carosone's song is about an Italian boy trying to ape American fashions: smoking Camel cigarettes, dancing to rock n' roll, and playing baseball (though he drinks Whisky and Sodas, not Americanos). Despite his modish veneer, this wannabe Italian is still living off his parents. 
But it's not just Americans and Italians who fell for the charms of the Americano. It crops up in Ian Fleming's short story 'From a View to a Kill' where Bond recommends drinking it in hot weather where one of his more usual drinks like a vodka Martini would be too strong. It's a great drink for when you really want a Negroni but plan to get some work done/ bump off a Smersh agent in the afternoon.
How to make an Americano
It's one of those cocktails that requires very little thought. You could experiment with other Amari but I'm keeping it traditional with Campari. Then for the vermouth, well, it really has to be Martini. I'm using Martini Riserva Speciale Rubino which is made with red wines from Piedmont, the flavour is more floral and complex than the classic Martini Rosso.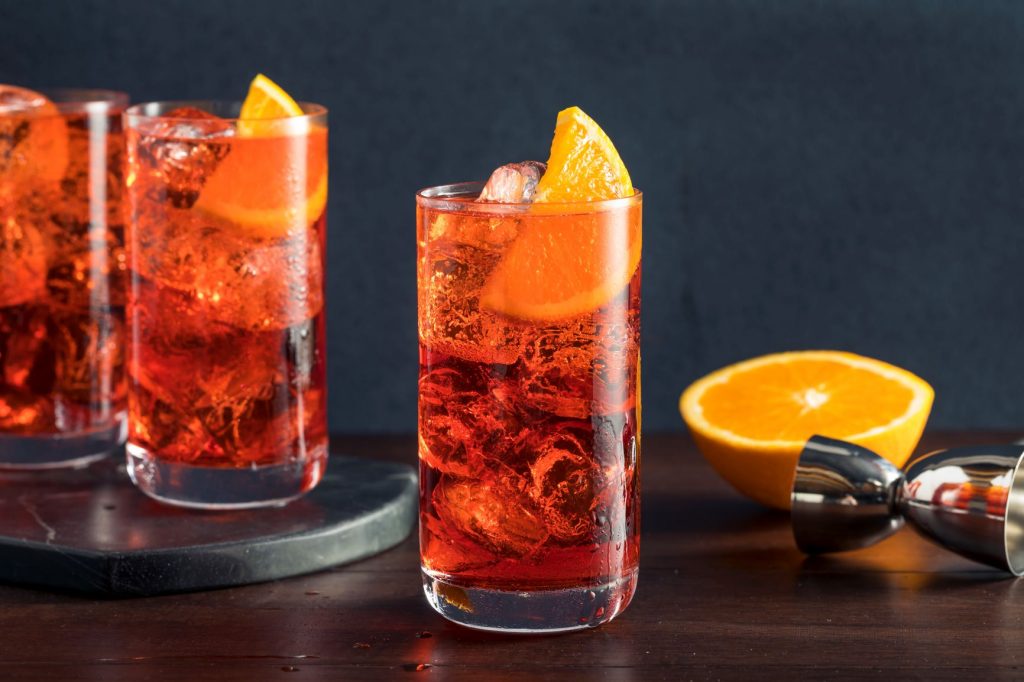 Right, that's enough preamble, it's time to put on some appropriate music, and let's make an Americano!
35ml Campari
35ml Martini Rubino Riserva Speciale Rosso vermouth
Soda water
Fill a Highball glass or tumbler with ice, add the Campari and Martini and give it a good stir. Top up with soda, stir gently, and garnish with an orange slice.