Delightfully creamy, indulgent and very very cold, our serve this week is air conditioning in a glass. Just the thing as the heat wave doesn't show any signs of stopping. 
It's been unspeakably hot this week in the UK, the kind of temperature that means you want a refreshing, cold and easy-to-make drink to enjoy while you sit down in front of a fan and move as little as possible. Or perhaps you can cope in this weather and would like a crowd-pleaser of a cocktail that you can enjoy in the garden with some excellent company.
Whatever your cocktail needs, our recipe this week should do the trick. It's called the Baileys Raspberry Ripple Cooler. Ok, so the name doesn't quite roll off the tongue. But we can assure you that drinks columnist Abbie Moulton's creation is quite delicious. It's made from a combination of the Irish cream liqueur (natch), coconut milk, vanilla ice cream and raspberry puree as Moulton wanted to capture the "taste of a summer afternoon" in a glass. Hence all those tasty raspberries. Right now it's peak berry season and things have been tough this summer for the British berry industry. Raising a glass to the delicious local fruit is the perfect way to show your support to everyone working on fruit farms in these uncertain times.
This uncertainty means we're also still in a strange halfway house period where many are unsure of how to socialise safely. While people may have begun to frequent bars and pubs, understandably there are still those who prefer to keep their company at a controlled safe distance and so have planned a summer of picnics and garden get-togethers. This is the kind of serve you want for those occasions, particularly as it's super easy to make. Even first-time cocktail creators will feel comfortable putting together a Baileys Raspberry Ripple Cooler. After all, there's no reason to miss out on cocktail hour just because you're at home.
Its also a really fun and refreshing way to enjoy the Irish cream liqueur, which is traditionally seen as more of a winter drink. It's not a bottle I reach for often, but I have to say I polished off my glass of Ripple Cooler almost too quickly. The liqueur's creamy, light and sweet profile is accentuated beautifully by the vanilla ice cream and coconut milk, while the tart raspberry puree makes for a pleasant contrast. To make the puree, you'll really want to blend fresh raspberries together with sugar. You can substitute this ingredient for a raspberry syrup but I'd think you'd lose some of the vibrancy. If you're fussy about the seeds, just use a fine-mesh strainer to remove them.
This is one to have some fun and experiment with. You could substitute the raspberry for a different berry, or add different berries into the mix to make a summer berry puree. You can also play around with the flavour of the ice cream and even blend the ice cream with the coconut milk and Baileys at the beginning to create more of a boozy milkshake. And if the Baileys Raspberry Ripple Cooler is not your speed, then perhaps you'd like this bonus cocktail. It's called the Taste of an Irish Weekend and it's a rich, delicious and unmistakably Irish take on the classic Espresso Martini. To make, all you need to do fill a glass with ice and pour in 35ml of Baileys Original Irish Cream, then 35ml of fresh espresso coffee and top with 35ml of Guinness. If you wish, you can stir in some sugar.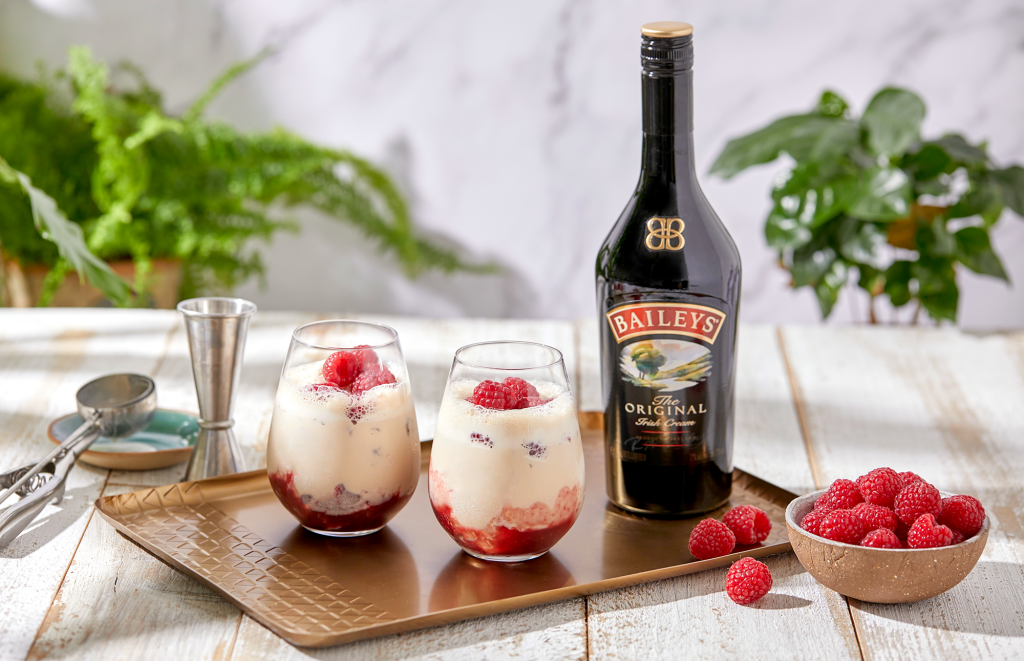 But let's go back to the Baileys Raspberry Ripple Cooler. Here's what you'll need for two servings:
100ml Baileys Original Irish Cream
80ml of coconut milk
2-3 scoops of vanilla ice cream
1 pouch Funkin raspberry puree (or you can make your own)
Handful of fresh raspberries
Start getting your ice cream out of the freezer so it's easier to scoop (I have all the pro-tips). Then pop the Baileys, coconut milk and a handful of ice into a blender and blitz that sucker until you get a light, foamy mixture. Then add one generous spoonful of raspberry puree to the bottom of each glass and top that with two or three scoops of vanilla ice cream. Drizzle another generous helping of the puree then pour over the Baileys and coconut mix until it comes to just below the top of the ice cream. Give it one last drizzle of your puree and you've got your cocktail. Oh, don't forget to garnish with some fresh raspberries.