As part of our Japan focus this week, we're taking a closer look at a brand that celebrates its 10th anniversary this year. Since its launch in 2012, Nikka Coffey Grain has become the darling of bartenders around the world. But at first, not everybody was so keen. 
Before we dive into Nikka Coffey Grain, I asked brand ambassador Nathan Shearer the correct way to pronounce Nikka. Apparently, it's "nee ka" rather than "nick ah." So now you know. Right, let's get on with it!
Nikka Coffey Grain is such a fixture on the whisky scene, especially with bartenders, that it's difficult to recall that it had people scratching their heads when it was first launched in 2012. Japanese whisky was still something of an unknown quantity outside its home market and many people were perplexed by the word 'Coffey' on the label. Could this be a coffee-flavoured whisky, some speculated? 
Coffey, not coffee
But, as I am sure all Master of Malt customers know, it refers to a special type of still patented by Dublin exciseman Aeneas Coffey in 1830. It allowed alcohol to be made continuously rather than in batches as with a traditional pot still. Coffey's invention wasn't the first, a similar device invented by Robert Stein was already in use, but it worked far more efficiently allowing large quantities of high quality, high strength alcohol to be made quickly and cheaply. Our very own Ian Buxton will be looking at Aeneas Coffey in more detail next month. 
His invention transformed spirits in Britain – London dry gin as we know it today relies on the Coffey still and its descendants – but it was most influential in Scotland. Reliable, light Scotch blends like Johnnie Walker would not have been possible without grain alcohol to blend with highly-flavoured malts. Coffey's invention, however, did not catch on in his home country, the big Dublin distillers stuck with their huge pot stills until the bitter end. 
Masataka Taketsuru
One person who did see the value of the patent stills, as it was also known, was Japanese whisky pioneer Masataka Taketsuru. In 1919, while on his fact-finding tour of Scotland he worked at a now shut grain distillery, James Calder in Bo'ness.
The stills used by Nikka are more modern. The company has two Coffey stills built in 1963 and 1965 by Blair, Campbell & McLean of Glasgow, a firm that went out of business in 1977. Nowadays, most Scotch whisky producers use more advanced column distillation equipment, according to Nathan, Nikka is the only distillery of any size still to be using Coffey stills. Originally they were at the Nishinomiya distillery but were moved to Miyagikyo in 1999. 
The launch of Nikka Coffey Grain
The output from these old stills was used in blends with occasional single cask releases until the launch of Nikka Coffey Grain in 2012. The mashbill is 95% maize with 5% malted barley to get the enzymes going. For the ferment, Nikka uses a range of different yeasts rather than a solitary strain. The new make comes off the stills at between 92-95% ABV. According to Dave Broom's The Way of Whisky, the stills produce five grades of grain whisky: "light, medium, heavy, heavier and super-heavy" So Nikka Coffey Still is a blend of different styles rather than just the same new make. But it is all from one distillery and, indeed, one country. Unlike some other whiskies in the Nikka portfolio, it is classed as Japanese whisky according to the forthcoming regulations. 
For ageing, Nikka uses only American oak casks. "Sherry would be overpowering," Shearer explained. These consist of a mixture of refill casks, remade casks with new tops and bottoms and re-charred casks. "It's about oxidation rather than extraction," he continued. 
A slow burn
The aim was to create something like a classic American corn whisky, but lighter and more delicate. When it was launched Nikka Coffey Grain was a slow burn rather than an instant hit. As well as those thinking that it had actual coffee in it, there was, and still is, a lot of prejudice about grain whisky.
I shared that prejudice but remember first trying it back in 2017 at the Whisky Show and loving its delicate fruitiness, sweetness and surprising depth of flavour. Those qualities helped it win through, eventually. According to Dave Broom, "it helped shift the debate about grain whisky globally." Now, Shearer said "it's an iconic whisky in the Nikka portfolio." He couldn't reveal how much is made every year, but did say "it's not huge" as most of the grain whisky produced is needed for brands like Nikka from the Barrel and Nikka Days. It's big in France and the UK, picking up in the US, but, oddly, rarely seen in Japan. 
Nikka Coffey Grain has proved particularly popular with bartenders. Nikka runs a competition called Perfect Serve at which Coffey Grain is a perennial favourite. Shearer said that as Japan's answer to bourbon, it's particularly good in cocktails like the Old Fashioned and Whisky Sours. But his favourite thing to make is something called a Spring Manhattan (see recipe below).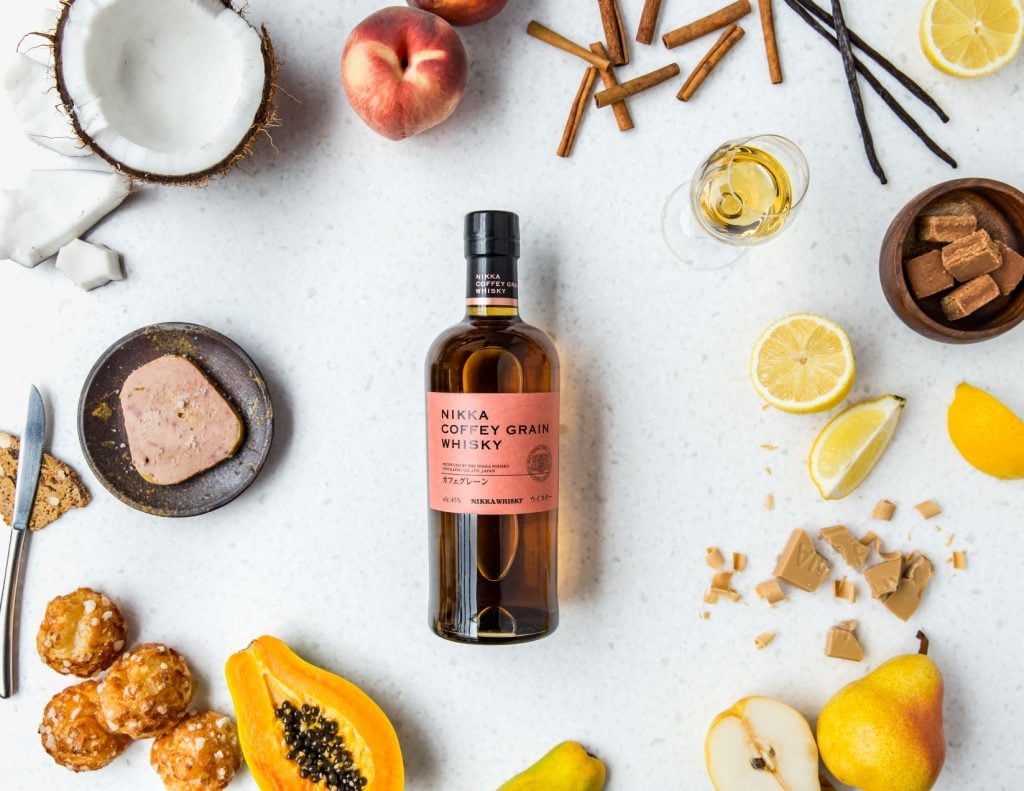 How to make a Spring Manhattan
50ml Nikka Coffey Grain Japanese whisky
25ml Cocchi Americano
2 dashes of Fee Brothers peach bitters
Stir well with ice and strain into a chilled Martini or Nick & Nora glass. Raise a glass to Aeneas Coffey and Masataka Taketsuru.
Nikka whiskies are available from Master of Malt. Click here to buy.