Live in London? Fancy yourself as a bit of a whisky blender? Hightail it down to Bethnal Green this autumn and join the Chivas Regal team to channel your inner master blender at pop-up Chivas The Blend.
Earlier this week we stopped in at Searcys at The Gherkin for a sneak preview of what the Chivas Regal UK team has up its sleeves this autumn – and it's pretty fun if you see yourself as a budding whisky blender.
Following the success of its 2016 Chivas The Blend pop-up, the team has decided to bring back the concept for another year, and it all kicks off at London Cocktail Week from 2 October, at 133 Bethnal Green Road, London, E2 7DG.
The aim isn't just to have a good time. Whisky might be growing in popularity, but blended Scotch in particular sometimes gets a bit of a raw deal – and the Chivas team wants to change that.

"Our research shows that blended whisky is really misunderstood in the UK," Phil Huckle, UK brand ambassador for Chivas Regal and The Glenlivet, told us as we gathered, Blood & Sand cocktail in hand. We were sitting round a table fully loaded with whisky samples, measuring jugs, and pipettes. The point of all this activity? To challenge and change preconceptions about the blended Scotch whisky category, he said.
Historically, Huckle continued, blends were seen as the crème de la crème of whisky, rounding off the 'edges' of the lesser-perfected single malts of the past. "Then the premium stuff got exported," he said, leaving some of the lower-end liquid here to reinforce the notion that blends are sub-par compared to their single malt siblings.
"Blenders are about flavour – not where the different parcels have come from," he continued, explaining why the single malt samples in front of us were labelled 'citrus', 'creamy' and the like, rather than the distilleries they were made at.
"Blends were created to be something with a perfect harmony between smoothness and flavour," he added. Blended whisky should "appeal to a wide palate".
"And don't forget, blends are still 90% of the global market – blends are still driving Scotch whisky forward," he stressed.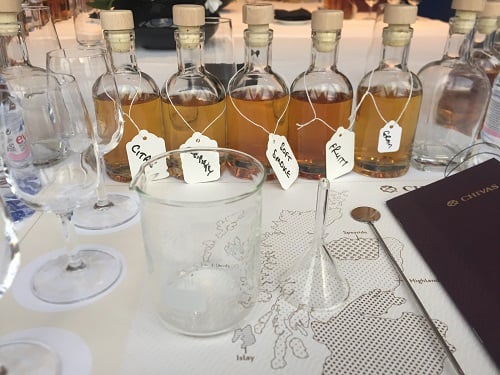 Getting our blend on
Chivas The Blend: Giving it a go
Our task for the evening was to preview the key Chivas The Blend exercise and take those four aforementioned (and still mysterious) single malts, plus a single grain, and craft our own creation.
As the session went on, one thing became clear: blending is easier said than done. Top tips if you're planning on giving it a go: don't be afraid to bolster the single grain base, and be aware that peated spirit has a transformative power – just one or two drops can dramatically change the character of your blend.
The result? Mixed. None of us had the necessary talent to challenge any Chivas expression (rest safe, Colin Scott and co.), but it was fun to experiment, and actually, making (fluking?) a tasty, single expression is viable in just one session. Replicating it would be a whole different matter…
Is blended Scotch as unloved as Huckle claims? There's certainly a 'blend block' for some whisky drinkers. If in doubt, surely sampling is the way to go? There are some incredible blends on the market – our sample selection is a great place to start.
Fancy yourself a budding master blender but can't get to London? Fear not! Our Home Blending Kit means you can try your hand from the comfort of your own residence.
Chivas The Blend pop-up opens at 133 Bethnal Green Road, London, E2 7DG, from 3 October until 3 December. 45-minute blending sessions are priced at £20 for two. The pop-up will also feature an exclusive cocktail menu and DJ sets.