We take a look at how Scotch whisky is embracing cocktails, competition and change with Auchentoshan and the New Malt Order.
You know it as the producer of triple distilled Scotch. But Auchentoshan is evolving its identity through its New Malt Order program. Over the last three years the competition has brought some of the world's finest bartenders together with an aim to challenge perceptions, innovate and collaborate to create a limited-edition expression of whisky.
It's part of a larger movement within the industry to welcome a more diverse consumer base. It's become commonplace to see many brands intent on questioning how we drink Scotch now and how it will change in the future. This is often expressed by embracing modern cocktail culture and the bartending community.
We were fortunate enough to be invited to the Lowland whisky distillery in September 2018 to see how the New Malt Order works and to speak to Ron Welsh, master blender at Auchentoshan, on what it has achieved so far.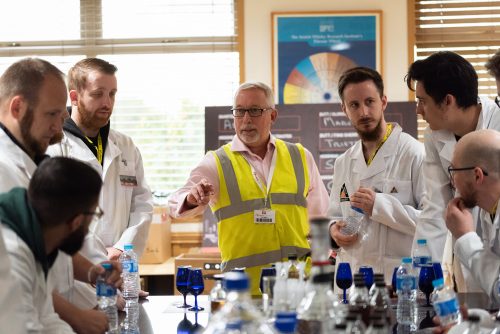 Ron Welsh helping the bartenders with their blend
To earn your place on the New Malt Order, bartenders must first win a national cocktail competition after submitting their very own cocktail recipe. The rules are simple. The cocktail must consist of no more than five ingredients, including Auchentoshan, and it must be inspired by their home city.
The champions of this round, who hail from the UK, Canada, Germany and Russia, are then invited to participate in a live national final where the bartenders are tasked with making two cocktails; one inspired by their city and one inspired by Auchentoshan. The winners are then invited to come together in Glasgow to become the newest members of the New Malt Order.
Last year's winners were Adam Lynch (Dishoom, Manchester, UK), Stephen Browner, (The Middle Spoon, Halifax, Canada), Vadim Minaev, (O.W Grant, Rostov-on-Don, Russia), Marvin Woidt, (Das Schwarze Schaf, Bamberg, Germany), Jason Kacprzak, (Bistro Kapzak, Neuruppin, Germany), Linda Le, (Kawenzmann, Magog, Germany), Tristen Ley, (Pidgin, Vancover, Canada), Maxim Gladshkevich, (Friends Bar, Novosibirsk, Russia), Jan Paul Ringhoffer (Spiritus, Mainz, Germany) and Glen Howatson (Black Rock, London, UK).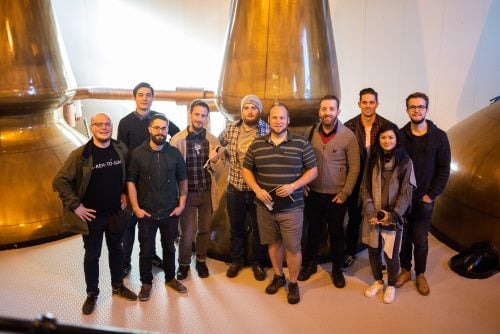 The bartenders at Auchentoshan Distillery
Before they spend a week in Glasgow visiting the distillery and exploring the city by night and day, each winner is required to fill out a questionnaire in which they are invited to talk about their favourite drinks, their hobbies and more.
Welsh explained, "From that I can then kind of have an idea of what ticks the boxes for them in terms of flavour profile and try and match a cask that's had either a different maturation style or a different length of maturation, against that individual."
That's right. The winners get a cask with their name on it. Filled with Auchentoshan whisky of a profile that complements the characteristics they look for in Scotch. There's a reason this is a very popular competition, folks.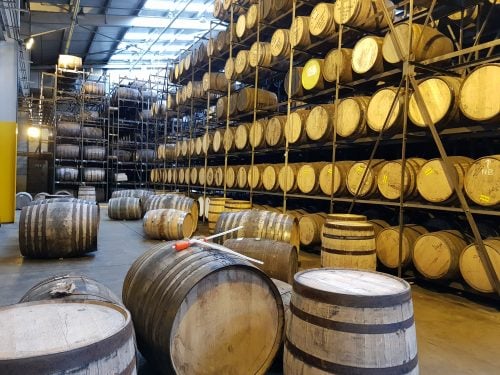 Welsh selected barrels according the bartender's taste
The biggest draw of the New Malt Order is that the bartenders get an enviable opportunity to to create their own single malt whisky alongside Welsh. It's a task of collaboration and trial and error. The bartenders work together in Welsh's lab blending together whisky and selecting which of the provided casks they wanted to utilise.
"We're evolving the feel of our programme, so that there's more interaction with the cask and with the whisky. It's very much their blend. They get to create an Auchentoshan which they would be proud of to have their name on," Welsh explained.
An interesting aspect of the New Malt Order is that we see what a bartender's perspective and approach to blending Scotch whisky is. Walsh commented that when he's putting something together, "I'm looking to put it together for 'and that's the end product'. Whereas these guys aren't looking at the whisky as the end-product. It's about what it brings to a cocktail. It was a new ingredient that they could use. I thought it was quite stunning how they look at putting in different elements to get that rounded drink that they're looking for."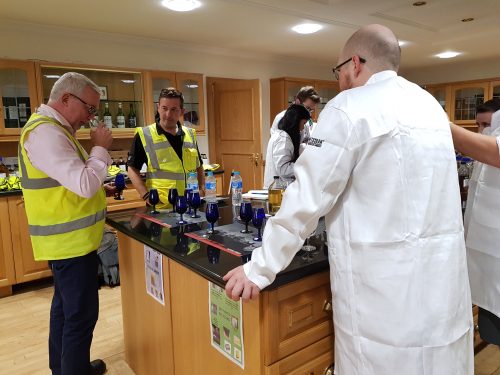 Welsh assesses the bartender's blend
This year's New Malt Order worked quite impressively, as they had reached a consensus on just the second day, a decision that is usually reserved for the latter part of the programme. By the end of the week their names were etched onto each bottle of what will become the Bartender's Malt 03, which will launch in 2019.
"This year's collective certainly earned their place within the New Malt Order. Their innovative thinking and passion to evolve the Scotch industry and to create a liquid that breaks traditional preconceptions has been fantastic to observe," Welsh remarked.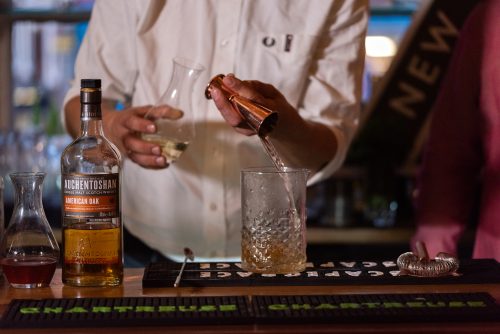 The New Malt Order celebrates the creativity of bartenders
The process of creating the Bartender's Malt is just one aspect of the New Malt Order, however. It's clear that the reason why skilled mixologists are chosen to compete is because Auchentoshan wants to make itself a brand that is associated with cocktails.
By creating these limited edition bottles of whisky, they are providing the market with a Scotch that comes pre-approved for cocktail use by bartenders themselves.
Welsh explains, "I'm very much of the opinion that a consumer can drink whisky the way they want to. But I don't think in general the Scotch whisky industry is doing enough to make sure people understand its potential in cocktails. Promoting Scotch and its ability to be used in cocktails is a good thing for the industry. When these guys start producing cocktails and start selling them then that will help."
There is no expectation that the New Malt Order will change everything overnight or by itself. Instead, Welsh is more pragmatic about how he sees the effect the competition will have.
"Getting people to approach Scotch in a different way is helpful. The competition won't suddenly make Auchentoshan the highest-selling single malt in the world, overnight. The best case scenario is that every bartender in the globe is looking to this programme as the one that they all want to win for and be on so that they can then promote Auchentoshan globally," he explains. "And that's the whole point of the programme, is that you get guys that are there serving drinks, promoting our drink to the consumers."