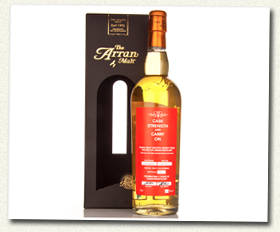 Today we're thrilled to announce the launch of Caskstrength.net's first official whisky! Bottled to mark its 3rd Birthday, this is the first time any blog has released its own single malt, and we're very proud to be the exclusive stockist!
Caskstrength.net was founded in 2008 by Neil and Joel, both formerly rival A&R men, working at Warner Bros and Island Records respectively. They formed the blog to share their love of whisky with friends and family, but since its inception, Caskstrength.net has become a colossus within the spirits blogosphere, eclipsing all expectation to a point where Neil and Joel are regularly traveling the world to write about spirits, distilleries and all things whisky.
For their first official bottling, the two bloggers from Caskstrength.net ventured to the Isle of Arran, where they discovered some incredible casks of single malt. They settled upon a single first fill bourbon barrel, which was filled in 1998. It was bottled just after Feis Ile in May of 2011, and there are just 92 bottles in the world (the cask had a tiny outturn!), all of which were bottled at a natural cask strength of 49.9% abv. Of course, we had to crack open a bottle to "test" it, and here are our findings:

Caskstrength and Carry On (Isle of Arran) 49.9%
Nose: A huge dose of sweetness on the nose. We get a big dollop of melted vanilla icecream, sprinkled with a handful of mixed, freshly ground almond and walnut. There are hints of aniseed, and Nutella and butter on a hot bagel. Just a tinge of crisp citrus zest and sloes.
Palate: Very thick and malty. It starts off as a textbook Arran, laden with notes of orange zest and malt in spades. Rich, biscuity and toasty, there are hints of coconut, almond, coffee, panna cotta, soy sauce and just a dash of spice.
Finish: Very creamy, it ends on Chantilly cream, ripe berry fruit, tangy Granny Smith apples, and a soupcon of citrus. On the finish it's still intensely malty, and there is a development of salinity that makes it ever so mouth-watering!
Overall: We want to offer a hearty congratulations to Neil and Joel, and Caskstrength.net, for the blog's 3rd Birthday, and for this astounding whisky. Highly recommended!
You can order a bottle Caskstrength and Carry On for £48.85, or alternatively you can try a 3cl sample for £3.95.
– The Chaps at Master of Malt –