If you're partial to an Islay dram, by now you'll be familiar with Ardbeg An Oa – but how much do you know about its makeup? Brendan McCarron, head of maturing whisky stocks at The Glenmorangie Company, details how Ardbeg's first permanent single malt release for almost 10 years came to be.
"We wanted to make something that is [typically] Ardbeg, permanently available, sustainable, and different," outlines Brendan McCarron, addressing a handful of journalists at an intimate lunch in London hotel Flemings Mayfair. The brief for what would eventually become Ardbeg An Oa was set three years ago, under the premise of expanding the distillery's core range to four. The team wanted to create a dram that "stands next to Ardbeg 10; something that you can compare and contrast to".
Though new to the role at the time, this was not McCarron's first rodeo. In fact, he's clocked up 12 years in the industry (eight with Diageo) and started out at Roseisle before blending whisky at Leven – "physically blending, not master blender; disgorging and maturing and filling casks" – followed by stints at Oban, Lagavulin, Port Ellen and Caol Ila.
Three and a half years ago McCarron became Dr Bill Lumsden's protégé, and is on-track to succeed him as director of distilling and whisky creation within five to 10 years ("if it's five years, brilliant, if it's 10 years, probably even better"). Until then, he's responsible for every cask of whisky maturing in Ardbeg and Glenmorangie's warehouses – but admits he spends most of his time sampling new-make spirit and working on "spirit-led innovations, but I'll tell you about them in 10 years, because they're not ready yet".
Understandably, Ardbeg An Oa is his baby. If nosing and tasting whisky all day every day is your literal job (seriously!) then seeing such a huge project come to fruition must feel like several Christmases coming at once. So, how did he do it? Lucky for us, McCarron brought with him a selection of cask samples to demonstrate the method behind the madness.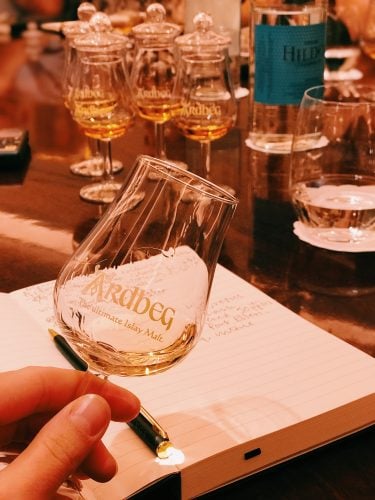 The first dram, Ardbeg 10
Component #1: Ardbeg 10
"This is the heart of Ardbeg An Oa," says McCarron. "It really is just the absolute example of what Ardbeg distillery is." If you're not already familiar with Ardbeg 10, it's a 10 year old single malt whisky matured "all in ex-bourbon [barrels], some first-fill, some second-fill, and a lot of refill", bottled at 46% abv with no caramel colouring and no chill filtration.
"What we're trying to do is basically keep the spirit character in this," explains McCarron. "You want about 70% of the flavour to come from the distillery, and about 30% of the flavour to come from the casks… That's why we use a lot of refill. It allows the whisky to mature, but it doesn't flood it with woody flavours – that's why it's so intense, that's why it's so raw, smoky, so Islay and so Ardbeg".
McCarron's tasting notes: "You want it to be big, raw, smoky and intense and that's exactly what this is. There's all these big, medicinal, woodfire notes coming straight from the peat, and you're also getting this sea air, this salty brininess. People say, 'oh it's because Ardbeg's right beside the sea', but I doubt that; I think it's more to do with the sea water that's in the peat. If you work hard enough you'll start to pick up some fruitiness, some citrus especially really over-ripe lime that's just been squeezed out. Undeniably quite intense, not for everyone. Some people jump right in and love it, other people get to it eventually."
Component #2: Ardbeg fully matured in Pedro Ximénez
Make-up of Ardbeg An Oa: 15-20%
Armed with the brief for Ardbeg An Oa, McCarron set about sweeping the warehouses to analyse the stocks, when he happened upon a run of Pedro Ximénez-aged Ardbeg. "I always sort of roll my eyes when a press release comes out and it says, 'while wandering through the warehouse one day, X distillery manager discovered a 40 year old cask of unbelievable quality'," jokes McCarron. "I didn't go wandering through the warehouse and find casks that we didn't know about – but almost." The whisky, it transpired, had simply been listed under 'sherry cask' in the distillery's database, which predates its more experimental chapter. McCarron was thrilled.
McCarron's tasting notes: "Smoky whiskies and Pedro Ximénez are like a match made in heaven. It's got beautiful sweetness. It has this stickiness, this tackiness, this sort of mouth-coating sweetness. If I add a splash of water I get rum and raisin ice cream, there's dried fruits, classic PX notes, but they're mixed in with that smokiness. I find the smoke quite subdued. Have you ever struck a match and when the match goes out, you put it on your tongue? You get this charry smokiness. The smoke is absolutely in there, but the sherry's just surrounded it and covered it and hidden it."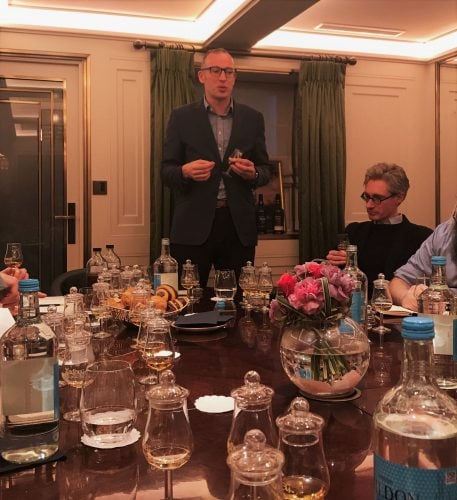 McCarron talks us through the range
Component #3: Ardbeg fully matured in new-char white American oak
Make-up of Ardbeg An Oa: 15-20%
This is "basically a bourbon cask before it gets to a bourbon distillery," says McCarron. As he began ageing new-make Glenmorangie (for what would later become Glenmorangie Ealanta, a Private Edition expression) in new-charred white American oak casks, Lumsden decided to send a selection to Ardbeg.
McCarron's tasting notes: "New-charred American oak is absolutely full of vanilla and cloves. They present in Glenmorangie but not so much in Ardbeg. It's almost like the vanilla shows up as the mouthfeel, it has a creaminess and a roundness but it's not really jumping out as vanilla. What it does do is allow the smokiness to jump through. You get maturity, you get really spicy and herbal flavours. I always get roasting herbs like sage and rosemary."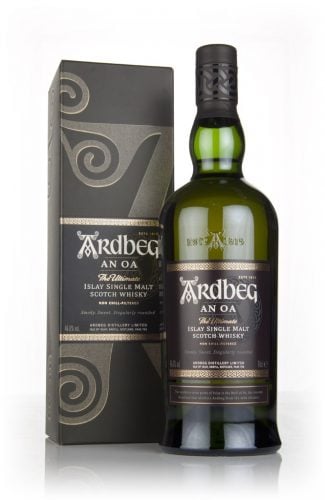 Ardbeg An Oa, in all its glory
The result: Ardbeg An Oa
With these three key components pinned down – small amounts of other casks are used, but their role is to calibrate the sweetness and smokiness of the recipe, "so we won't talk about them" – Ardbeg An Oa was almost complete. But not quite.
"The final flourish came from Bill," says McCarron. "He remembered Glenmorangie Companta." The two had compared a bottle that had been in the market with cask samples and Lumsden's original tasting notes, and detected differences in the flavour. "Up until this stage I would say that as soon as the whisky's out the cask, it doesn't change," he said. "Most of the time I still stand by that, but more complicated recipes like Companta do change. It knitted together and became slightly fuller by sitting in the bottle for a bit of time."
So, at the very last minute – "and for about half a million quid" – Lumsden decided to buy a French oak vat, and marry the liquid for around three months (though, since they've only made two batches, this might well be adjusted in the future), to knit the entire recipe together. Does the French oak impart any flavour? McCarron says no. "Some people say you get a French oak kick off it; you don't," he explains. "The French oak's not toasted or charred, [the vat] is simply a vessel." Marrying the components together was the final piece to the puzzle.
McCarron's tasting notes: "I always get the smoke first, then you start to pick up dried fruits, maybe even figs; this kind of intense fruitiness. Pan-fried figs in balsamic vinegar, if you want to go really over the top. On the finish you get more spiciness, cloves; almost like cinnamon sticks that have been set on fire. The smoke comes back again, it's like a wood fire that's already gone out; this intense sooty, coal dust, coal tar finish. So very like Ardbeg 10, but smokier and sweeter and more rounded. When you add water, it's like perfumed smoke. Like a raging fire at Jo Malone. Which, considering they're candles, would go up."
As the first few batches of Ardbeg An Oa grace glasses across the globe, what's next for the distillery? In October, Ardbeg released limited edition 23 year old whisky, Ardbeg Twenty Something, to its loyal Ardbeg Committee fan base. Could another aged expression be on the way? "Long term, I want to make a permanently-available older Ardbeg," confirms McCarron. "Twenty, plus or minus three years – something like that."
The older the whisky, he explains, the more subdued its smoky characteristic becomes, because "the smokiest Ardbeg you'll ever get is the spirit running off the still". It's an exciting prospect, but considering the distillery has such a limited amount of aged stock in its inventory, it seems unlikely we'll see the idea come to fruition any time soon. On the flip side, however, he's also "really tempted to release an Ardbeg that's three years and one day, because that'll be super-smoky". For that – well, we'll just have to wait and see.