Here's something a bit unusual. A high quality pot still grape brandy that's not from Cognac, Armagnac, or Jerez. It's from Walthamstow. Introducing Burnt Faith British Brandy Batch 001!
The big question with Burnt Faith, a new brandy house located in Walthamstow in North East London, is why nobody has ever done it before. To make high quality brandy like they make in Cognac or Armagnac you need grapes that are ripe but not too ripe. The base wine used to make both comes in at around 9% ABV. You only want the clean, almost grassy flavours to be accentuated by distillation, not big ripe notes, so that the resulting eau-de-vie is fresh with a high acidity. Perfect for ageing.
Slightly underipe grapes are something that England does very well, they're also perfect to make sparkling wine, so why until now had nobody been making brandy? Well, actually they have. Chapel Down produced a £125 23 year old brandy recently from Lamberhurst Vineyard and if you visit Rathfinny in Sussex, you can try its three year old brandy. Made from riesling grapes that didn't ripen properly and second pressings of grapes that aren't fine enough to go into sparkling wine, it was distilled at Silent Pool and aged in STR (shaved, toasted and recharred) casks. Bloody good it is too!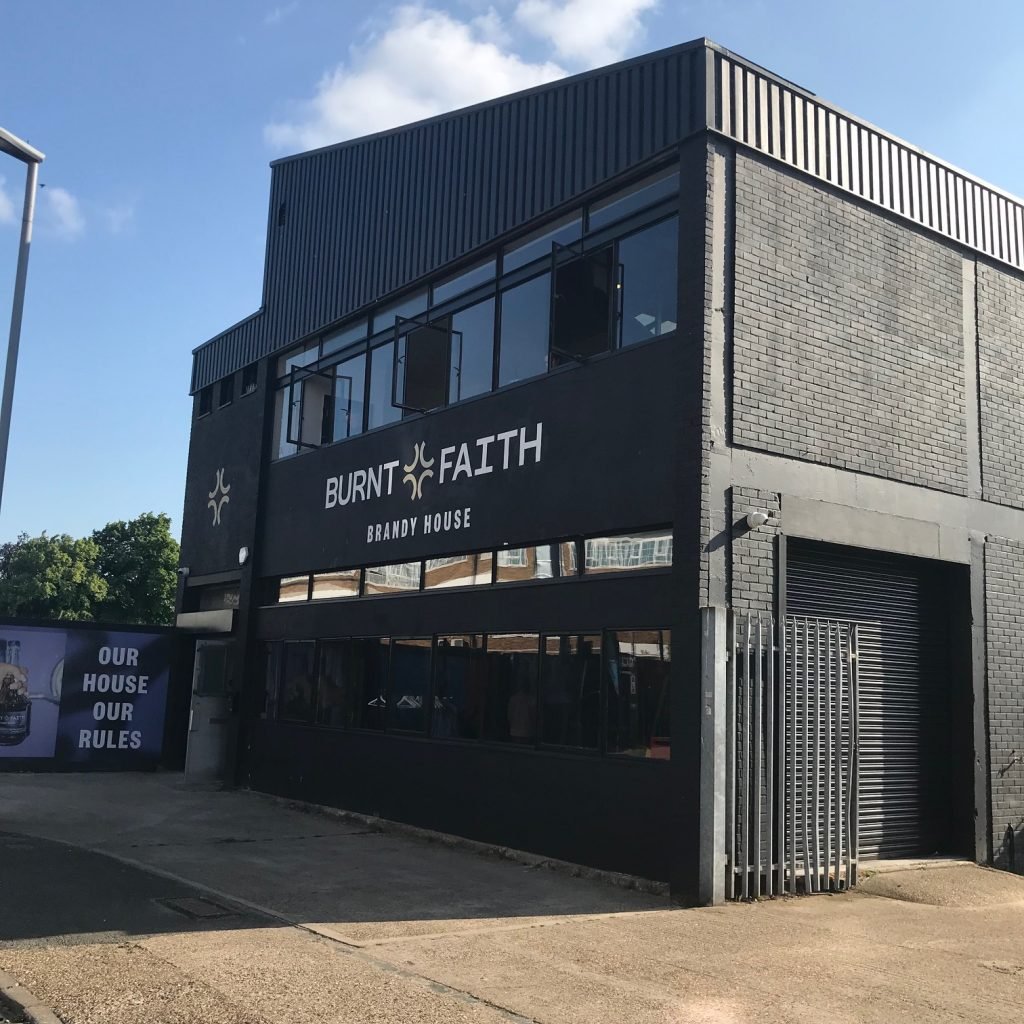 Enter Burnt Faith!
So it has been done, but nobody has thought of building a brand out of it… until now. Enter Burnt Faith! The distillery is located down a side street in Walthamstow surrounded by former warehouses and a mixture of Victorian terraces and more modern housing estates. I was just thinking, there can't be a brandy house down here when I spotted a giant black and purple sign emblazoned 'Burnt Faith'. I had arrived.
It's the brainchild of Simon Wright who set up Hawkes Cider in South London before selling it to Brewdog in 2018. The head distiller is Oliver Kitson who has worked for various drinks companies including Sipsmith. He works with another distiller Todd Zillwood-Hunt who used to work at Silent Pool and made the brandy for Rathfinny. In short, it's the dream team.
A bigger opportunity
Originally Wright wanted to stick with what he knew and make apple brandy but decided that brandy from grapes would be an easier sell. "This is a bigger and better opportunity. You don't have to explain it." He thinks the brandy category is ripe for innovation, describing it as "massive but staid and under-developed." At the moment Cognac sells either to "old men or the urban young", "can you bring the two together?" He added. "Why don't more people do brandy, it's wine meets whisky." Can't argue with that.
He's working with some outside investors on the project and it's clear that they are not doing things by halves. It's on the Walthamstow brewery mile so when people are tired of beer, they can pop in for a cocktail. There's a 5,500 square foot facility which includes a bar, events space and, of course, the still. The equipment was imported from Cognac, second hand and refurbished. It's only the second such set-up in England, the other one is used to make whisky at the Dartmoor Distillery in Devon. Burnt Faith has one 2,500 litre pot still, a pre-heater for warming up the wine and a worm tub condenser. It all turned out to be too big for the building so they had to make a hole in the ceiling on the first floor which looks really cool – as if it was meant to be like that. 
A British Brandy House?
What they don't do is make wine. At the moment they're buying various wines from a negociant in South West France made from trebbiano (aka ugni blanc, the main grape of Cognac), muscat and chardonnay. At some point they will be looking to collaborate with English wineries on certain specific expressions which sounds very exciting. One of the problems with English wine is that currently demand outstrips supply so it's not easy getting hold of it for distillation purposes. The wine also has to be made to very strict parameters with no sulphur added. You can't just use any old juice. But as the Rathfinny Silent Pool collab shows, you can use later pressings of wine which aren't fine enough to go into sparkling wine and achieve great results. 
They have just begun distilling, doing one run a week but there's already an aged brandy to sell called Batch 001. This is made from eau-de-vie distilled in France to Burnt Faith's specifications and then aged in England with a little long-matured brandy added for complexity. They use a mixture of Spanish brandy, bourbon, Pineau des Charentes and cherry liqueur casks for ageing with the finished brandy around 2.5 years old. These are stored in a former mushroom farm in Oxfordshire.
So just how British is it, I asked Wright. "Having it here, ageing and blending it here, it's as British as the environment. I'm pretty confident when we speak to customers and the trade they understand what we're doing." If you talk to whisky producers, many will tell you that something like 60% of the flavour, depending on who you talk to, comes from the cask, so he does have a point. But thinking of recent controversies involving Japanese whisky from Scotland and American rye from Canada, he might come in for some criticism.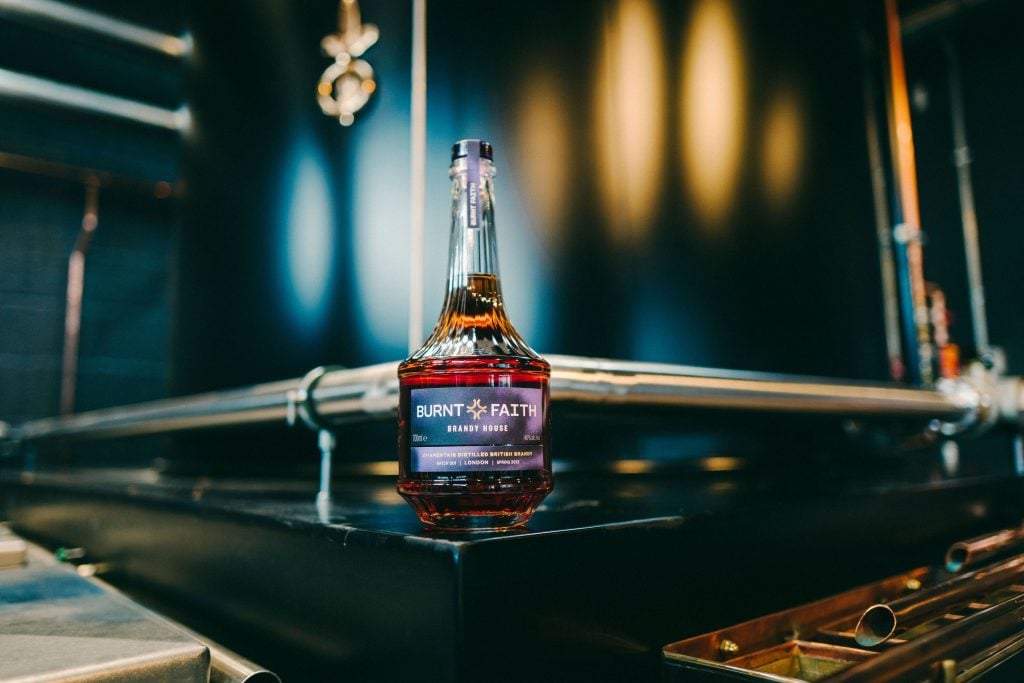 A great mixer
But part of the fun of doing a 'British brandy' is that there are no regulations or expectations. As Wright puts it, "ain't no laws in Walthamstow." And I don't think the average customer is going to care especially as there's no doubt that this first release is delicious and at an extremely competitive price. Before we tried the finished product, we tasted a series of brandies aged in the different casks which was fascinating especially as in all of them you could taste the floral, fruity eau-de-vie shining through. The finished brandy is smooth, full-flavoured and tastes more expensive than it actually is. What I liked most about it is that it's not like Cognac or Brandy de Jerez, it's completely its own thing. Apparently the response from the on-trade has been brilliant too which you can understand as this is a great mixer. "Having something on the bar has been a no brainer", Wright said.
The flavour was very hard to get right, distiller Oliver Kitson explained: "Gin is like a print and you can keep replicating. Brandy is like chipping away at sculpture" But it's clear that they have cracked it with this first release. The idea is that it will stay a consistent product and they will gradually blend in the home-distilled brandies. Then there will be single vineyard/ winery collaborations with English producers which I am extremely excited about. The name Burnt Faith comes from brandy being derived from the Dutch for 'burnt wine' and a leap of faith. It's clear that Wright and the team have put a lot of energy, thought and money into this. He said: "We don't want to be cottage, we don't want to be craft, we want to make a dent."
Burnt Faith Batch 001 is available from Master of Malt. Click on links for prices and to buy. 
Tasting note from The Chaps at Master of Malt
Nose: Lots of fruit here with dark cherries and chocolate, toffee, ginger and other spices.
Palate: Good freshness here, aromatic and fruity with sweeter notes like dark chocolate, caramel and a little nuttiness. 
Finish: Clean and fruity with a lingering nuttiness.