Buffalo Trace Distillery has outdone itself again. Its National Historic Landmark Distillery doors are open once more, meaning whiskey fans can look back in time in truly spectacular fashion.
Do distillery tours rich with whiskey history get you in a giddy, geeky state? Then Buffalo Trace has some good news for you. The bourbon giants are reopening its doors for tours. And this time there's even more sights to see.
The American family-owned operation based out of Franklin County, Kentucky claims it can trace its roots back to 1786. Which would make it almost as old as the United States itself. It would also mean it's the oldest continuously-operating distillery in the country. That fact alone makes every drop of bourbon, rye whiskey and vodka it makes intriguing.
If that isn't enough for you, the site of these tours is a National Historic Landmark and is listed on the National Register of Historic Places. Buffalo Trace Distillery has taken things up a notch, however, by inviting visitors to feast their senses on three new sites. Two of which had never been open to the public for touring before. How much are flights to Kentucky?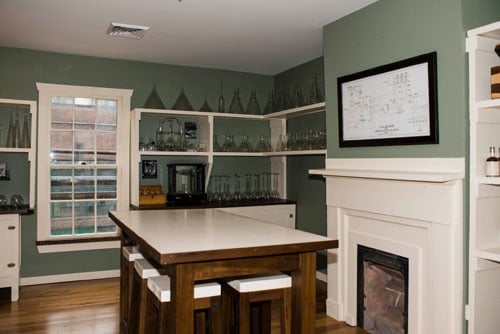 Dram in a beaker anyone? The Old Taylor House welcomes whiskey lovers.
See the unique heritage for yourself!
The first stop of the tour will take visitors to the charming Old Taylor House. Built in the 1790s by Commodore Richard Taylor, E. H. Taylor's great-grandfather, it's classed as the oldest house in Franklin County. But it's been far more than just a residence. At one time it was a small hospital and even a laboratory.
Buffalo Trace restored it a short while ago after it had sat vacant for a number of years. It's been an internal meeting space for some time. Now, it's finally open to the general public for viewing. The rustic treat is the perfect way to begin the eventful ramble through whiskey history this tour delightfully provides.
If you liked that, you might want to steady yourself this next one. The second stop on the E. H. Taylor Tour will be the O.F.C Building, which Buffalo Trace had planned to renovate in 2016 and turn into a meeting and event space. That was until a truly incredible discovery.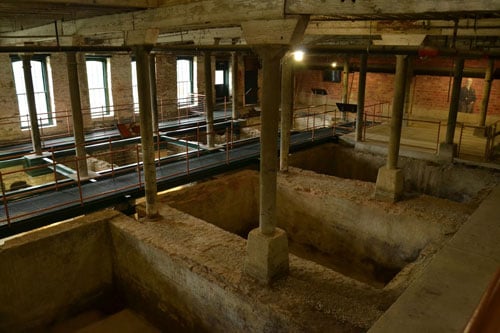 The 'Bourbon Pompeii' – where the smokiness was intentional.
The 'Bourbon Pompeii'
The team at Buffalo Trace happened upon a part of its distillery that dates back to the 19th century. The preserved nature of this rare archaeological treasure meant that it has come to be known colloquially as the 'Bourbon Pompei'. Is your mind blown? Your mind should be blown.
Research has concluded that the original foundation wall was built by Taylor in 1869. But it was with the second foundation erected in 1873 that Taylor enacted his plan to construct the industry's first 'modern' distillery. This quite unbelievable feature of the tour allows visitors to gaze upon fermenting vats found intact that date back to 1883.
Those lucky enough to see this incredible treat should note that one of those fermenters will be re-lined with copper as Taylor had originally intended and will be put to use in the near future. Sure to thrill anyone with whiskey close to their heart, some claim it to be the oldest, most intact distillery in existence in the United States.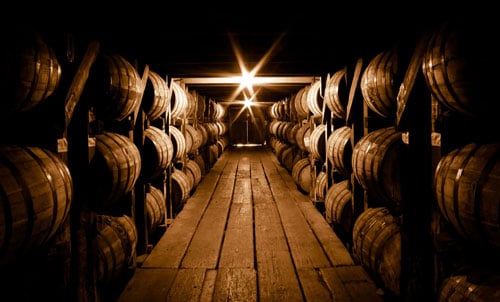 The light is calling you, the whiskey awaits in Warehouse C…
The wonders of Warehouse 'C'
Last, but by no means least, is the third stop on the E. H. Taylor Tour. Which will take guests inside Warehouse 'C.' This stunning brick and limestone structure was built by Taylor in 1884 and holds around 25,000 barrels. Much like the previous attractions, Warehouse 'C' demonstrates the unique perspective of E. H. Taylor, whose injection of steam heat in the warehouses for the winter months still influences how Buffalo Trace operates. In fact, the distillery is one of only a handful to still use this process.
The logic of this fine detail is that the bourbons can receive the full cycle of ageing all year round. This avoids the inconvenience of them lying dormant in the barrel when the temperature dips to around 4-5°C (40°F), as it can do in Kentucky winters. Warehouse 'C' is also the current maturation site of all of the E. H. Taylor, Jr. line of whiskeys.
If glorious stacks of proud whiskey casks bursting with stories and personality don't interest you then get out of my blog post!
Taste the history!
To round it all off, those lovely folks at Buffalo Trace have thrown in a complimentary tasting session at the tour's conclusion – as if we needed any extra reasons to go! But wait, there's even more! Despite the new E. H. Taylor Tour lasting an hour, those tasting samples aren't the only thing that's free – the whole tour itself is complimentary!
But don't fear or despair if you don't happen to be in Kentucky anytime soon. You can still sample some of the delights from the distillery that has received more awards than any other North American producer since 1990. Luckily for you, it just so happens that I know the perfect places: Check out Buffalo Trace, Colonel E. H. Taylor and Eagle Rare Whiskey pages for lots of tasty treats.
The EH Taylor tours at the Buffalo Trace Distillery run Monday to Friday at 2:30pm. Reservations are required, and can be made online.