Marrying a progressive approach to ingredient sourcing, terroir and cask exploration with traditional hands-on production techniques, Islay-based Bruichladdich is a distillery for the ages. We chat with production director Allan Logan about crafting the island's first rye whisky, using 'provenance' as a buzzword, and why in 100 years' time we might be sipping Islay oak-aged Scotch whisky…
There are not many distilleries that balance heritage and innovation in the way that Bruichladdich does. So when Allan Logan came to London to host a tasting of the distillery's recently-released Octomore Eights range – containing, among other drams, the world's most heavily peated whisky – we jumped at the chance to speak with him.
Bruichladdich's beginnings…
Built to cutting-edge spec in 1881 by a trio of brothers, the distillery produced a peated style of whisky until 1962, when its in-house maltings were closed in favour of unpeated commercial malt. For the most part, the distillery "focused on quantity", says Logan; producing liquid for blends (about 90-95% of its overall production), and changing hands frequently over the years until it was closed by Whyte & Mackay in 1994.
By then, the once state-of-the-art equipment was old and inefficient; the distillery had not been enhanced with the upgrades that most Scottish distilleries had benefited from during the seventies and eighties, and sales of blended whisky were starting to drop.
It lay dormant for six years until it was bought by a group of private investors led by wine merchant Mark Reynier. Since its Victorian equipment required restoring, it took a full five months to get the distillery back on its feet.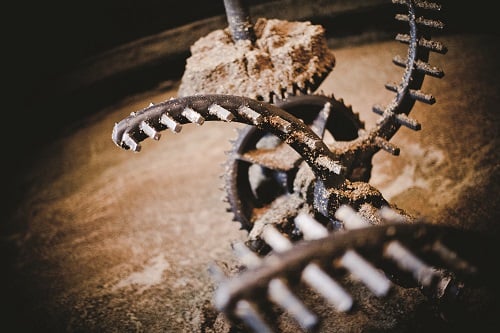 No fancy computer systems here, ta very much
With master distiller Jim McEwan (formerly of
Bowmore
) at the helm, the team vowed never to make any whisky for blends: all the whisky they would produce would be single malt. They also made the decision to produce both peated and unpeated whisky at the distillery, and initially split production 50/50 between Bruichladdich and
Port Charlotte
.
Another founding principle of Bruichladdich was to "keep the traditional act of whisky-making alive using people rather than going down the automation route," says Logan. To this day, the distiller is the biggest employer on the island (despite being "probably about the second or third-lowest producer" in terms of volume), and the entire operation, from mashing to bottling, takes place on-site.
Far from following the commercial malt-buying route once favoured at Bruichladdich, McEwan and his team sought to "bring back a connection to ingredients" by working directly with growers. Today, the distillery has a relationship with 28 individual farms throughout Scotland, 19 of which are on Islay.
"We understand the varieties they're growing," says Logan. "We understand the challenges they have with the weather and the soils and crop rotations. We want to make the best whisky we can, and to do that you have to understand your ingredients. And it's not just barley, the water, the yeast, the barrels… We've got to understand where they all come from before we can claim we're making the best."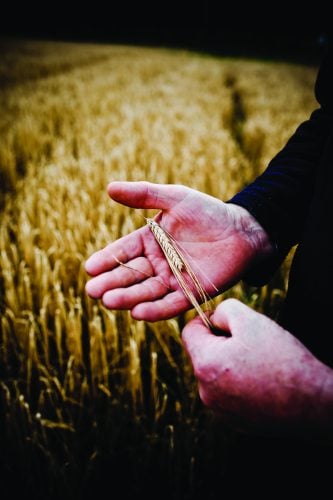 Lovely bit of barley, that
In 2002, the distillery began working with Baird's Maltings on the Scottish mainland, and as the teams became acquainted over dinner one night, talk turned to production methods. Baird's, it transpired, was making a highly-concentrated peated malt using a process that was "as close as you could be to cold-smoking," says Logan, "burning peat for a process of five days with as little heat as possible". Octomore was born.
Each year brings a new outturn, spanning 'house style', 'cask exploration', 'barley exploration' and 'innovation' bottlings. The first-ever Octomore bottling was peated to a phenol level of 80 PPM (parts per million); the most recent release, Octomore 8.3, is peated to 309 PPM. Fittingly, it's made from barley grown on nearby Octomore farm, two miles away from Bruichladdich, which is also the distillery's source of spring water.
"The great thing about Bruichladdich is we've got the freedom to explore," says Logan. "We're exploring because we want to build our own knowledge and the knowledge of the people who are drinking our whiskies with us. We're not the easiest brand to understand, because we've lots of complex different things going on, but we honestly believe that from the ingredients to the way we distil, everything has an influence on the whiskies that we create, and we want to share that."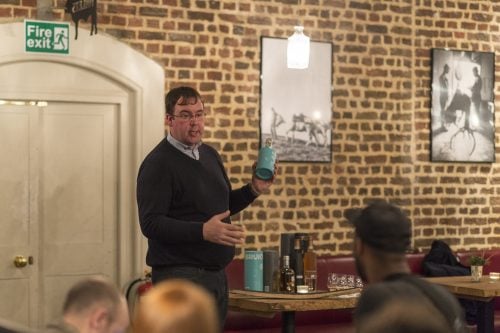 Logan talking us through the range
Logan in the hot seat…
MoM: First things first! Can you tell us a little about how you came to work in whisky?
Logan: I was born on Islay and grew up on the island. My father, grandfather and also my uncles – my father's brothers, and even some of my mother's brothers – worked in distilleries, so I think it was natural. My father was a distiller at Laphroaig. He started his career at Ardbeg, and when I was born we moved to Laphroaig and lived in the grounds of the distillery. When I was ready to leave school the timing just wasn't quite right; some distilleries were closed and the ones that were open didn't really have many job opportunities. I spoke to the manager of Laphroaig [now retired] and he recommended getting a little bit of experience in life before getting involved in the whisky industry, and that led me to go off and work in the building industry for a couple of years. It was fortunate that when Bruichladdich was reopening Jim [McEwan] and I knew one another, and he gave me my start. I had no experience, but Jim had a vision of passing on his experience to the next generation before he retired, and he was keen for me to learn from him, but also learn within a distillery and make whisky the traditional way. It was very much starting at the bottom – I wasn't getting any special treatment, I was working my way up through the ranks, if you like. It was deeply involved… we were all personally and emotionally involved with the business, because we'd started something from nothing. It was about survival, because we're a small independent business. We were a small team so we had to do everything, which gave us a huge sense of pride when we were achieving things. I think that led me to become more involved in the business and commit to it more than most people would do in a job.
Can you remember your first dram?
Before I was of legal drinking age I tried Laphroaig once, and after drinking it I vowed I would never drink whisky again. Little did I know I was going to end up working in the industry! I was inexperienced, not knowing what I was drinking. I took a big mouthful and it wasn't very pleasant. My first memorable whisky was when just about the first week that I started at Bruichladdich. I was only 19 at the time. There were only eight employees, and on the first Friday we finished, Jim got all the workers together to have a chat and have a dram. He brought out one of the old Bruichladdich 15 year olds in a green tube. I remember taking the glass at the time and thinking, 'I'm not going to enjoy this', but I was very pleasantly surprised because it was light and floral and sweet. It's only in the last three to four years that I've started to enjoy peated whiskies. I would make it and drink it and be proud of what we've made, but it wouldn't be my go-to whisky; now I probably drink more Port Charlotte than I do Bruichladdich. Port Charlotte is my go-to whisky at the moment, particularly Islay Barley, but I like Scottish Barley as well.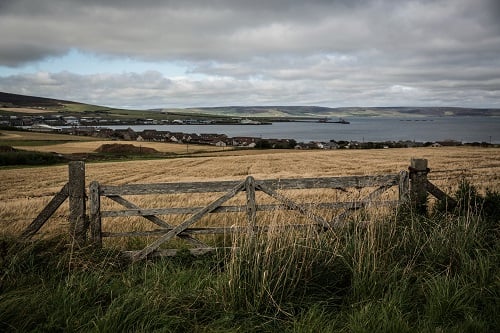 We feel windswept just looking at this
What does an average day look like for you?
An average day at the distillery can vary quite dramatically, depending on the time of year and what's actually happening. We have a lot of projects going on at the moment. The distillery's running 24 hours a day so we've always got an eye on it. Decisions need to be made every day – casks that are to be filled, casks to be emptied, the location casks are going to be put into, whisky that's been selected for bottling, and then on top of all that we make a gin [The Botanist]. The gin operation is growing very, very fast, so blending and bottling gin takes up a big part of our time. We get regular visitors to the distillery, so we spend time telling the story about what we do, as well as trying to move forward with projects. Over the last 17 years we've always been growing sales volumes, which means we have to keep increasing production and make sure our facilities are fit for purpose so that we can always do what we do at the distillery and have full control over the process from start to finish.
Is a distillery expansion on the horizon?
We've been slowly expanding the bottling production. Because sales volumes are growing, we're producing more, so there's more going out the door. At the moment we're only distilling five days a week, so we still have capacity to grow production. We have a 12-year business plan – but actually in whisky a 12-year plan is not enough. You have to have a 40-year plan, which is scary. I spend a lot of my time in the future, I wish I had a time machine or a crystal ball! We have to keep an eye on trends and projected sales and make sure that we're laying down enough of the right stock for the future. Our range is quite complex, we're not just making one style of whisky, so we need to make sure that we have sufficient amounts of each style. That's something in itself. And the infrastructure – we need to make sure that we have the capacity to meet the demand in the future. Bigger tanks to store the liquid and everything that goes with that, like filtration. We're also building warehouses at the distillery as part of a 20-year programme. That's been a very big project; it's actually been the biggest project in the development of Islay in the last 50-60 years.
Let's talk about Bruichladdich's Regional Trials, which were launched five years ago to demonstrate the effects of terroir in whisky-making. How are they conducted, and what has the outcome been?
We were building up relationships with growers across Scotland to try and understand the barley varieties we were getting, and the light bulb came on. If you take France for example, people understand that the regions of France have an impact – from Burgundy to Bordeaux to Champagne, different regions influence the way the grapes taste. The Regional Trials is an exploration of the regionalities of Scotland because nobody's taken the time to think, 'does it matter?'. We had a farmer in the north of Scotland on the Black Isle, and another on the east coast in Aberdeenshire. Down south by the Scottish borders we had another farmer, and 19 farmers on Islay. Well, we do now, at the time I think we had 13 or 14. So all we had to do was get four farms [across Scotland] coordinated to grow the same variety of barley [concerto] for us in the same year. [The harvest from] each farm is taken to maltings in Inverness separately and malted to the same specification. It's then distilled separately. We keep everything segregated right through, even to the point where the low wines and feints are kept separate, so there's no crossover from one to the other. We put the majority [of the new make] in bourbon barrels and are maturing them in the same warehouse. We're finding quite noticeable differences in the new make from the different regions. The flavours are interesting – some have got more cereal, there's one from the Black Isle that's like digestive biscuits, another from the east coast is a bit fruitier. Things like that that are very interesting for us. How that'll carry on through the maturation is a work in progress, but if we find that after a certain time in cask that it all becomes the same we've not lost anything, because we've made amazing whisky and we know exactly where it came from. We have the traceability right back to the farm and farmer who grew it.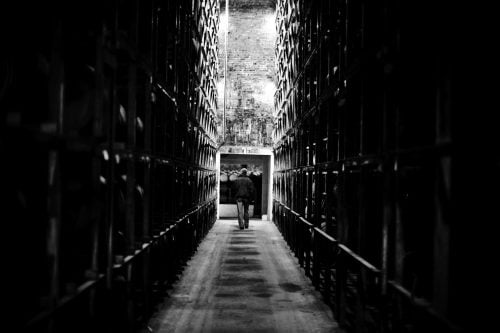 The warehouse – or 'library', if you will
Why do you think the concept of terroir is so hard to establish in Scotch whisky?
The way I see it, it's because of the way the industry has [operated] over the last 40-50 years, focusing on quantity over quality and predominantly producing whisky for blends. The distilleries lost their way because they weren't making whisky for their brand, they were making whisky for other brands and they essentially became a factory, it's pure and simple. When we started in 2001 and had that vision of trying to build that connection with ingredients, it just didn't exist. We were asking maltsters questions like, 'Can we meet the farmer that's grown the barley?' and they'd say, 'We're not sure if we know, we buy it from a third party who's buying it from a farmer'. Whisky became a tiered system where the growers were selling to agents, agents were selling to maltsters, and then maltsters were selling to distilleries. You can see why it became a commodity. The only specification the distilleries had was yield; it was irrelevant where [the barley] came from. Over the generations, the industry has tried to perfect a variety of barley that's less resistant to disease, faster-growing, higher-yielding and by doing that they're standardising – you end up with two varieties of barley recommended for the distilling industry. The older strains are falling off the recommended list, breeders don't want to keep breeding them because there's no demand for them and so therefore they just fade away. It's frustrating because these varieties are more interesting. Last year we managed to source some Golden Promise barley, which was probably one of the most recognised varieties of barley in the 1990s. It was used for brewing and distilling, but it was superseded by other varieties because they were higher-yielding. We grew it and distilled it this year. These kind of things interest us.
Would you like to see more brands place a focus on ingredients?
Moving away from that commodity market can only be a good thing for both the farming and distilling industries. If we want to be making great whisky for years to come we need to move to that. A lot of brands are starting to use the words 'terroir' or 'provenance', but using it as a great buzzword, and it's like the word 'craft' – it's diluted the definition. People are going to start to think, 'Well this is a bit fake, it doesn't feel real' and that's the worry when marketing people use words that don't fit with what's actually happening. Distilleries might start having more interest in ingredients because if they're using phrases like that they've got to do something to back it up.
Transparency is also a big part of Bruichladdich's ethos. There are some pretty tight regulations concerning Scotch whisky labelling. Are there any rules you'd like to see dropped or changed?
If we could be a bit more transparent about the way we make our whisky that would be great. These rules have been put in place for a certain era, they've never really been reviewed for current times and I think we're moving to a time when [lawmakers] need to start thinking about refreshing them. There's a time coming where there's going to be a declaration of ingredients required on the [bottle] labels. It's happening right across food with calories, ingredients, hazards, and allergies and for some reason drinks have got away with it. People who are adding E150 [caramel colouring] should declare they're adding it so people can know it's in the bottle. People have got a right to know how it's made. It should be far more open.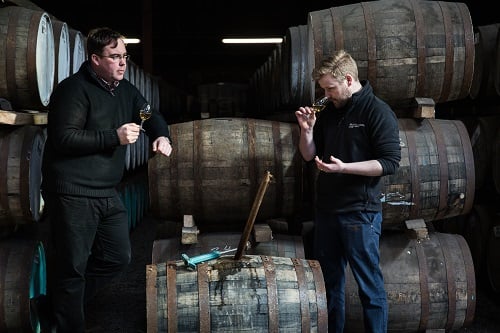 Logan samples a cask with head distiller, Adam Hannett
Could you tell us a little about your cask sourcing programme?
We've always bought lots of different casks. [Bruichladdich's co-founders] Mark Reynier and Simon Coughlin ran a wine business in London, La Reserve, so they had a lot of relationships in France with great chateaux. People were interested in what they were doing and it started a movement for us to explore ageing whisky in premium wine casks. In our inventory we have 280 different types of wood, and that creates a library of different types of casks right down to different toasting levels and different types of heads on the casks. We've been very lucky to get some mizunara oak from Japan and we're getting Andean oak from South America, which I think is a first; I don't know of anyone else in the whisky industry that is maturing with Andean oak. We're working with a French cooperage, Seguin Moreau, to try and create [a cask] that is bespoke to Bruichladdich. We've always been progressive and creative and never frightened to put our whisky into different types of casks, because all it'll do is give us different flavours and I think that's ultimately what we want. I always say to people that it's like cooking. If you got to prepare a meal and you've only got a couple of ingredients, you're limited to what you can make. If you open your cupboard and you've got lots of spices and different ingredients you can make a very tasty meal. It's exactly the same in our warehouses.
How have you and [head distiller] Adam Hannett put your stamp on production since McEwan retired in 2015?
There's a few things on the go. We haven't changed a lot in the distillery or the distilling process because fundamentally we've a great respect for the way Jim was making whisky and the way that Bruichladdich has always made whisky – retaining the traditional aspect of making whisky with people. One of the projects we're about to start is quite exciting and has never been done before to our knowledge. We've grown rye on Islay, the first time it's ever been grown on the island, and we're about to mash it. Hopefully it's a success and we'll distil it and it'll be an Islay rye whisky. We don't know where it's going to end up, we don't know what the quality's going to be like, for us it's an exploration – but if you don't try you'll never know. The whole thing with whisky is that what we make today is not going to be in the market for a long time.
What would you like your legacy to be?
There are a couple of legacy projects we're working on, funnily enough. One thing we want to do – and it's going to take maybe about 100 years to put in place – but we've started talking to some landowners about planting oak on Islay. We'll plant it now and then about 100 years from now whoever's in charge of Bruichladdich will get the benefit of cutting some Islay oak and making casks with it. The whole thing about a legacy is having the distillery in good shape to pass on to the next generation. That's our ambition and mission over the next couple of decades – making sure that we're making amazing stock, continue making whisky the traditional way, continue the relationship with growers, and pass on what we're building up.