Thanks to one very, very generous customer, we've got our hands on a bottle of Bowmore's 11 year old Fèis Ìle 2017 release, which we're auctioning to raise lots of marvellous moolah for our chosen charity, Malaria No More UK!
It's time for another charity auction, folks! But this time round it's going down a little bit differently. A wonderfully generous Master of Malt customer by the name of Lala donated a *signed* Bowmore Fèis Ìle 2017 bottle for us to auction and raise funds for Malaria No More UK – and we were more than happy to oblige!
If you're an Islay fan, this one's for you. Each year every distillery on the island releases something special for The Islay Festival of Music and Malt – or Fèis Ìle (mark your diaries now, 2018's event takes place from 25 May to 2 June). These bottles are initially only available from each distillery, and as a result are pretty sought after (it also helps that they're delicious). And this is very much the case here – and it's even been signed by distillery manager David Turner!
We teamed up with That Boutique-y Whisky Company for our last auction back in October 2017, when a one-of-a-kind "pimped" Speyburn 7 Year Old saw bids reach £600.01! Other fundraising auctions this year saw a bottle of Bowmore Black 50 Year Old 1964 raise more than £8,000 for Malaria No More UK, with Macallan in Lalique 65 Year Old generating more than £6,000 – incredible sums all round. Now it's time for Bowmore Fèis Ìle 2017 11 Years to go under the hammer too!
Charity Auction Timeline
All times in GMT, with all the action taking place on the product page:
Bowmore 11 Year Old – Fèis Ìle 2017 Auction
12:00 Weds 22 November – 14:00 Weds 29 November
(You will need to register to take part, details on the product page)
All funds raised (except any applicable VAT) will be donated to the charity Malaria No More UK to support their excellent work protecting millions from this preventable disease, while leading effective lobbying efforts to affect real change.
A note: This is different from our 'regular' charity auctions in that this bottle is a gift, and not from any official allocation.
About Bowmore 11 Year Old – Fèis Ìle 2017
Released especially for Fèis Ìle 2017, this 11 year old Bowmore is the result of marrying together oloroso sherry and Bordeaux wine casks for a big, fruity whisky packed with notes of cherry wood and walnut.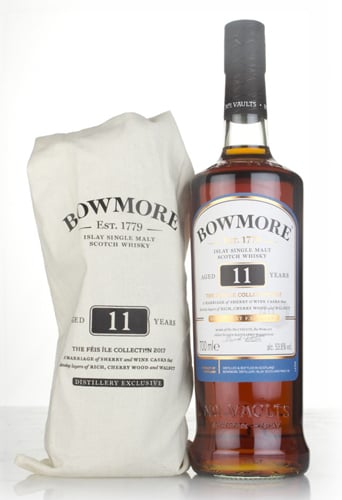 Bowmore Fèis Ìle 2017 11 Years
Bottled at 53.8% ABV, this is no shrinking violet. A whisky for Bowmore fans seeking out an unusual – and incredible – flavour experience.
Best of luck to everybody in the auction, and remember: the higher you bid, the more money goes to Malaria No More UK! This is a charity that effectively and strategically works to eliminate this deadly yet entirely preventable disease, and every penny really does count.