It might be Speyside's smallest working distillery, but Big Things lie ahead for Benromach. The Gordon & MacPhail-owned single malt Scotch whisky producer has detailed plans to boost its warehousing capacity after experiencing a tremendous 27% surge in sales last year.
Ever since the Forres-based site was brought back to life by the Urquhart family some 20-odd years ago, its whisky range – led by benchmark single malt, Benromach 10 Year Old – has experienced double-digit sales growth every year without fail.
The distillery was subject to a reinvigorating five-year refurbishment period before it re-opened in 1998, but with demand skyrocketing (bolstered by "particularly strong" overseas growth), the time has come to ramp things up a notch.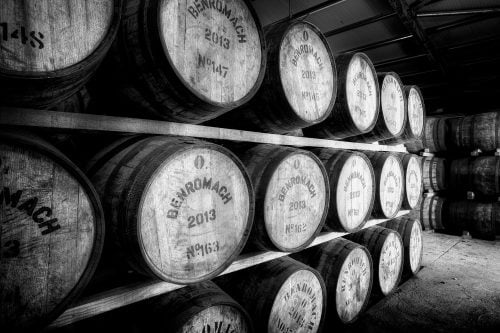 More of this to come…
"We have been expanding our production capacity at the distillery in recent years and have increased the number of colleagues to allow us to produce more whisky," Ewen Mackintosh, managing director at Gordon & MacPhail, said in a statement.
"The application we are making is for outline planning permission to allow us to build warehousing on this piece of land in future, when we require it. It is part of our long term planning to meet the demands of this growing global brand. The exact location and volume of individual warehouses would be considered in future years and followed by detailed planning applications."
Land located on the Forres boundary, west of the existing distillery, has been earmarked for development, with the final planning application slated to be submitted to the local council "later in the year".
The folk at Benromach are a community-focused bunch, so they'll be displaying the proposal at the distillery visitor centre on Wednesday 17 January to give locals the opportunity to examine the blueprints, raise concerns and give feedback.
"We have been part of the community for the last 25 years since we brought the distillery back to life," added Mackintosh. "We are continuing to invest and grow as more people get to know Benromach."