This week, we're taking an in-depth look at Benromach – a distillery which oozes that truly classic Speyside style. And, for a limited time only, we're giving away a staggering single cask bottle of Benromach 1974 worth £1,200!

Today, with its malty, slightly smoky, rich single malt, Benromach is an innovative distillery, boasting a wide variety of styles and creations, despite its fairly small scale. There's heavily peated malt; the world's first organic-certified single malt whisky; some tremendous Jim Murray Whisky Bible scores (he described the 30 Year Old as "magnificent"); and all produced by hand by a team of just four distillers. With no computer automation and complete reliance of distilling by sight, sound and smell, there is a great deal of room for nuance and character. As Distillery Manager, Keith Cruickshank, says, "sometimes it's those tiny inconsistencies that make a whisky so beautifully consistent."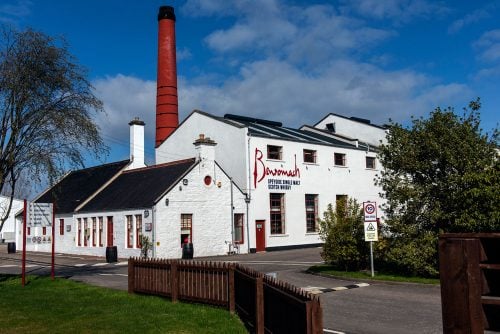 It all began in the late 1800s, in a northerly town named Forres on Scotland's Moray coast, home to Duncan's fictional castle in Macbeth, as well as Sueno's Stone – a mysterious 21ft-high Pictish standing stone dating back to the 9th century.
In 1898, the Benromach Distillery Company Ltd began construction, opening the distillery doors in 1900. Water was taken from the nearby Romach Hills, where it percolates naturally over thousands of years through sandstone and granite. Benromach sadly closed shortly after its construction was finished, operating under the name "Forres" between 1907 and 1910, and lying dormant until it was put to use as a brewery after the First World War.
In 1937, the distillery reopened for whisky production as the first in the country to direct-oil-fire its stills. Benromach changed hands a few times over the 20th century, until, under Distillers Company Limited ownership, it was closed in 1985, around the same time a slew of fine and famous Scottish distilleries closed for good.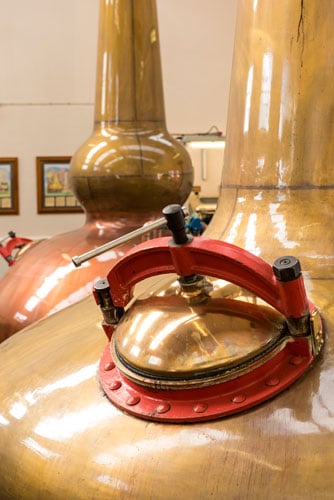 Its fortunes, however, were about to improve drastically. The acclaimed independent bottler, Gordon & MacPhail, had its sights on the distillery and purchased it in 1993. Taking time to carefully consider the type of spirit they wanted to produce, the Urquhart family invested hard work, time and money in creating the Benromach we know today.
Benromach officially reopened by HRH The Prince of Wales on the 15th October 1998. It would join around two dozen malt whisky distilleries founded during the whisky boom of the late 1800s which still operate today, and, by 2004, the first whisky distilled under the new ownership was released, named Benromach Traditional. Aged mostly in bourbon casks, with around a fifth sherry-matured malt.
Benromach possesses a level of robustness which harkens back to a far more traditional style; back to the days before the 1960s, when almost every distillery malted its own barley. When coal ran low, the fires were topped up with cuts of local peat, and final product of this had a more-muscular character. This is exuded in spades by the 100° proof version of the classic 10 Years Old. Bottled at 57% ABV, it is matured in a mix of Sherry and Bourbon casks. The sherry really shines through here, and the result is full-bodied and rich.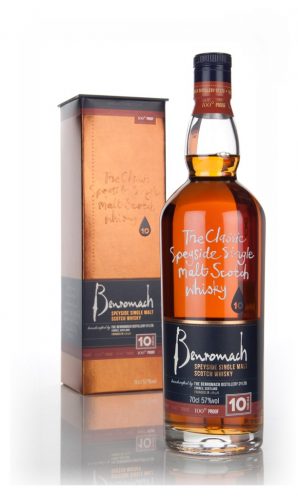 Tasting Note for Benromach 10 Year Old – 100° Proof:
Nose: Dark chocolate with vanilla cream at its core. Dates, banana and peat smoke creeping in.
Palate: A rather big palate with dark fruits and smoky embers. Oak-y hints on the mid-palate give it yet more character.
Finish: Smoke persists on the long finish.
Taking this peating to new heights, the distillery released Benromach Peat Smoke, aged for around a decade in first-fill bourbon barrels, with a fairly whopping 62ppm level of peating. The result? Earthy, rich, fruity, malty and intense, with a big rush of smouldering peat.
Perhaps more exciting even than that was the 2006 release of Benromach Organic – the first single malt whisky in the world to be fully certified as Organic by the Soil Association. This award-winning, ground-breaking whisky was aged in virgin oak casks, offering a fascinating colour, as well as a unique flavour profile, hitherto unknown. Here are our findings: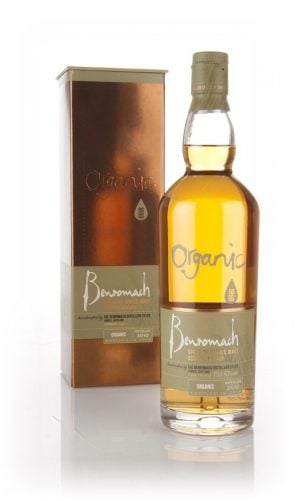 Tasting Note for Benromach Organic 2010 (bottled 2016):
Nose: Rounded vanilla, pineapple and barley sugar sweets.
Palate: Malt is still present, coffee bean and dark chocolate. Citrus peels.
Finish: Clean and quite refreshing.
5 minutes with… Keith Cruickshank (Distillery Manager)
Other than the increased levels of peating, what would you say are the key characteristics which set Benromach whisky apart from other Speyside distilleries?
When the Urquhart family brought the distillery back to life, they were aiming to revive a pre-1960s Speyside malt; beautifully balanced with a light touch of smoke. And that is exactly what Benromach is known for today. The character of the spirit means it is versatile for both shorter and longer periods of maturation.
We have a hands-on approach which is vital to our identity as we are a traditional and manual distillery, this is the way all distilleries would have been pre-1960. We refer to our Distillers as being our fourth ingredient, and we rely on them 100% to produce Benromach. Using the finest natural ingredients, our distillers orchestrate every second of the distillation process; there are no shortcuts to perfection. Every cask is hand-filled, hand-weighed and hand-stamped before maturing for many years in our traditional dunnage warehouses.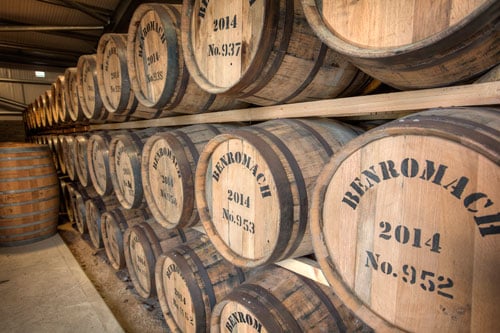 What are the next big plans for the distillery in terms of style and expressions?
We're dedicated to producing high quality malt whisky for consumers across the world, and so we are always experimenting with new styles and flavours to ensure we provide the best possible product for whisky lovers. Our Contrasts range, which includes Benromach Organic, Peat Smoke, and our unique Wood Finish malts, are testament to this innovative approach to whisky making, and in 2017 there are some further exciting expressions to come!
What is the most surprising thing to learn about the distillery?
We use absolutely no computers or even pressure gauges; our distillers manage the entire process by how the developing spirit sounds, smells and feels, giving things a tweak here and there.
COMPETITION TIME: WIN a bottle of Benromach 1974 worth £1,200
If all this has you chomping at the bit to try some of the superb expressions from the distillery, you're in luck. We're giving away a very special bottling of Benromach 1974, worth £1,200! Released earlier this year, this stonking single cask whisky was matured in sherry butt number 1583 before bottling. Just 452 bottles were produced, one of which could be yours.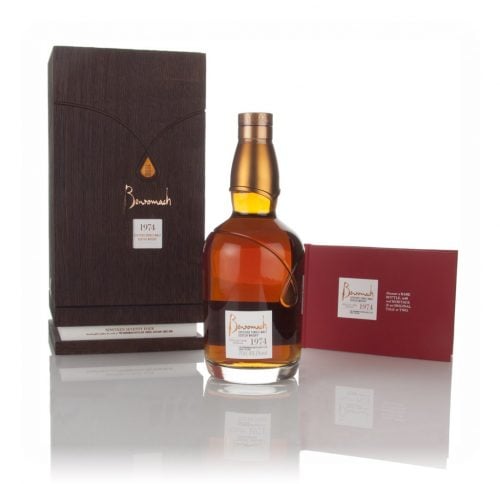 How do I Enter? Purchase any bottle of Benromach between now and 23:59 on 31st December and you'll be entered into a draw to win. We'll announce the winner in the new year (no purchase necessary – see Terms & Conditions below).
UPDATE: Congratulations to Rachel Phipps, who was our lucky winner! Enjoy your bottle of Benromach 1974!

The Chaps at Master of Malt