In 1973, David Bowie toasted the retirement of his alter ego, Ziggy Stardust, with a star-studded bash dubbed 'The Last Supper' at Hotel Café Royal. Now, 25 years on, the historic London venue has immortalised the influential artist by opening a bar in his honour, called – what else? – Ziggy's. MoM pinned down the hotel's bars and beverages manager Fabio Spinetti for the inside scoop before the doors fling open for the first time this week…
Oh, to be a fly on the wall at Hotel Café Royal on the night of July 3, 1973. Just hours before, 'Ziggy played guitar' for the final time at a sold-out concert at London's Hammersmith Odeon Theatre. The Soho venue, a natural choice for Bowie's bash, was packed to the rafters with famous faces.
"[Bowie] was very regular here," Fabio Spinetti, the hotel's bars and beverages manager, says, when we ask him about that fateful night. "He knew that his guests would know where to find Café Royal. The likes of Mick Jagger, Barbra Streisand, and Lou Reed often used to come here and they all knew the place."
Since time travel isn't an option (yet), Spinetti and his team have distilled the thrill of this legendary soirée into 11 extremely quaffable cocktails at the hotel's brand new Bowie-inspired hangout, Ziggy's.
In homage to the late, great artist and his iconic 1972 album, The Rise and Fall of Ziggy Stardust and the Spiders from Mars, the venue will serve up twists on Bowie's favourite cocktails, alongside classic drinks and flavourful innovations.
Each drink is named after a lyric from the record, and contains considered ingredients and garnishes that offer a subtle nod to the team's muse. The bar's take on a Martini – Bowie's personal tipple of choice – was the very first drink designed for the menu.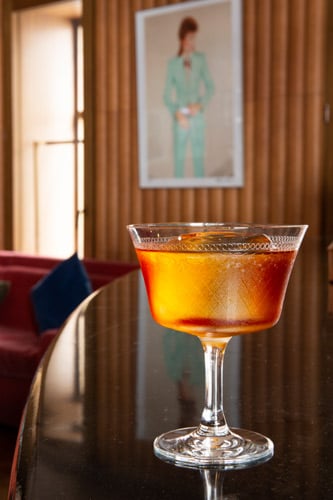 One of the hits from Ziggy's menu – Favourite Melodies
"Each and every cocktail comes from a different approach," explains Spinetti, who is formerly of The Connaught. "Our Femme Fatale is a twist on the Martini, his favourite drink.
"It contains sake instead of the classic vermouth, because of his travels to Japan and his passion for that country. For the others, it could've been an ingredient, or the final aesthetic, or a contrast in terms of colours, or even something creative with the liquid inside the glass."
One such example is Tiger On Vaseline, which contains Tanaka Spiced Rum, cachaça, roasted pineapple juice, lime juice, and coconut and white chocolate foam. Spinetti describes the drink as "an interesting twist on a Piña Colada", before giving it a moment's thought.
"Well, I wouldn't exactly define the drink this way, but it's a good way to describe it," says. "I can guarantee that what you receive is nothing you would expect, especially if you expect a twist on a Piña Colada. It's very unusual. The foam comes with a little spoon. It's almost like a dessert on its own."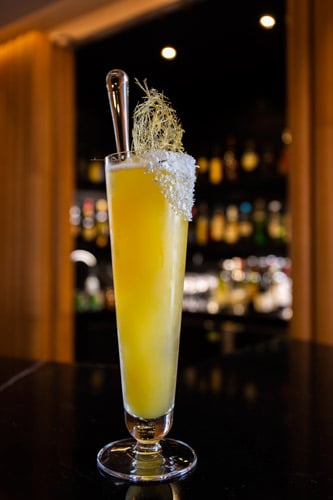 Another choice cocktail from Ziggy's menu – Loaded Man
Another cocktail, Darkness and Disgrace, combines "a Port Flip – a very traditional drink – with an Espresso Martini, which is a contemporary drink, to make an amazing after dinner-style cocktail," Spinetti continues "It's a union between old and new, which is what Café Royal is famous for – the combination of classic and modern."
All fabulous stuff, but we can't help but think they missed a trick – an 'Instant Star' cocktail, for which you "just add water and stir". If you're reading, Ziggy's, you can have that one on the house.
In any case, while you're sipping your Bowie-inspired serve, be sure to take a look around – the entire bar is bedecked with a curated selection of photography by Mick Rock, Bowie's official photographer, who collaborated with the team during the process of bringing Ziggy's to life.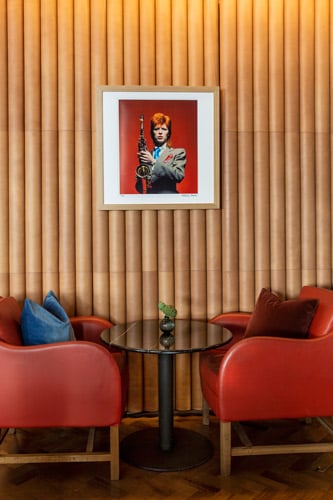 Bowie did love a saxophone…
"We have some very exclusive pictures on the wall, some of them have never been seen before," says Spinetti. "They all come with a little explanation of what [Bowie] was doing at the time – was he on tour? Was he playing a concert?"
But back to the drinks. If he could, which cocktail would Spinetti choose to serve the musician?
"The Femme Fatale," he says, after briefly ruminating, "because it was designed with David Bowie in mind. But if we're talking about a party environment, I'd go for Loaded Man or Darkness and Disgrace."
Ziggy's launches on Thursday 20 September (AKA today), and will be open Monday to Saturday from 5pm until 1am. We don't know where it will go from there. But we can promise it won't be boring…