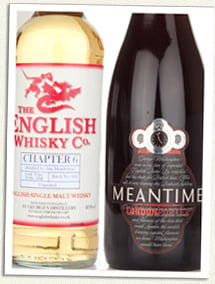 A bit of Blighty…
Most whisky drinkers don't just drink whisky. A lot of us enjoy a G&T, or a good cocktail, or a glass of wine, and everyone loves our nation's faithful, honest quaff… beer.
After a hard day's toil wondering why they didn't make Microsoft Office work properly, nothing beats a good pint at your local, or an icy cold bottle of beer on the couch.
The only thing is a glass of single malt is great too. But which do you choose? – a glorious pint or a warming glass of whisky?
In the immortal words of Gordon Gecko, greed is good. He was right and, as chaps, we know the value of downright voracity. That's why when we recline with finest ale, we line up a whisky too. A sip of one, followed by a sip of t'other, like a food pairing, only more liquory.
Proud of our English heritage, we're touting the noble flag of Blighty, and we've come up with the most thoroughly British combo possible, and because we love it so very much, we've made it our headline offer.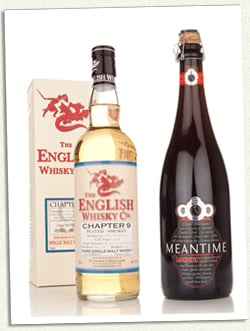 Our ultimate pairing is based on the stunning beers from the Meantime brewery in Greenwich. Meantime make their beer in very small batches, hand-crafted from top quality ingredients, and the results speak for themselves.
It all started one night when we cracked open a bottle of Meantime London Porter, (a bottle conditioned porter made with seven different malts). Someone commented on how smoky it was – almost like a peaty whisky. He was right – it's smoky, rich and full of treacle, coffee and coal notes. We promptly grabbed the nearest peaty whisky, which just so happened to be the English Whisky Company's Chapter 9 – the new, peated expression.
The two work brilliantly together, particularly if you follow a sip of whisky with a little beer, with the beer lengthening the experience, as well as cooling and refreshing the palate.
Our offer is… (for a limited time only)
Buy a full sized bottle of Chapter 9 for just £34.95 and we'll throw in a 75cl (as in champagne bottle size) Meantime London Porter.
– or –
Order a full sized bottle of English Whisky Chapter 6 (the first ever English single malt) for just £34.95 and we'll chuck in a 75cl Meantime IPA.
The IPA is bottle conditioned and it's made with Fuggles and Goldings hops. Each barrel is made with over 2lbs of hops, which is about twice as high as your average beer. It's rich with notes of ginger and Seville orange marmalade – delicious!
– The Chaps at Master of Malt –