¡Atención agave obsessives! Huge news from Bacardi – the family-owned firm is set to buy full control of Patrón Spirits International in a deal that values the best-selling Tequila producer at an eye-watering $5.1bn.
The transaction – which makes Diageo's $1bn buyout of George Clooney & Co's Casamigos brand pale in comparison – follows a "successful" decade-long relationship that has flourished since Bacardi (the world's biggest privately owned spirits firm, by the way) bought a "significant minority stake" in Patrón way back in 2008.
The brand was founded by entrepreneurs John Paul DeJoria and Martin Crowley in 1989, and will join Bacardi's existing Tequila portfolio of Cazadores and Corzo, which sit among the likes of Bacardí rum, Grey Goose vodka Bombay Sapphire gin, Dewar's Scotch whisky, and Martini vermouth.
According to data analyst IWSR, this transaction will make Bacardi the number one super-premium spirits player in the US, as well as the the second largest spirits company by value market share in the country. So they're probably quite chuffed about the whole thing.
Lime wedges and salt all-round at Bacardi HQ, then? Well actually, no. Thanks largely to Patrón, which has cemented its position as the "clear market leader" within the fast-growing super-premium Tequila category, we're all increasingly sipping on high-end agave bottlings now. Those shot-slamming days are numbered. Better still, the trend is long expected to continue.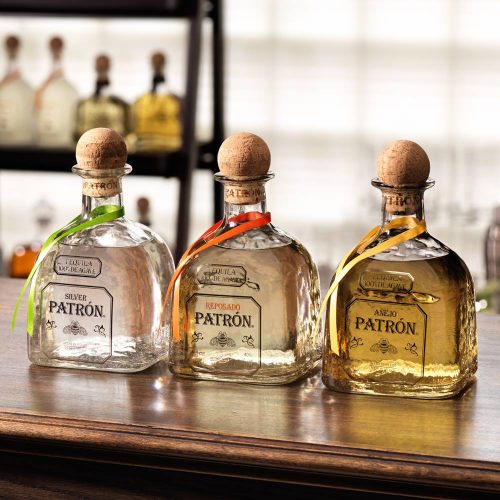 Patrón's Silver, Reposado and Añejo variants
"We started this business more than a quarter century ago with a singular mission – to create an ultra-premium, luxury Tequila," DeJoria said in a statement. "Today, with that continued commitment to quality and several other extraordinary brands in our portfolio, we produce more than three million cases of distilled spirits annually that are enjoyed around the world. I am proud of what our entire organisation has accomplished, and the work we do in giving back to the people and communities in which we operate."
Going forward, DeJoria will serve as an ambassador in the position of chairman emeritus, working with Bacardi on its many and varied environmental and philanthropic projects, while the Patrón leadership team – which includes chief executive officer Edward Brown, chief operating officer David R. Wilson, and chief marketing officer Lee Applbaum – will continue in their roles.
"Patrón is one of the world's most coveted spirits brands, and we are thrilled to take our long-standing relationship to the next level," added Barry Kabalkin, vice chairman of Bacardi Limited and a member of the board of directors of Patrón since 2008. "Working with the extraordinary team at Patrón, for whom we have the highest possible respect, we will stay true to our shared values.
"That's a promise I made to John Paul, a one-of-a-kind visionary, and to Ed Brown, who over a period of nearly 20 years has successfully turned Patrón into an industry phenomenon. Patrón is a brand that transcends the Tequila category and will uniquely complement the Bacardi portfolio of premium brands."