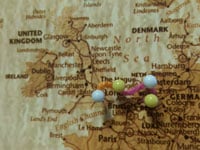 Welcome to another edition of Around The World In 80 Drams, where we are continuing to explore distilleries from the Netherlands. Last week we took a look at Lucas Bols in Amsterdam and their long history with distilling. Today we'll be heading south to visit another well-known Dutch distillery, one that uses windmills to mill the barley to make their whisky – yes, we're looking at Zuidam!
The Zuidam distillery is situated in Baarle-Nassau, about 60 miles south of Amsterdam. As I mentioned last week, it would take me around one and a half hours to travel between the two by pelican going full pelt, with their top speed being 40 mph. If I was lucky the pelican would carry me in its big beak like that scene in that fish movie.
Baarle-Nassau is one half of the village of Baarle. The other half lies in Belgium and is called Barrle-Hertog. The borders are confusing, surrounding Dutch and Belgian enclaves, and even result in some buildings existing over the actual borders – the address of the building lies in the country that the front door is in. I greatly enjoy this.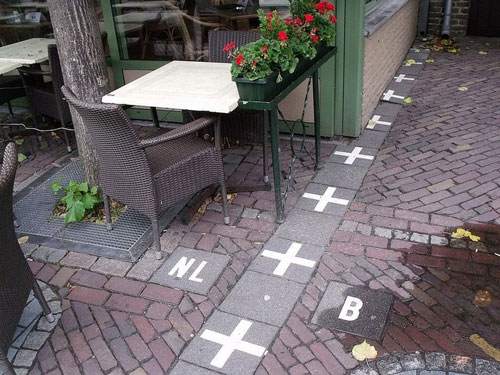 The crosses mark the border between The Netherlands and Belgium.
Now, in the Adnams entry of this series I discussed my love of lighthouses. I was excited to focus on Zuidam as this would allow me to discuss my fondness for windmills too. I don't know what it is about these types of structures, but I find them to be endlessly fascinating. It's probably because I grew up in a landlocked Somerset town in the middle of a valley with no use for windmills or lighthouses, and hence never saw them very much. If you saw them every day you might bored, but for me, the magic is not lost.
The Zuidam distillers probably don't get bored of the sight of windmills, as they use them to mill the malted grains which go on to make their whiskies and genever! A very traditional method, showing off their proud Dutch heritage.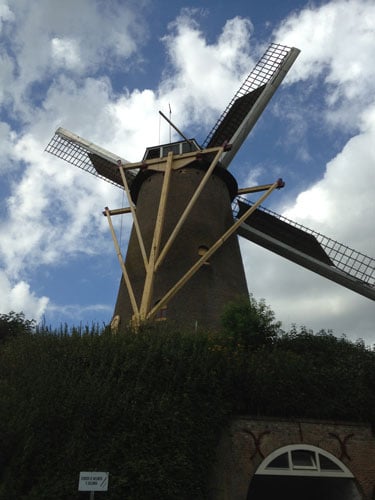 Windmillin'.
Zuidam was founded back in 1975 by Fred van Zuidam and originally the distillery focussed on making liqueurs. However, when Fred's sons Patrick and Gilbert joined the business later on, liqueurs weren't quite as popular as they once were. Patrick and Gilbert noticed this, and also noticed that genever and whisky were getting rather popular indeed.
They've grown substantially since those days – back at the beginning, they only had one still, but now the distillery is home to 4 beautiful copper pot stills producing a selection of genevers, gins, rye whiskies, single malt whiskies, all manner of liqueurs and even a Dutch rum! It seems having many strings to many bows is a recurring theme for Dutch distillers…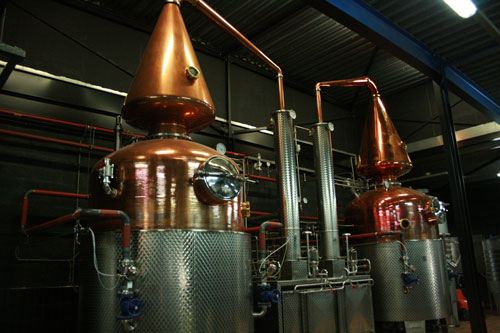 A still image of Zuidam's stills.
So, how does whisky taste when it's made by those stills and a bunch of windmills (among other equipment)? Let's find out!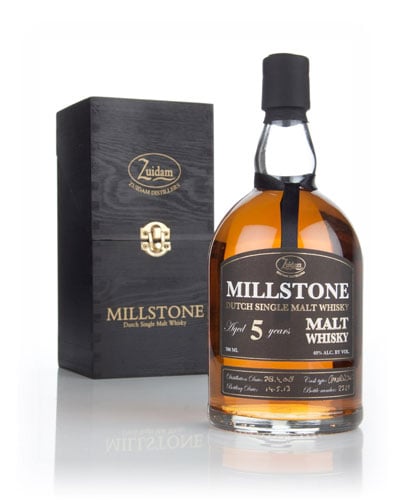 4. Baarle-Nassau, The Netherlands – Millstone 5 Year Old Dutch Single Malt Whisky
Nose: Rather nutty on the nose – walnuts, salted peanuts and even some sweet, crunchy peanut brittle too. White pepper develops alongside coffee beans. A little hint of pear and banana come through after a couple minutes in the glass.
Palate: Creamier than the nose might suggest, with vanilla, caramel and salted butter at its core. Lightly toasted (and buttered) bread. Grows quite malty as it goes on.
Finish: The white pepper from the nose returns for the finish, joined by plenty of juicy sultana notes.
And with that, we continue to head south and journey into Belgium. The next distillery would take me 2 hours to travel to by beaver – if that doesn't help, think about 28 gold statues of Ned Flanders and you might figure out where we're going. Maybe. I'm making these clues tougher because people here at MoM Towers keep guessing it correctly right away, so I figure you all need a challenge.
As an aside, I was lucky enough to visit Belgium rather recently, hence the somewhat erratic posting time of last week's blog (sorry about that). Need proof? Here's a picture of me with a Belgian windmill.
Thanks to Patrick van Zuidam for the photos!
Sam