Last night we were absolutely delighted to be named Online Retailer of the Year at the Digital Entrepreneur Awards for the second year running – so you can imagine our jubilance when moments later we were named Digital Business of the Year Medium – Large!
It was high-fives and Champagne all round at Plaisterers' Hall in London last night, and for good reason. A double win at the Digital Entrepreneur Awards (DEAs) is not to be sniffed at – they're the longest-standing national tech awards in the UK, and they exist to champion outstanding technology businesses across all sectors (not just retail). They're huge!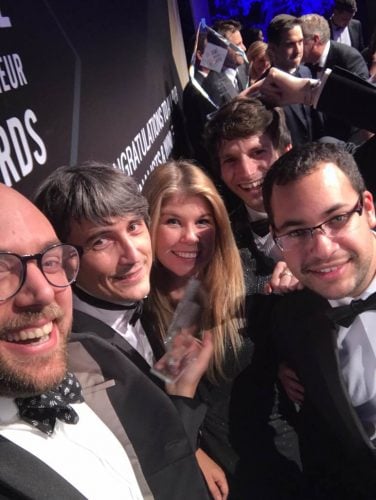 The MoM team with both awards
We're immensely proud (and humbled!) to be recognised not only as
Online Retailer of the Year
but also
Digital Business of the Year
, especially among the great competition at last night's ceremony. For us to bag two awards at this prestigious event is a mammoth achievement.
Not that we're bragging (we wouldn't dream of it…) but it's not the first time we've brought home the gold this year. We were overjoyed to snap up a pair of trophies at the equally-glitzy eCommerce Awards 2017 back in September for Best Grocery eCommerce, and Best Innovation in eCommerce Delivery/Logistics!
Of course, this didn't come out of nowhere, and we're so, so incredibly grateful to you all for your continued support over the years. You brilliant folk have made this all possible.
The team looking veeery dapper
We work super hard to keep Master of Malt at the forefront of drinks retailing, and wins like these just make us even more determined to be the best we can possibly be. As you'll surely know by now, for us, good enough isn't good enough!