Dr. Nick Morgan asks if the industry really should be shouting about the record-breaking £16 million Ardbeg cask from 1975 that sold this week, the sale price of which is more than double the amount Ardbeg's owner paid for the distillery and all of its stock in 1997.
It's not often that Scotch whisky makes the national news, but the breaking story that French-owned Islay distillery Ardbeg had sold a cask of whisky to an unknown female buyer for £16 million pounds had newspapers and websites falling over each other to cover the story, the scoop having been given to Alice Lascelles at the Financial Times. Such was the astonishment at this huge figure, and the excitement that it generated, that no one seemed to have time to ask whether it was a 'good thing' for Scotch. The answer was apparently obvious. All that was missing was comedian Harry Enfield's 1980s character 'Loadsamoney' swaggering around flourishing fistfuls of cash.
Whisky investment schemes –  disaster waiting to happen
The social media feeds of most whisky-interested people these days are swamped with blandishments from a multiplicity of 'whisky investment companies', all promising huge returns on investments in casks of whisky. Companies are sprouting up like mushrooms on a late summer lawn and should be treated with an equal degree of caution. Following a model established by fraudulent investment schemes in the late 1960s these huge promises of wealth are supported by claims of insider industry knowledge, immaculate industry connections, guarantees of no losses, and executed by ruthless high-pressure sales techniques. The proliferation of such unregulated schemes is a disaster waiting to happen for the industry (and of course hapless investors), and neither the industry's trade body, nor the large brand owning companies, seem willing, or able, to do anything about it.
The very model of discretion
Of course, these large brand owners are also busily engaged in the highly profitable private sale of casks to collectors and investors (otherwise known as high-net-worth individuals), and have been for years. The 'whisky investment companies' are the shouty street corner salesmen of cask trades, like a garish Woolworth's 'pick n mix' of whisky. The brand owners are a model of discretion, shrouded in mystery, and normally nervous of sharing their secrets with the outside world. Some might think brand owners are almost embarrassed at how much they are selling their casks for, and how much money they are making from the deals. Which is why it's so strange that Ardbeg (and owners LVMH) has chosen to make such a noise about their sale of a cask (for the record, a vatting of two casks filled on the same day in the 'bygone era' of 1975) of 46-year-old whisky to an unnamed Asian buyer for £16 million. "Far surpassing any previous auction records for a cask of single malt" this is, by implication, the most expensive cask of Scotch malt whisky ever sold. One assumes that payment wasn't made with suitcases and Fortnum & Mason carrier bags stuffed with used notes.
Unlike dealing with 'whisky investment companies' there are no aggressive sales closing strategies at work in the process that leads to the sale of a cask for a million pounds or more. Potential clients (and sometimes their advisors too) are led through a grooming process which can easily take months or years before a deal is done. "We're not pushing for an immediate transaction. We have a sense of custodianship and a much longer time frame," said one brand owner's private client director in a recent interview for Bloomberg. "The objective is really about a lengthy relationship with the client." Whisky experts from Scotland are conjured up like rabbits out of a hat at secret dinners in New York or Singapore to vouch for the virtues of the would-be vendors and their whiskies. Discrete yet lavish ('money can't buy', of course) experiences in Scotland with private jets, distilleries, helicopters, castles, master blenders and senior executives are all part of the mix.
Fit and proper clients only
Companies like Diageo carefully manage their private client sales out of Royal Warrant holding wine merchants Justerini & Brooks in St James, just to add a bit of old school magic-dust to the transaction. There is a due diligence process at work too. Although corporate lawyers are not legally (we'll ignore the 'morally' bit) obliged to advise potential clients that they may paying well over any possible conception of the worth of their cask, they do need to ensure that the cash in the carrier is 'clean'. "No Angolan diamond smugglers" was the cride coeur of one brand owner's project a few years ago. They need to establish that the client is a fit and proper person to be sold a vastly over-priced asset. Although Ardbeg appears to have been quite creative in the offer it has made to produce a vertical series of bottlings over five years for its £16 million buyer, most brand owners try to tie their clients up in legal knots (as Ardbeg may have done theirs) in order to prevent bottles (no buyer ever gets an actual cask from these schemes, only bottles) appearing on the secondary market (not always with success), and to protect the reputation and value of their brands.
There are never any names, neither brands nor makes nor clients, and there are never (well, until just now), any prices. With companies making in excess of 90% margin on many of these transactions you can understand why. It's all a little uncomfortable, even for the most money-motivated marketeer. Yet for some companies that's one of the very fatal attractions of these private sales. Shift a cask or two for several million pounds at half year, or just before year end, and you can transform a targets-missed 'could do better' year into a bonus-assured 'exceeds expectations' one. Not too much long-term brand building strategy at work here. Just flogging off the family silver to fill holes in business performance. So why then this frankly vulgar (on a scale of French vulgarity sitting somewhere between the Palace of Versailles and the Paris St Germain football team) boastfulness from Ardbeg about their £16 million blag? Well, I'm sure their new and very photogenic CEO Thomas Moradpour would say it was all about brand building, perhaps better described as 'luxury bragging rights'. Macallan had achieved an almost unassailable position here, much aided by all those carefully stage-managed and highly publicised auctions of many of its more esoteric bottlings around the world. In April a cask of 34-year-old Macallan was sold at auction for a 'record-breaking £1 million' (in December 2021 a cask of 43-year-old Talisker was sold at auction for a 'record price' of £625,000). To upstage Macallan by £15 million on a single cask sale is a big result for LVMH. That is an 'exceeds expectations' end of year result. Although I do understand that Mystic Meg predicts that the sale of a £20 million cask of Macallan will be announced very soon.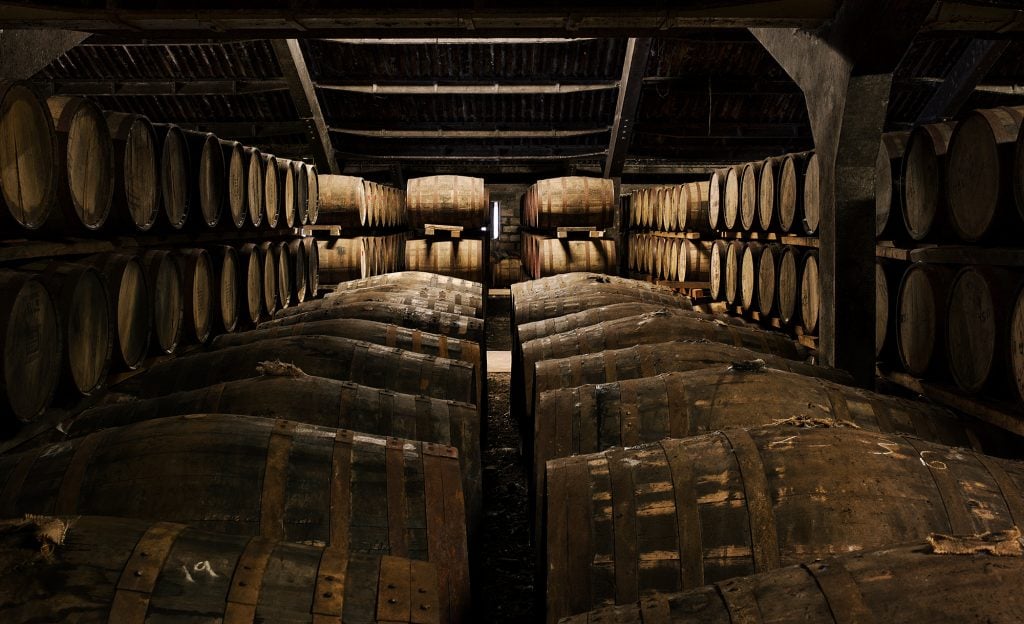 £16 million Ardbeg
Even more unusual about this £16 million cask is the almost overwhelmingly positive reception it received from the world of whisky writers and influencers. In 2006 one of today's most eminent writers and thought leaders in Scotch welcomed the release of 261 bottles of 39-year-old Ardbeg from two consecutively filled 1965 casks, at a price of £2,000 per bottle (including a pair of white gloves) thus it was, he wrote: "the most absurdly pretentious idea yet from the half-baked minds of luxury whisky marketeers." It "smacks of", he continued, '"..well greed would be the first word to spring to mind. Greed and playing on the desires of deluded numpties …." Price, rather than liquid quality had become the signifier of desirability in a Scotch whisky category that "has ceased to function in the way in which it was originally intended… [as] a drink." To be honest it seemed to be the white gloves that pissed everyone off more than anything else. But almost 20 years later no one's pissed off.
In case readers haven't done the maths, bottles from the £16 million Ardbeg cask are valued at £36,000 each. In November 2021 one of the 2005 39-year-old Ardbegs (with white gloves) went at Bonhams in Hong Kong for over £16,000. Using an inflated bottle price as a multiplier is a common way of trying to get to a cask price – that's why many brand owners try and use auctions as a way of setting the price for their rarer bottles, and thus their casks. But it has to be asked, does no one think that in this instance both bottle and cask price are excessive? Is everyone supposed to take delight in the fact that Ardbeg have made such a grotesquely large score from a single consumer? I'm sure there will be members of the 'Ardbeg community' looking anxiously at their fuel and food bills who have already chalked off their annual bottle of Ardbeg 10 (£39.50) from their Christmas list. They'll be scratching their heads at this announcement. Everyone will welcome the generosity of Ardbeg in promising a £1 million donation to Islay charities, but is that supposed to make us all comfortable about them pocketing the other £15 million?
A lust for money
I suppose most writers and bloggers are fearful of biting the hand that feeds them, are too anxious to get on the next press trip, get invited to the next slap-up-lunch, get the next set of samples, to raise any concerns or doubts about the £16 million cask. To be clear, this isn't just about Ardbeg and their cask, which I'm sure is pretty decent whisky for a 46 year old. Far from it. It's about a lust for money that's driving a stake through the heart and soul of Scotch whisky. Everyone's in business to make money for their investors, we all know that. And I would be the first to argue that for many years (certainly in the 1980s and 1990s) Scotch whisky was seriously undervalued in the marketplace. Yesterday's confident pricing has become today's preposterous pricing. Brand owners seem to be infected by a virulent pandemic of greed. It's a greed that's also driving those 'cask investment companies' and their gullible customers. But it's a greed that's fraught with dangers, particularly when much of it appears to be directed at Asian customers and consumers. Greed tends to get found out. Brand owners should remember what happened to Cognac in Asia during the 1990s, and what happened to Bordeaux wines in China in 2011.