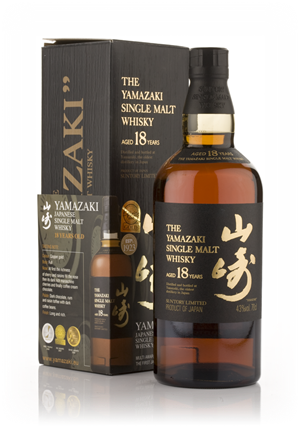 With so many amazing Japanese whiskies on the market we thought we'd review one of our favourites – the Yamazaki 18 Year Old, a whisky from the more thickly sherried, savoury school of Japanese malts.
A little about the distillery…
Yamazaki was Japan's first whisky distillery and it was built by Suntory's founder, Shinjiro Torii, in 1923. In Japan there are only two major players in whisky: Suntory and Nikka. Between them they control almost every distillery in the country.
Because of this there is no trading of malt and grain whisky between companies (as is the practice in Scotland's whisky blending industry). Distilleries must be as self-contained as possible, so Yamazaki houses a whopping 12 stills of different type and configuration, allowing the distillery to produce a range of whiskies.
When Yamazaki released the 12 year old single malt in 1984 it was the first mass-marketed whisky of its type in Japan and, after an initial struggle on the global scene, Japanese malts have become incredibly popular.
Distilleries like Yamazaki and Nikka's Yoichi have challenged the Scotch distillers at their own game and brought their exotic malts into the spotlight.
The 18 year old is a real tour de force for the distillery. Matured in a mix of American, Spanish and Japanese oak, it's been really well-received by critics – Whisky Magazine Recommended and it was awarded a Double Gold medal at the San Francisco World Spirits Competition (as was its younger sibling, the 12 year old)!
Let's see how it tastes…
Yamazaki 18 Year Old 43% £59.95
Nose: Pot still rum and walnut kicking things off… Develops with sublime whiffs of musty sherry, apple peels and a hint of sooty smoke. Such thickness; like a dollop of treacle. Then soot and pear drops, maybe even the faintest suggestion of rancio after a time.
Palate: Syrupy, rich, the rum/cola sweetness is quickly counteracted by increasingly dry, tannic sherrywood. Sloes and damsons proffer more mouth-puckering tanginess. Altogether rather savoury, herbal even, with a touch of peat.
Finish: Medium, plenty of raw ginger for both heat and flavour. Earthy and woody. Lemon pith and cardamom.
Overall: Intense and utterly refined. Water brings out more rancio but better neat.
A fantastic malt, it builds on the orchard fruit style displayed so well in the younger Yamazaki bottlings, with the added dimension of that earthy, savoury complexity. Just… incredible!
– The Chaps at Master of Malt.